7 shirts we have to say goodbye to far too soon
The World Cup bus drives mercilessly on, leaving behind some truly beautiful shirts.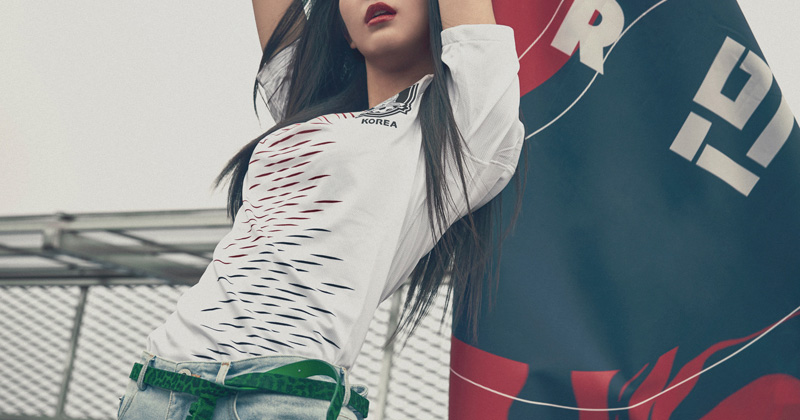 We've been talking a lot in the past two weeks about whether this World Cup has been one of the best ever. If we forget yesterday's performances, we've enjoyed a celebration of gripping, frustrating but ultimately enjoyable football. Portugal and Spain duelling it out in a true epic, Kroos pulling Germany back from the dead only to see them crash back down, the trials and tribulations of VAR.
Alongside all these moments, we've also seen a wonderful array of shirts. It's always one of my personal highlights at any World Cup, but we seem to have been especially treated this time round.
As we discussed previously each brand has brought something good to the table, so much so that there were simply not enough knockout phase places to go around.
Here's my roundup of the best shirts we won't be seeing any more at the World Cup.
---
1. Peru Away
This shirt was the chosen one. It was supposed to bring balance to the force.
In a world where cutting-edge patterns are the name of the game (at least according to this list), Peru and Umbro proceeded to bring out a design which has stood the test of the time for generations: the sash. Not only did the design prove to be a superb counter-weight to other looks in Russia, it's reputation grew thanks to the wonderful travelling support of the Peruvian fans.
Choosing between the home and away was virtually a coin-flip, but the away edges it just about for me with the extra double diamond detailing on the shoulders.
---
2. South Korea Away
Before this week, many people wouldn't have thought too much about the departure of South Korea from Russia. That all changed with their fateful smash and grab against the hapless Germans. The scenes of their jubilation wouldn't have been out of a place in a final, and it was a triumphant closing scene for the Taegeuk Warriors.
The worst part of their exit is that we won't be seeing their glorious away shirt any more. We've seen some superb white kits this tournament (notably Portugal and France's away shirts), and South Korea's might be the pick of the bunch. A gorgeous unique red and blue pattern flows across the chest, whilst their bold federation crest is easily one of the best at the tournament.
---
3. Australia Home
No one can accuse the Socceroos of going down without a fight. Though their campaign ended in disappointing fashion, they won many hearts over with their valiant but ultimately unsuccessful performance against France, as well as their endeavours against the Danes.
Most notable throughout their matches was the sea of gold that accompanied them, and this year's home shirt might be my favourite since their '04-'06 Total 90 kits. Sleeve detailing is back in a big way this year, and Australia's mountainous approach was one of the best.
---
4. Iceland Away
Not a bad debut.
Iceland's second major act on the international stage might not have been as monumental as their charge at the Euros two years ago, but they still managed to produce one of the great moments of the group stage with their plucky point against Argentina.
Of all their new shirts, the away version (worn in that match with Argentina) shone brightest. The white body complimented the sleeve pattern perfectly, a great example of how a shirt which doesn't gain too much traction initially can wind up being one the nicer looking kits across all teams.
---
5. Nigeria Home
Sick of hearing about this yet? I'm not. The Super Eagles more than played their part, pulling back from a lacklustre performance against Croatia to kick Iceland in the teeth and then go oh so close to pipping Argentina for a knockout place before divine intervention from Marcus Rojo.
The story of this kit has already been told, and ultimately this shirt may never reach all-time great status due to it's incredibly limited use. However, from a shirt perspective we have lost the design of the tournament. It's quality has been debated, but it's impact cannot be denied. We're left thinking what-if, and I for one wish they could keep the same shirt for another 4 years.
---
6. Germany Away
Like the Messi / Ronaldo debate, the argument over which was the better shirt between Nigeria and Germany was divisive and one which will probably never be settled. They share many traits, their green colour, their use of patterns throughout and sadly, the fact they were worn just once on two teams who are already on the plane home.
This was my favourite shirt from adidas, a beautiful combination of German precision and retro flair. What's more, the shade of green was like no other team, all making for a distinct look which deserved to be seen more. It certainly doesn't help settle the best shirt debate either.
---
7. Senegal Away
When Nigeria fell, it was down to Senegal to carry the flag of Africa into the knockout stages. Instead, they became the first team to be eliminated due to fair play rules. Though preferable to drawing lots, it remains a cruel end for a team which brought balanced and effective football to Russia.
Though not a kit I was paying much attention to before the tournament, their green away shirt ended up standing out. A lovely subliminal lion pattern looked superb up close and from a far, whilst I was also a big fan of the yellow lettering and numbering. Though perhaps we shouldn't mention the colour yellow too much…
---