Review | Celtic 2018/19 Away Shirt
Our shirt expert Phil Delves takes a look at the New Balance Celtic Away Shirt 2018/19.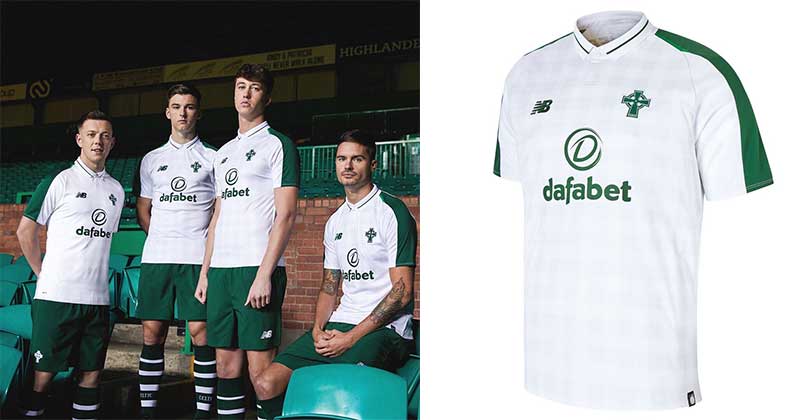 Can Celtic's away shirt live up to some classics of the past?
Check out our Celtic Away Shirt 2018/19 to find out our view:
Hear Phil's view on the new shirt in today's video.
Video Transcript
"Hello and welcome to FOOTY.COM. I'm Phil, the resident football shirt expert and this is Threads, the show where we take a look at best shirts in the game.
Today we have got a real treat for you, we've got Celtic's brand new away shirt for the upcoming 2018/19 season and this is a beauty. This is one which a lot of fans are going to be excited about and I think a lot of fans of shirts will really appreciate.
This shirt is considerably better than the home shirt which we looked at a few months ago and I had a few reservations about. I wasn't sure about the tartan pattern breaking across the hoops, I didn't love the one button look and the Dafabet sponsor looked a bit funny in yellow. Quite simply, there were a few things which I didn't think New Balance got quite right which is a bit of a disappointment after last year when New Balance produced a fantastic range for Celtic. I feel this away shirt actually trumps some of the stuff from last year and for me it is all about the crest and the colours.
If we start with the crest, we've got a return to Celtic's classic cross, which looks fantastic. It's one of the most iconic badges in football and it's one which looks completely powerful on that shirt. It's simple, it's no frills and no distractions. It looks really good on this new away shirt and then looking to the colours, I'm really excited that Celtic have gone with just two colours. It's such a simple approach which a lot of brands miss these days, here we have lovely crisp white and great dark green and these two colours feature throughout the shirt, not only with the crest but also with the sponsor.
So again, rather than the yellow Dafabet event sponsor, which we saw on this year's home shirt, we've got a clean green Dafabet sponsor on the front which looks great. Another problem I had with the home shirt which has been improved on this away shirt, is the tartan pattern. This time it is subliminal rather than just being on the hoops. This time, the pattern comes across the chest and it's completely effective. It's subtle, it's not too in your face and when you look up close, that tartan pattern makes a lot more sense on this shirt.
Now, looking to the collar. Again, the one button approach looks really good in my opinion because we've got a nice simple collar. For me, when you've got a button but no collar, it doesn't look great. This time it works in tandem, completely effective and considering the classic nature of the shirt and the fact that is calling back to those designs from the 19th century, it makes a lot of sense.
Celtic have one of the most iconic looks in football. There have been countless fantastic designs for them over the years, those green and white hoops are instantly recognisable. This shirt reminds me a lot of the 2012 third shirt. The design that year featured the same approach with the cross on the crest and this shirt is almost as good as that one in my opinion. It's one thing to bring back the look, but we've got some new ideas here such as the sleeves, we've got that big green band running across both sleeves. A lot of shirts this year feature some great designs in the sleeves, but they don't carry down, but this one does, that green band carries throughout the arms. It's a really powerful look and it all tops off what is one of the better looking shirts I've seen released this year.
So, credit to New Balance who are really bringing their A-game for this away shirt. A lot of the doubts I had for the home shirt have been completely reversed and this is a shirt that Celtic fans can really get behind. I think shirt has to be really popular, not just for Celtic fans, for fans of shirts in general. This is a shirt worthy of a club with a heritage as proud as Celtic's, and overall I would give the shirt a score of 85 out of 100. For me it's not quite as good as the 2012 version, but it is going to be one of the better shirts of next year."
Subscribe to the FOOTY.COM YouTube channel to stay up to date on the latest news, views and product obsession.