Review | England 2018/19 Home Shirt
This is Nike's best for England, but I wish there was as much attention paid to the shirt as there was the font.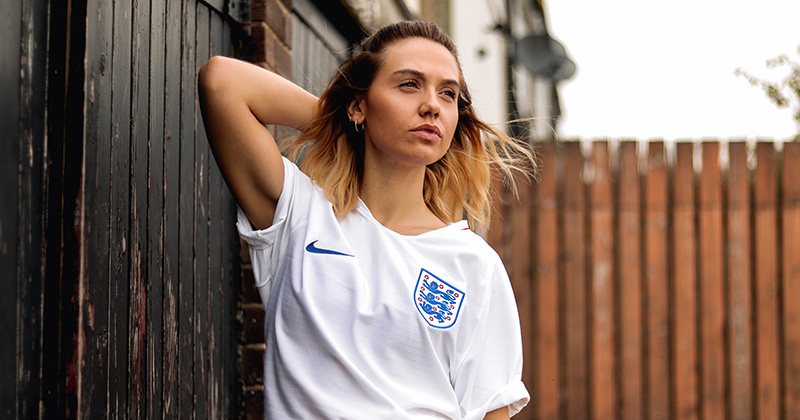 Before we start I'd like to address the elephant in the room. Surely this is about as boring an England shirt as you create? Is there even any point reviewing a shirt we've seen many times before? Despite the usual clammer you might hear, this is actually one of England's best shirts in recent years, and my personal favourite since Nike took over.
In the football shirt world, some designs struggle to stand out despite being very strong in their own right. The problem has never been more evident than this year, where the sheer quality of designs (we're looking at you Germany) has made other kits look tame in comparison.
England are often at the wrong end of the discussion, but this year Nike have created a strong shirt which is best appreciated up-close and with a name and number on the back.
First up there are no surprises with the colour of the shirt. England have always worn white and I couldn't even imagine the uproar if things were changed. The controversial grey contrast sleeves of 2016 are gone, and instead we can look to the collar for some extra detailing with a thin band of red across the sides and back.
The collar itself is a simple, slight drop collar look which I'm a fan of as opposed to a growing number of one-button efforts we're seeing. Another notable feature is the way the shirt works with the Vaporknit template. We've seen all sorts of interpretations across Nike's portfolio, with some shirts like France opting for a contrasting wave pattern on the sleeves and others like Brazil incorporating the pattern much more subtly. England's is much like Brazil's, in that you have to look closely to appreciate the detail, and it's my favourite interpretation of the template.
Details wise, don't miss a beautiful rose emblem inside the collar, in a broken style similar to the Vaporknit pattern. Another interesting detail is the fact the star above the crest is much closer in colour to the body of the shirt than previous years. It's understated as if to say that, whilst '66 was important, the team are ready to write their own chapter.
Things go up a gear with the introduction of a new bespoke typeface created by designer Craig Ward. After Brazil, it's probably my favourite font at the World Cup with a dynamic style that looks like a series of interlocking cords. It would've been fascinating to see this same approach applied to other areas of the shirt, something which could have elevated the design significantly.
A lot has been made of England's new training shirt also. I'd be a fool to say I didn't agree it would've made for an exciting home shirt, and the wave of popularity has only fanned that flame. Hopefully we see future home designs pushing the boat out in similar ways.
Despite all these possibilities, I like what Nike have done this year. It's lacking the flair of some other designs, but underneath the surface is a design which does a lot more good than harm. The shirt has looked superb in recent matches, with a return of the blue shorts which will all combine this summer to make the best looking England team at a major tournament since 2006.
---
FOOTY.COM rating - 74/100
---
Shoutout to Nike.com for sending us the new England home shirt to review.