The Most Iconic FA Cup Kits From The Past 20 Years
And then there were four. We're taking a look back at some of the stunning football kits that still capture the true magic of the FA Cup.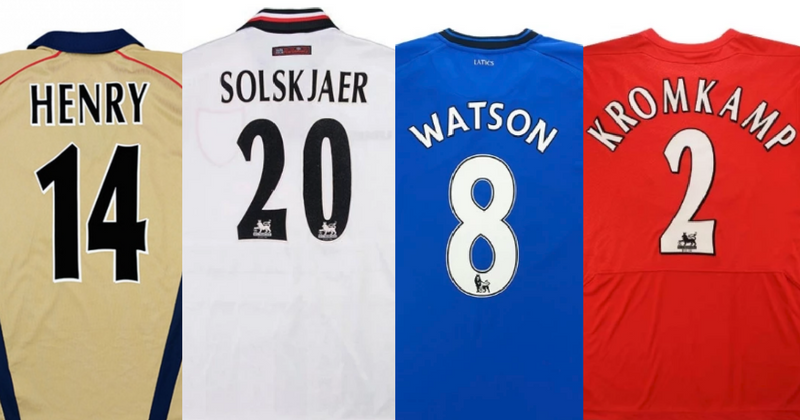 Is there a football competition as magical as the FA Cup? If there is, then we don't want to know about it.
Ahead of this weekend's semi-final showdowns at Wembley, that magic is starting to dazzle and sparkle once again, as fans and players start dreaming of lifting silverware this season. Of course, for neutrals, this weekend serves as a great opportunity to watch Man United get battered by Spurs, so the excitement is ripe across the country.
The FA Cup is famous for its big moments, incredible goals and more than a few giant-killings, which is exactly why it's considered to be one of the most prestigious prizes in football. At the heart of it all, some of the most iconic football kits are still brimming with FA Cup magic, as we take a quick look back at the best of the last 20 years.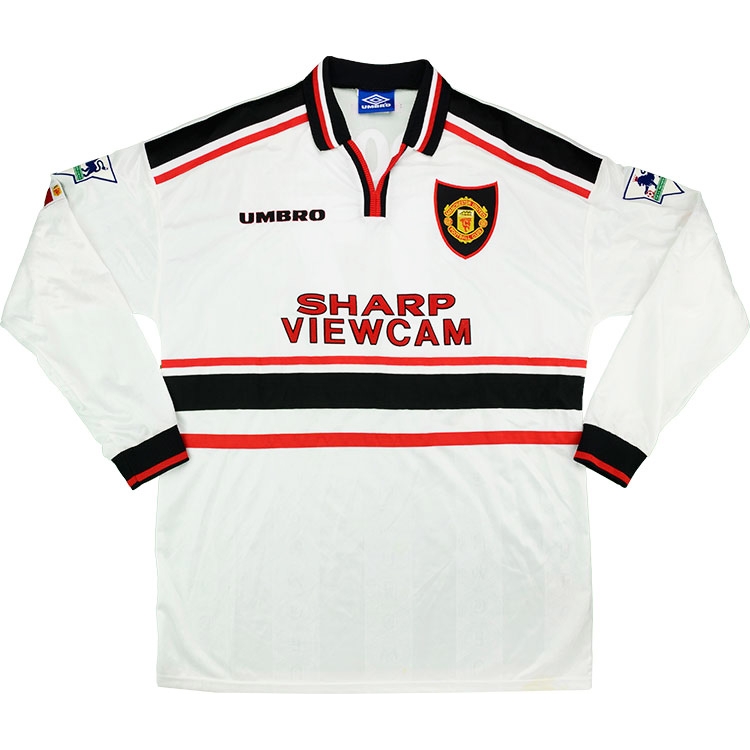 Manchester United 1998/99 Away Kit
Those poor Arsenal defenders probably still have nightmares about it. David Seaman is still wondering how he was beaten at his near post, while Lee Dixon still hasn't figured out how many times he was turned inside and out. A loose pass from Patrick Vieira was picked up by Ryan Giggs on the halfway line and- well, you know the rest.
United were wearing their Umbro away kit that day, with the bold black and red stripes standing out prominently across the white colourway. The smart black collar is something rarely seen in football kits today, with this retro-look going down in history as United knocked out their arch-rivals on their march to an astonishing treble.
Whether you remember the bold Umbro design or Giggs revealing his 'Austin Powers chest' in celebration doesn't matter. Either way, it doesn't get much more magical than this.
Arsenal 2001/02 Home and Away Kits
The last time Arsenal met Chelsea in an FA Cup final in 2002

🔴 Arsenal 2-0 Chelsea 🔵

70' Ray Parlour
80' Freddie Ljungberg

Great goals! pic.twitter.com/kbNnb6lVc5

— Football on BT Sport (@btsportfootball) May 27, 2017
The Arsenal side of the late 90's and early 00's was nothing short of world-class. Throughout the 2001/02 season, the Gunners were sporting a pair of gorgeous Nike kits as they marched onto an impressive domestic double, and these designs have certainly etched themselves into FA Cup history.
In the semi's, they saw off Middlesbrough in their gorgeous golden away kit, the same strip they wore as they famously clinched the Premier League title at Old Trafford that season. The dazzling gold colourway and bold Sega logo came together in a stunning design that Arsenal have struggled to replicate since.
But Arsenal were back in their iconic home shirt as they dispatched Chelsea in the FA Cup final at the Millennium Stadium. The traditional red colourway was complemented by stunning white sleeves and the old VCC crest (the last time it would appear on an Arsenal kit).
With the infamous Dreamcast logo stretched across the front, who could forget the sight of Thierry Henry and Dennis Bergkamp lining up in this beauty?
Liverpool 2005/06 Home Kit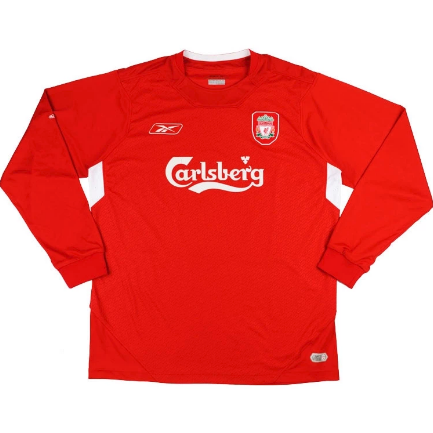 In Merseyside, Steven Gerrard has achieved a God-like status, and this is in no small part down to his role in the 2006 FA Cup final. Adorned in that famous red Reebok home strip, he came thundering forward to score one of the greatest ever FA Cup goals and send the game into extra-time. It's fair to say that West Ham had stopped blowing their bubbles at this point.
As undoubtedly the greatest cup final of modern times, it's really no surprise that Liverpool's Reebok number has become so famous. Incorporating beautiful white trim, a gold crest commemorating their 2005 Champions League triumph and the infamous Carlsberg logo- this is probably the best Liverpool kit in the world.
Wigan Athletic 2012/2013 Away Kit
Just a reminder that a Wigan side with Antolin Alcaraz and Roger Espinoza in the back four won the FA Cup final in 2013, keeping a strike force of Sergio Aguero and Carlos Tevez quiet.

Anything is possible 😂 pic.twitter.com/4UB5Yva2DH

— UNILAD Football (@UNILADFooty) January 29, 2018
Wigan Athletic's dramatic 1-0 win over Manchester City in 2013 is what the FA Cup is all about. The true magic of the cup comes from shock results and giant-killings, and Ben Watson's last-gasp winner allowed Wigan to pull off the greatest shock of them all.
Wigan were wearing their black away kit that day, while the yellow trim might well have turned gold after such a magnificent achievement. Designed by MiFit and sponsored by 12Bet, this football kit perhaps isn't as recognisable or iconic as the others in our list- but isn't that what the FA Cup is all about? You just can't beat a good underdog story, and this was like Dodgeball but in real life.
If you're looking to bag one of these retro football kits and re-live a classic FA Cup moment, then you can compare prices with FOOTY.COM to snag the best deal!