Usain Bolt Shows Off Puma Future In BVB Training Session
The fastest man in the world teams up with the most innovative boots on the market, as Usain Bolt goes viral in a Borussia Dortmund training session.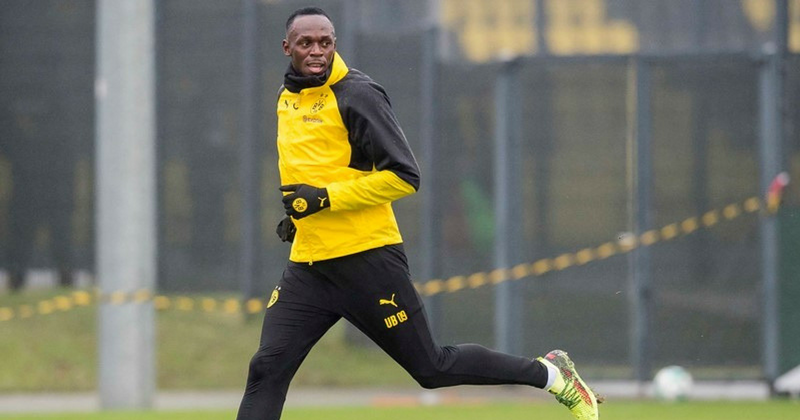 Image: news.puma.com
It's very rare that you see an athlete at the top of their sport make the change to a different gig entirely.
Michael Jordan – arguably the greatest basketball player of all time – made the switch to baseball after he retired. In more recent memory, Conor McGregor made the switch from UFC to the boxing ring to take on Floyd Mayweather. Neither draped themselves in glory; Conor McGregor was defeated in his only boxing match so far and Jordan returned to the NBA to win another 3 titles. But at least he also got to star in Space Jam, too.
From day one they said he couldn't. Once again, the Fastest rips up the rule book. @UsainBolt @BVB #NewLevels pic.twitter.com/QijiSpyBss

— PUMA Football (@pumafootball) March 24, 2018
So, we were shocked this week to see none other than 100m sprint legend Usain Bolt training with the Borussia Dortmund squad. The Jamaican hasn't been shy about admitting his dream is to play for Manchester United, and it seems he hasn't given up on that dream quite yet. With Alexis Sanchez in such poor form at the moment, anything is possible, right?
"It was a great experience to train and be part of the Borussia Dortmund team, everyone was so welcoming that I felt like I was home. Being able to receive professional advice, great training tips and play with some of the best players made it even more special," Bolt stated after the training session.
Some footage of the special 2-day trial at Dortmund appeared online where Usain Bolt was caught putting a cheeky header away, as well as nutmegging a defender after a heavy first touch, much to the enjoyment of the fans who turned out to watch.
When the Fastest meets football ➡ #NewLevels. @usainbolt @BVB pic.twitter.com/KWZaYXX14d

— PUMA Football (@pumafootball) March 22, 2018
To celebrate the big man putting his money where his mouth is, Puma turned out a special edition pair of their innovative FUTURE boots. These special-edition boots were customised with the Jamaican flag on the outsole and laces; and a black, green and yellow colourway to honour the Dortmund and Jamaica colours.
Since the Puma FUTURE is all about enhancing speed and agility, it's frightening to think just how deadly Bolt could be out on the football pitch.
Well, we'll get a glimpse of that deadly streak sooner rather than later, as Bolt is due to take part in Soccer Aid on 10th June; while PES 2018 players have already been able to test out his skills as part of the popular My Club mode.
⚡️⚡️⚡️ @Pumafootball @BVB #PES2018 pic.twitter.com/YaGYBN7yfk

— Pro Evolution Soccer (@officialpes) March 22, 2018
Bolt joins a string of stars that seem proud to show off Puma's most innovative football boots to date, and we expect to see the FUTURE take centre stage at Old Trafford this June. Somehow, we don't fancy Robbie Williams to keep up with him.