Umbro Unveil Black And Golden Kiwi Boot Pack
It's time for the next Golden Generation to step forward. Umbro have revealed stunning updates to three of their most popular silos, giving you the chance to add a splash of colour to your spring wardrobe.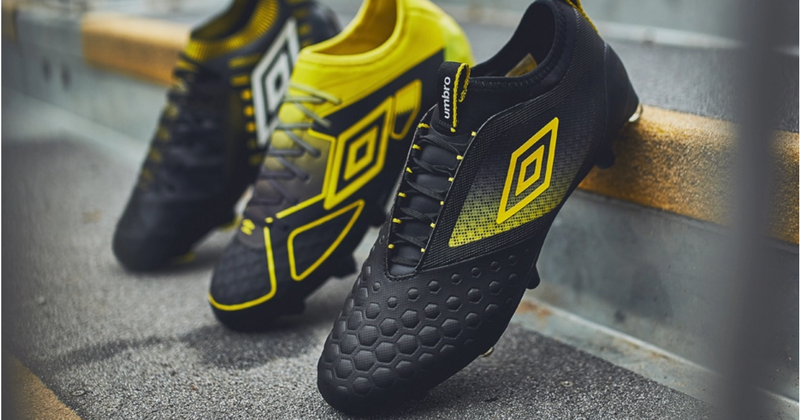 Image: www.umbro.com
Spring is undoubtedly our favourite time of the year.
Over the next few months, we can look forward to warmer weather, blooming flowers and more than our fair share of bank holiday weekends. Oh, and it just so happens to be the most exciting part of the football season.
Title charges are thrown into high-gear. Relegation scraps hit boiling point. Trophies are lifted. Trophies are lost. Yep- it's this time of year that reminds us exactly what makes the game so 'beautiful', and it's fair to say we're just a little bit excited about it.
In fact, we simply can't wait to start kitting out our spring wardrobes and gearing up for a busy football schedule. The gloomy days of winter are now a thing of the past, and we want to start wearing bright, fresh colours as we prepare to finally enjoy a spot of sunshine or two. Beer garden weather requires beer garden threads, after all.
A closer look at our latest boot drop
Velocita 3 ✅
Medusae II Pro ✅
Medusae II Elite ✅
NEW UX Accurro II ✅ pic.twitter.com/Ar24jwAwNR

— Umbro UK (@UmbroUK) March 7, 2018
Well, it looks as though the guys over at Umbro have recognised the need for a bit of spring colour. They've launched their brand-new 'Black and Golden Kiwi' boot pack, adding dashes of fresh colour to three of their most popular silos and sending our excitement into over-drive.
The injection of 'Golden Kiwi' looks absolutely stunning on the traditional black colourway, creating a collection of gorgeous football boots that aren't too over-the-top. All three of the boots in the new pack offer a sleek, stylish look, while offering a dash of vibrancy that really brings them to life. We're big, big fans of these.
Umbro have always been dedicated to providing a little something for players of all kinds; a fact that undoubtedly comes across here in the new collection. With the Medusae II, Velocita 3 and UX Accuro II all getting new makeovers, everyone on the pitch has now got the chance to show off this fresh spring-look.
Umbro Velocita 3
The Velocita 3 is the most colourful entry in the new collection, with the shades of 'Golden Kiwi' standing out prominently on the heel and running throughout the detailing of the boots. Umbro's iconic logo stands out boldly in these vibrant tones, offering a beautiful contrast to the rest of the black boot.
The dark horse of our latest boot pack
Velocita 3 - Black & Golden Kiwi ⚫️ pic.twitter.com/wIHNNQVZdW

— Umbro UK (@UmbroUK) March 8, 2018
These boots are perfect for players that like to make the most of their mind-bending agility. With an innovative outsole designed to improve traction and flexibility, the Velocita 3 is a fantastic boot for any mini-Messi's out there.
You can shop deals on the Umbro 'Black and Golden' Kiwi Velocita 3 with FOOTY.COM!
Umbro UX Accuro II
The new UX Accuro II offers a more toned-down appearance, with the 'Golden Kiwi' being used far more sparingly. The bright tones are used to show off the Umbro logo yet again, with a soft gradient pattern on the side of the boots adding a more subdued injection of colour.
Once again utilising a smart black colourway, the UX Accuro II has optimal comfort at the heart of its design. These boots have been constructed for players wanting to control the game, offering a level of stability and comfort that allows you to play football endlessly. If you're passionate about the game and just want to keep on playing until your legs give way, then these are the boots for you.
You can shop deals on the Umbro 'Black and Golden' UX Accuro II with FOOTY.COM!
Umbro Medusae II
We have to say that the Medusae II might be our favourite design of the collection. In terms of how it looks, it acts as a perfect balance of the other two boots.
Black Medusae II
Your opposing CM knows you're a baller... 👀 pic.twitter.com/KwzczEaZTR

— Umbro UK (@UmbroUK) March 8, 2018
Using the 'Golden Kiwi' more prominently than the Accuro II but not as extravagantly as the Velocita 3, the Medusae essentially offers you the best of both worlds. With golden detailing and stripes, a bold white Umbro logo and a sleek black exterior, the Medusae II is a fantastic blend of style and colour. Incorporating a sleek premium leather upper and knitted sock, the Medusae II offers fantastic comfort and an enhanced first touch alongside its killer design. Not bad, eh? You can shop deals on the Umbro 'Black and Golden Kiwi' Medusae II with FOOTY.COM! But what do you think? Let us know which of the new Umbro boots is your favourite in the comments below! If you're hoping to snag a bargain on any of these football boots, then you can compare prices on FOOTY.COM today! We've compared prices and found you the lowest prices on the new Umbro collection already!