Nike Release Stunning New Nigeria Kit
We've been treated to a whole host of gorgeous international kits in recent months, as the 2018 FIFA World Cup draws ever closer. Sporting their famous national colours and a truly dazzling design, this little number from Nigeria might just be the pick of the bunch…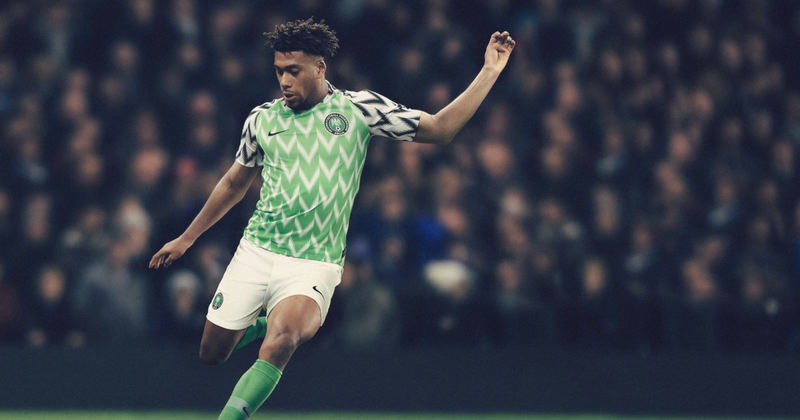 Image: news.nike.com
We've got to say that the new Nigeria kit from Nike is probably our favourite international kit release so far. The 2018 World Cup looks set to showcase some truly gorgeous kit designs, but Nigeria will undoubtedly be showing off the pick of the bunch. It's not hard to see why.
Maybe once in a lifetime does a new football kit come along that pushes boundaries; a kit that inspires; a kit that reflects the values and the heart of a nation- well, it looks as though the guys over at Nike have managed to provide us with exactly that.
Nike's release of their new Nigeria home kit design has even overshadowed the release of the new England kit, which seems an almost bland and boring design compared to the brave and bold choice of Nigeria's new ensemble.
Paying subtle homage to Nigeria's '94 shirt, with an eagle-wing inspired black and white sleeve and green torso, today's reimagining supercharges those elements with an abstract feather pattern and hyper power-cable colourway that has got heads turning and faces smiling.
This new kit taps into the attitude of an evolving football nation, built around the strong identities and personalities of the players set to wear them. The Nigerian culture has changed. Now, it exists within diaspora communities around the world, from England to the United States and beyond.
Alex Iwobi – born in Lagos but who has spent most of his life in England – is just one of the young Super Eagles who calls England home, but Nigeria his homeland.
The word 'Naija' describes the future-focused optimism of modern-day Nigerians and it isn't simply a stand-in for Nigeria. 'Naija' is made for a new generation, a word that should be said with real panache to reflect the youthful exuberance, pride and fresh perspective on patriotism.
New Super Eagles Kit!
Hala Super!

What do you think about the new kit?

@ng_supereagles@wizkidayo @kelechi72 @alexanderiwobi @nike @npower_ng @FIFAcom#Russia2018 #football #Nigeria #SuperEagles #TeamNigeria #clothing #nike #design #OptimusGrafix #MuchMore @NGSuperEagles pic.twitter.com/RoW5PQv4HC

— Optimus Grafix (@OptimusGrafix) February 8, 2018
'Naija' encompasses everything the new kit designs represent. The home kit is full of energy and the infectious palpable charisma of the Nigerian people. The exuberance of the home kit is off-set by a modest away kit that acts as the yin to the home strip's yang: each benefitting the other.
A more modest and refined full-green away strip counterbalances the energy of the bright feather features with a super-dark green, featuring a single heat transfer crest in bright green to lift it off the jersey.
The new football kit isn't just a visual masterpiece either. Underneath the surface, some of Nike's top tech is working at full-throttle. Engineered yarns on the sleeves contribute to the speed aesthetic, the open-hole texture of the knit vents heat for optimal breathability and a lack of outer seams reduce friction and increase range of motion.
WOW! Nigeria new kit for the World Cup is fire🔥 pic.twitter.com/o0LeolrrqL

— Football Pub (@fballpub) February 8, 2018
"Wow, this is sick!' says Alex Iwobi as the Super Eagles laid eyes on the design for the first time. And to be honest, we couldn't have articulated it better ourselves!
As far as international football kits go, the new Nigeria strip has got to be one of our favourites, and we can't wait to see it in action this June. But what do you think? Let us know in the comments!