Nike Reveal England World Cup 2018 Kit
England's new kit for the World Cup 2018 has finally been released. Fans have been waiting anxiously for Nike to finally unveil the new design, so let's take a closer look…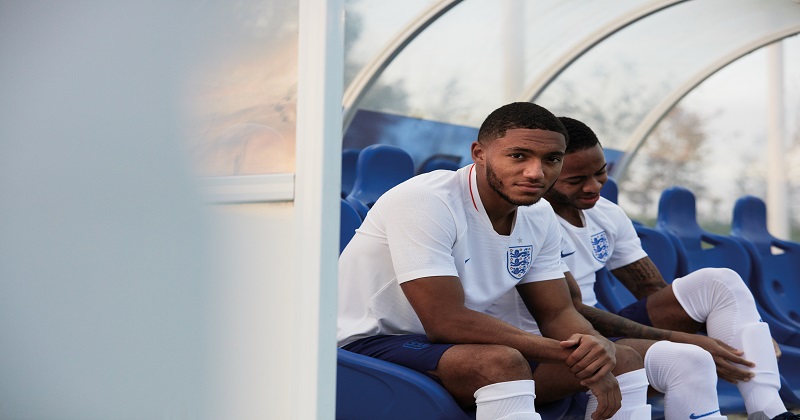 Image: news.nike.com
They sang of thirty years of hurt. Heading into Russia this summer, fans will now be into their 52nd year. The current Three Lions squad aren't instilling many fans with much optimism right now; but when that first whistle blows, you can bet that the hype and belief will sky-rocket back up to where they always are at the start of a major tournament. To kick-start the excitement a little early, we've got our first look of the Nike England kit that Harry Kane and co will be showing off all over Russia this summer.
🆕 ENGLAND KIT!@England launch new 2018 home and away kits ahead of World Cup.

See here: https://t.co/wuRWfdLCB0 pic.twitter.com/7jX0zuPPua

— Sky Sports Football (@SkyFootball) February 7, 2018
Released on Wednesday, the new kits are a throwback to a 'classic' design, bringing an end to the short lived two-tone home shirt with a return to the traditional blue shorts and white socks. The new designs have kept the clean, minimalist aesthetic of previous seasons, whilst adding some more retro features. The home kit consists of a simple white shirt, pared-back bar, Three Lions crest, as well as the discreet silver star representing our 1966 World Cup triumph. The real question is: how long until we add another star to the shirt?
OFFICIAL: The World Cup kits and training kit for England have been released!

🦁🦁🦁

📷 - @England pic.twitter.com/v6p76IfD9e

— 101 Great Goals (@101greatgoals) February 7, 2018
The away kit is 1966-inspired red, and also includes the traditional white shorts and red socks. The bold colourway of this classic kit has been given a modern revamp here; the red is now two-toned and dominated by tonal graphics depicting a modern St George's Cross. Of all the World Cup kits released so far, the trend of nostalgic designs has been evident across the board. Most of the adidas, Nike and Puma kits we've seen have taken inspiration from classic 90's designs, harkening back to each respective country's most iconic kit designs. Nike have done the same with England but have taken it back further still; the 80's inspiration and the 70's-esque number fonts give these kits a true retro feel, and we can't wait to get our hands on our very own.
World Cup 2018 kit power rankings! 🌍👕️⚽️

Where does England's new kit - and this frankly incredible effort from Nigeria - come in our table? | @Mark_Jones86 https://t.co/cp0RhUrafj pic.twitter.com/pGKF61PwNv

— Mirror Football (@MirrorFootball) February 7, 2018
But what do you think of the new kits? Let us know in the comments! The official England football kit is available from Nike.com, order now so you're ready for the World Cup.