The Adidas Cold Blooded Pack Nemeziz 17 Plus
The second Nemeziz boot to be released this year joins the rest of the 'Cold Blooded' pack. Looking set to be the biggest pack release of the year from Adidas, we take a look at another boot from the stunning collection.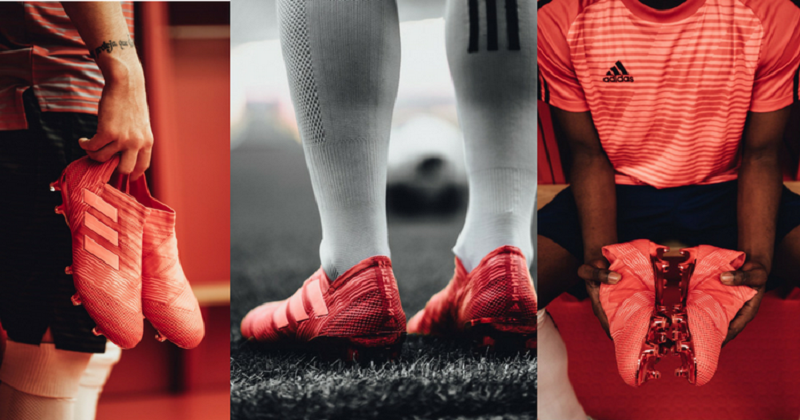 Image: adidas.co.uk
The new Nemeziz 17+ from the 'Cold Blooded' pack includes a new red and pink colourway which is about as red as a boot can get. Adidas have gone for a very bold design; the laceless silhouette is wrapped in shades of red, following the trademark lines of the AGILITYBANDAGE and TORSIONTAPE technology. The red upper is finished with red stripes; and to top off the holy red trinity that is the Nemeziz 17+, the metallic soleplate is also entirely red. Fifty shades of red, indeed.
The new 2018 #adidas Cold blooded pack #NEMEZIZ 17 #boots have arrived #futbol #fussball #soccer pic.twitter.com/7KKCdnEdSw

— Pro Soccer Kits (@prosoccerkits) January 25, 2018
The fit is inspired by ballet dancer's ribbon wraps and how boxers wrap their hands before putting their gloves on: reflecting the balance between power and elegance. The 360° Agility Bandage system increases the levels of lateral and medial support, as well as providing the most comfortable fit and guarantee of pure ball feel. Adidas have weighed up the inclusion of the light build with added support and safety by installing the Dual Lock Collar, ensuring superior ankle stability as you quickly change direction. The foot hugging AGILITYKNIT 2.0 present in the forefront presents a responsive touch for elite control whilst dribbling; allowing every player to step up their skill game.
Triple red route. @adidasfootball launch the "Cold Blooded" Nemeziz 17+. First look: https://t.co/l8AwmCtMHm pic.twitter.com/yxUy92VUyi

— SoccerBible (@SoccerBible) January 25, 2018
A number of stars will be stepping out in the new Nemeziz 17+ over the coming weeks- with Julian Draxler, Roberto Firmino and Jesse Lingard confirmed to be wearing the cleats. As well as the sock fit, a 17.1 laced version will be released, as well as cage and street versions. Who's excited? A unique pair of Nemeziz Messi 17.1 football boots will also be released at a later date exclusively for the Barcelona legend. Check out the price range of the new Nemeziz 17+ at FOOTY.COM today to find yourself the best deal on the market!