The Premier League Revolving Door Turns Again
Premier League fans are used to the managerial game of musical chairs that happens each year. Let's see who's been victim to the axe so far this season…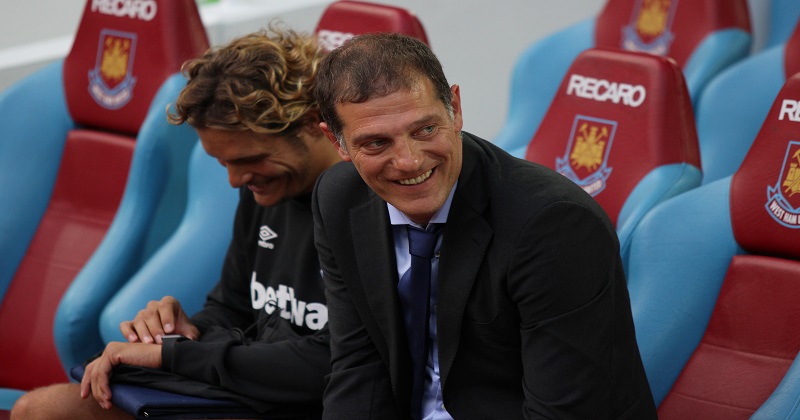 Image: joshjdss

At the time of writing this there have been a whopping 26 managerial sackings already across the English football leagues. With the departure of Marco Silva from Watford, the tally of Premier League managers now queuing up at the job centre has risen to 8. Managers constantly reiterate that football is a results game, and if you don't get those results, you're gone. There seems to be little loyalty left in the footballing world. Even managers who have served a club for many years know that a run of bad games can see them reduced to days at home watching Jeremy Kyle in their underwear.
Crystal Palace – Frank de Boer
There is still divided opinion over #CPFC's decision to sack Frank de Boer.

How can you change anything in four matches?#PremierLeagueShow pic.twitter.com/LywH9kZU9m

— Match of the Day (@BBCMOTD) September 14, 2017
The first managerial firing came in September. Crystal Palace seemed to have swept up a great young manager, but after only five games in charge, and failing to score a single goal in their first four league matches, de Boer was replaced by Roy Hodgson after lasting a measly 77 days in charge.
Leicester City – Craig Shakespeare
After losing their title-winning manager Claudio Ranieri, Leicester found themselves looking for a third manager in the space of eight months. Shakespeare was only three months into a contract when he faced the boot after a poor start to the season. The club were third from bottom when Shakespeare's assistant Michael Appleton took charge.
Everton - Ronald Koeman
A great spell at Southampton earned the Dutchman a move to a bigger club (with a bigger budget). Everyone thought Koeman would be able to do great things at Everton but, after flashing the cash in the summer, Koeman faced the price for a rapid Everton decline.
Was it right for Everton to sack Ronald Koeman?

Steven Gerrard: "Well it was Unsworth, I think they're going to find it hard to get Silva."

Frank Lampard: "I think they were right to make the change."https://t.co/9QyK0COEN8

— Football on BT Sport (@btsportfootball) November 25, 2017
West Ham – Slaven Bilic
A poor start to the season saw the pressure turned up on Slaven Bilic. West Ham were floundering in the relegation zone after he failed to build on an impressive 16/17 season. Losing their star man Dimitri Payet, poor performances from major signings and a rapidly receding hairline portrayed the stresses the former player was under. He was let go after 881 days in charge of the club.
West Brom – Tony Pulis
Baggies fans seemed to have finally had enough of the defend, defend, defend attitude of Tony Pulis, and called for his head as West Brom sat one point above the relegation zone, and without a single win in 10 Premier League games.
🗓 23rd December: Middlesbrough sack Garry Monk due to his style of play..

🗓 26th December: Middlesbrough appoint Tony Pulis as manager...😳😳 pic.twitter.com/GSC0xC54AB

— kwiff (@KwiffOfficial) December 26, 2017
Swansea - Paul Clement
The Welsh club parted ways with Paul Clement after losing faith in his ability to lead a squad that were dead bottom of the Premier League table after a spell of poor performances. With 10 defeats in 13 games, yet only four points adrift of safety, he couldn't turn things around and lost his job just in time for Christmas: football can be a cruel business.
Stoke - Mark Hughes
In a similar vein to Tony Pulis, Mark Hughes had done so much with so little at Stoke, but the fans were getting impatient with the lack of adventure and ambition at the club. Shortly after a poor run over Christmas, Hughes was shown the door after an impressive 1682 days in charge.
Watford - Marco Silva
The talented young coach, named Young Manager of the Year in the same season he was sacked, seemed to have his fire dampened by a failed move to Everton after Koeman's departure. Watford started the year strongly, but after just 1 win in 11 games, Watford lost patience and Silva is now out in the cold.
BREAKING: @WatfordFC sack Marco Silva. #SSN pic.twitter.com/blzaXaDn8T

— Sky Sports News (@SkySportsNews) January 21, 2018
For the best prices on football boots and kits, head over to FOOTY.COM today to show your support for whoever's in charge of your club right now!