How World Cup 2018 Will Send Us Back In Time
With most of the 2018 World Cup kits paying homage to days gone by, we look set to get a blast from the past when it all kicks off in Russia this June.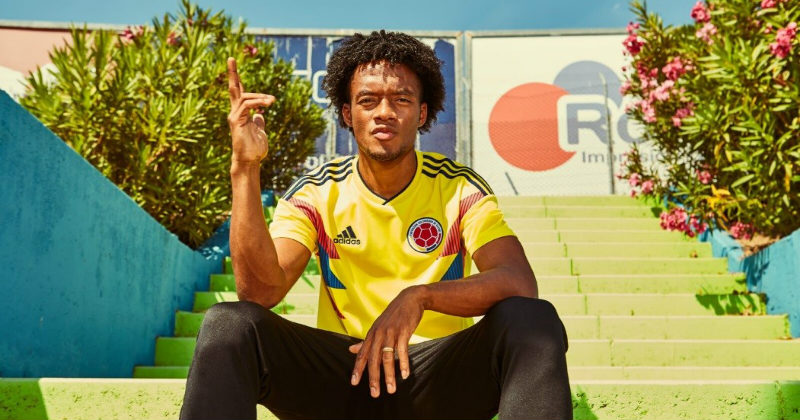 Image: adidas.co.uk
It's not everyday you get to clamber into a DeLorean, pump it up to 88 and promptly take a quick trip to a different time period. Well, when the next World Cup finally arrives, we're all going to be able to do exactly that… minus the ridiculous time-machine. With the likes of adidas, Nike and Puma releasing an array of absolutely stunning international kits at the tail-end of last year, it's almost impossible to miss the connection between all of them: they all pay homage to days gone by. We all know that the World Cup has thrown up some of the most iconic football moments in history, which is exactly why it's considered to be the best sporting competition on the planet. Yep, it's fair to say we're all just a little bit excited for things to kick-off on 14th June in Moscow.
The moment the World Cup was set 🏆#BestBRFootball2017 pic.twitter.com/cVr6YztyZd

— B/R Football (@brfootball) 29 December 2017
But who could forget Dennis Bergkamp's stunner against Argentina in '98? What about Diego Maradona's infamous 'Hand of God' moment in '86? Or the downright flamboyance of the Brazil team of 1970? Players such as Pele, Zidane, Ronaldo and Iniesta have all shone brightest in a World Cup or two, firmly engraving their names into the history of what is quite simply the greatest show on Earth. More importantly, they did it in some of the most iconic international kits to ever grace the world stage. So it should really come as no surprise that football's biggest brands seem so keen to salute the history of this prestigious competition, implementing subtle details throughout the design of their kits to pay homage to each nation's most famous kits. This will ultimately lead to this World Cup's 32 countries wearing their respective kits with the upmost pride; stubbornly sticking out their chests as they look to continue the legacy left by the great players of the past. Not to mention giving us fans a certain sense of nostalgia as we're forced to think back to days gone by.
🇩🇪 Germany's 2018 World Cup kit is a tribute to their 1990 World Cup winning kit. ⚽️ pic.twitter.com/PQbyKoaKln

— Footy Jokes (@Footy_Jokes) 8 November 2017
World-champions Germany will be looking to defend their title in just a few months' time, while their kit pays homage to their previous triumph in the 1990 World Cup. The influence isn't difficult to see, with that bold design across the chest closely mirroring the iconic look made so famous by the likes of Lothar Matthaus and Jurgen Klinsmann. You'd possibly argue that their closest rivals in Russia will be Spain, who look rejuvenated under the leadership of Julen Lopetegui. Their new strip is also sending us back to the 90's, with adidas choosing to go with an intricate pattern on the left-hand side which emulates the design of the 1994 World Cup. Back then, it was Luis Enrique and a certain Pep Guardiola wearing the shirt, and we can't wait to see the likes of Andres Iniesta and Alvaro Morata mirroring that exuberant 90's look.
🇪🇸 The Spain 2018 World Cup kit will likely be inspired by the 1994 edition. pic.twitter.com/TDN7nzbIVS

— myfootballfactory (@myfootfactory) 7 June 2017
But this isn't just a European trend and is by no means limited to the favourites for the competition. The kits for Colombia, Mexico and Argentina all harken back to their most iconic kits, while even countries that failed to qualify for the competition are celebrating their own rich histories. Italy, Cameroon and Ireland are just a handful of teams that we won't be seeing in Russia, and none of them have shied away from boasting about their achievements of the past through their new kits for 2018.
Cameroon's new kit has been revealed and it is 🔥 pic.twitter.com/teryK7S0MF

— B/R Football (@brfootball) 3 November 2017
We've still got plenty of World Cup 2018 kits to look forward to before the tournament finally kicks off in June, and we can't wait to see how these countries decide to celebrate their past. Maybe England's will feature someone missing a penalty? No matter which international kits you've got your eyes on for this summer, you can make sure that you get the best deals right here with FOOTY.COM. We compare prices on kits from all eras, so you can make a saving no matter whether you're looking for something new or something a little more retro!