What's The Greatest England Kit Of All Time?
'Three Lions on the shirt, Jules Rimet still gleaming!' We're taking a look back at our favourite England kits and deciding which one's the best of them all.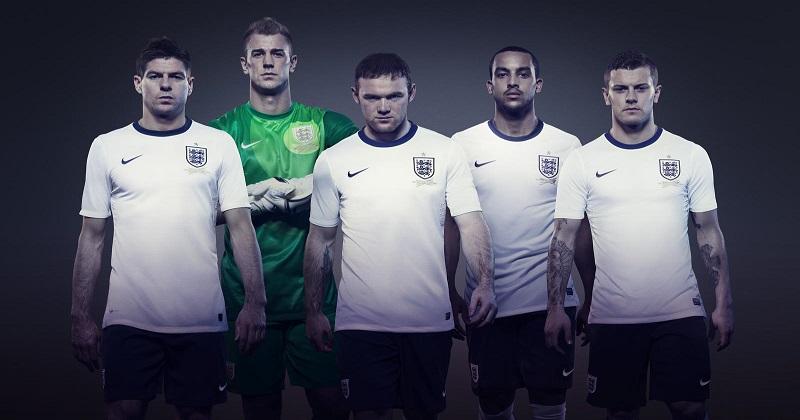 Image: news.nike.com
Red. White. Blue. The three colours of the Union Jack have been inspiring England football kits for as long as we can remember. Even in the days of black and white television, you always knew that the English boys were displaying their national colours with pride, most notably when they went ahead and beat West Germany to win the 1966 World Cup Final. What are we on now, though- 50 years of hurt? Aside from that one incredible day at Wembley all those years ago, it's pretty safe to say that England fans have been put through all kinds of frustration, agony and unbearable heart-break. From the sheer controversy of disallowed goals (*cough* Sol Campbell *cough*) to the downright excruciating failure at penalty shoot-outs, England just don't seem able to get knocked out of an international tournament without an overwhelming feeling of bad luck. It seems that we're destined to fall just short of the mark or, on the basis of the current squad, nowhere in sight of it. But despite the pain of Southgate's penalty miss and the anguish of Maradona's 'Hand of God', at least we've been treated to some simply beautiful England football kits down the years. England 1966 World Cup Away Kit
England World Cup winning red kit in 1966 😍😍 pic.twitter.com/aAH7fAJTSn

— football kit battles (@elitekits1) July 5, 2016
You just can't talk about England kits without mentioning the one that led us to our one and only World Cup triumph. But it's not the traditional white kit that sticks in the mind here, as we can't help but think of Bobby Moore lifting the Jules Rimet trophy in that striking red away strip. Produced in a time before sponsorships and branding became such a huge part of football kit design, this absolute gem from '66 is as simplistically beautiful as any other kit you're likely to find. Besides, the Three Lions have never been displayed so proudly. England Euro '96 Goalkeeper Kit
A REMINDER:

England line up in the mid 1990's.

What a team. Nice kit @thedavidseaman 😂 pic.twitter.com/FToZewlI6m

— Football Remind (@footballremind) December 21, 2016
Not to everyone's tastes, the England goalkeeper kit of Euro '96 certainly raised a few eyebrows- and more than a few smiles. Okay, so it might not be the most stylish design we've ever seen, but this bold, vibrant number perfectly encapsulates everything that was so great about the 90's, and fully deserves its place on this list. We aren't going to go into much detail here, just look at it! If you found this hanging in the Fresh Prince of Bel Air's wardrobe, you really wouldn't be too surprised. England 1982 World Cup Kit
Kit was better than the song... #1982 #england #ThreeLions pic.twitter.com/e4nIMr898S

— Football Nostalgia (@Football_Retro) July 23, 2016
If you're looking for a shirt that proudly displays the red, white and blue that has become synonymous with England kits, then look no further than this beauty from 1982. Worn by legends such as Kevin Keegan and Terry Butcher, this unique creation managed to show off these bold colours in a stylish design that certainly catches the eye. This retro England kit was created by Score Draw, back in the days before Umbro and Nike got their hands on the England brand. Yep, this is one of our favourites. England 1990 World Cup Kit
New post (Gazza's tears in Turin) has been published on Football Sins - https://t.co/d1O15ngeqx pic.twitter.com/0ROXvnQZrN

— Football Sins (@Football_sins) January 7, 2018
Although there have been many fantastic England kits down the years, we'd have to argue that the design for the 1990 World Cup is the greatest of all. Perhaps it's due to the fact that this was the last time England had any kind of an impact on a World Cup tournament, or it could be because it perfectly captures the whites and blues of the traditional home kits. Whatever it is, it's hard not to fall in love with this bad boy from Umbro. It might make you automatically picture Gazza's tears, but you can't ignore the beautiful, subtle patterns and the bold use of navy on the collar and shorts. If it were up to us, we'd be wearing this kit at every World Cup from now until the day Liverpool actually manage to win a Premier League title. You can compare prices on all kinds of England football kits right here with FOOTY.COM, making sure that you can grab the best deal no matter which of these designs is your favourite.