World Cup 2018: Puma Switzerland Kit
It's full steam ahead for the Switzerland squad as they prepare for their long trip to Russia, and we're taking a closer look at the impressive Puma football kit they'll be wearing along the way.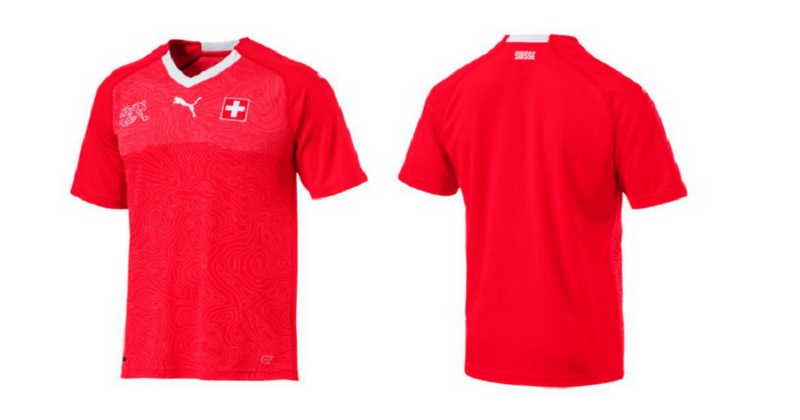 It's safe to say that we're just a little bit excited about next summer's World Cup here at FOOTY.COM. From the moment the Group Stage draw was completed back at the start of December, we've been positively giddy at the very thought of some of those fixtures. Portugal vs Spain, Argentina vs Croatia and England vs Belgium are just 3 of the ties that have got us literally frothing at the mouth- and we've still got over 6 months let to go. It seems that, ever since the draw was made, we've been showered in an unbelievable amount of absolutely stunning international kits for 2018. Puma, in particular, have released a plethora of incredible kits to cap off a year that saw the introduction of the Puma Future and ONE, with Antoine Griezmann acting as the poster-boy for both of those releases. With the likes of Italy, Cameroon and Uruguay being provided with some stunning designs and colourways for the year ahead, our attention has turned towards a side that will actually be quite optimistic about their World Cup chances: Switzerland. After reaching the knock-out stages in both 2006 and 2014, Switzerland have become one of those sides that none of the big boys like to play against. Difficult to beat and offering up a potential banana skin, the Swiss certainly haven't failed to impress in their last few World Cup appearances.
Shirt news: The Switzerland World Cup home shirt by Puma

What do you think? pic.twitter.com/VM9ZsVBz71

— Classic Football CFS (@classicshirts) November 13, 2017
The Swiss have been drawn against tournament-favourites Brazil in their group this time around, but they'll certainly feel that their other ties against Costa Rica and Serbia are very winnable indeed. With the likes of Xherdan Shaqiri and Granit Xhaka very much an integral part of next summer's squad, we're backing Switzerland to make it through to the knockout phase once again. And it looks like Puma are as well- because this new strip is fit for a side pushing for a place in the latter rounds of the competition. Using the famous red and white colourway that has become synonymous with the Swiss down the years, the use of the nation's flag colours have always been a clear sign of the pride they have in their country.
Switzerland 2018 PUMA Home Kit - https://t.co/SMhpz9Y9Bu#PUMA #PUMAFootball #NewLevels #SUINIR #Playoff #RoadToRussia #WorldCup #NIRSUI #Suisse #Switzerland pic.twitter.com/MPWLZvovSJ

— Football Fashion (@footballfashion) November 12, 2017
Bearing the iconic Swiss cross, the Puma logo and the SFV crest across the chest, the subtle patterns ingrained into this kit are easily missed, but they add a certain texture and substance that other football shirts can only dream of- and it's fair to say we like it. Puma's innovative evoKNIT technology has become something of a staple of their new international kits, and the Swiss certainly don't find themselves missing out here. This lightweight material allows for improved ventilation and moisture control, meaning that they won't have to worry too much about any extreme temperatures. (Although, with the World Cup being hosted in Russia, we expect they might be more in need of something thermal.) The dryCELL exterior essentially keeps sweat away from the skin, allowing players to play in greater comfort and optimal movement. Well, when you've got Xherdan Shaqiri in your side, you're going to want to make the most of your agility any way you can. But what do you think of the new Puma Switzerland kit? Is it as good as their others or do you prefer something a little more retro? No matter what era of football kits you're into, you can always count on FOOTY.COM to compare prices and find you the best deals on the internet!