Borussia Dortmund 2017/18 Kits
Die Schwarzgelben. One of the most intimidating football kits in history is back with a bang this season, as the vibrant colours of BVB continue to tear up the German Bundesliga.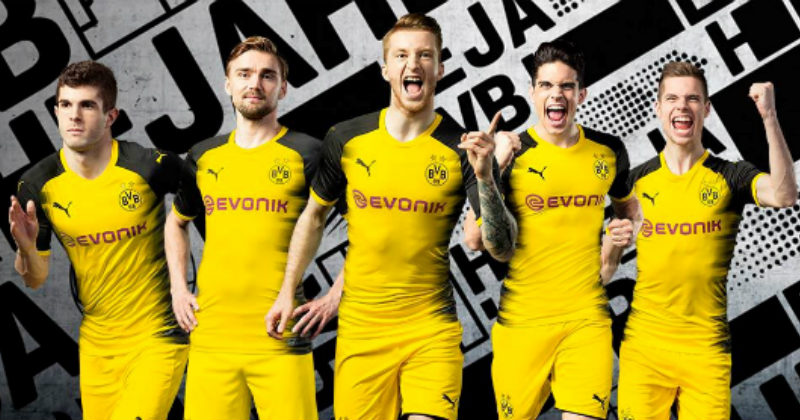 Puma.com
It's one of the most famous football kits in the history of the beautiful game.
For decades, teams have dreaded their visits to Westfalenstadion as they struggled to deal with the famous flair and extravagance of Borussia Dortmund. Attired in a vibrant yellow and black strip, BVB have always had a knack for swarming the opposition like a nest of wasps on steroids.
These famous colours are displayed with pride throughout the entire stadium, as the stands tower stubbornly above on all sides, adorned with banners and flags positively dripping with the blacks and yellows of BVB.
When it's full to capacity and the fans are in full voice, we'd happily argue that Westfalenstadion is one of the most intimidating atmospheres you're likely to find in the professional game. After all, there's nothing worse than getting yourself stung by a wasp, right?
⚽️ Exit the shadows. Light up the game. #StepOut @pumafootball. Auswärtstrikot 2017/18 🇩🇪 https://t.co/nn5EXIrIpw 🌍 https://t.co/1xyMdm3B0b pic.twitter.com/cooqAi3qSp

— Borussia Dortmund (@BVB) July 12, 2017
Well, this season Puma have once again been charged with the task of capturing the iconic BVB passion and fire in their brand-new kit design. We're taking a closer look at the Borussia Dortmund kits taking the world by storm so far this season…
BVB 2017/18 HOME KITS
BVB und @PUMA präsentieren das Heimtrikot für die Saison 2017/18. https://t.co/tZRVuF1LRa pic.twitter.com/9b4LZvOBO2

— Borussia Dortmund (@BVB) May 18, 2017
Puma have obviously stuck with the famous Dortmund colourway for their 2017/18 home kit design. The black and yellow shades create a striking effect across the front of the strip, as Puma have replaced last year's stripes with a set of stunning gradient hoop patterns.
The BVB and Puma logos sit prominently on the chest, offering a stark contrast to the vibrant yellow colour that has always been synonymous with Borussia Dortmund kits. Once again sponsored by Evonik, their logo is displayed in a gorgeous purple colour, sitting snugly in the lighter sections of the hoop pattern.
Black lining runs across the collar and neck of the new shirt, while black shorts and yellow socks are once again used to add the finishing touches to the infamous Borussia Dortmund style.
BVB 2017/18 AWAY KITS
Men in black with the away jersey https://t.co/cxlSRlxrZ7 pic.twitter.com/N0eeZo1K86

— Borussia Dortmund (@BVB) February 22, 2016
Now, just look at this beauty. The 2017/18 Borussia Dortmund away kit is one of the smartest football shirts we've seen this season, and offers a modernised upgrade to last season's design.
This year's Puma creation does way with the yellow stripes of previous designs, and instead incorporates an incredible slick all-black base with fiery flashes of colour. These vibrant yellow splashes help to make the logos more distinctive, while the unique dotted pattern on the shoulders complements the deep black colour perfectly.
The Evonik is given maximum legibility, sitting prominently on the front of the shirt in a white font that's absolutely impossible to ignore.
We're huge fans of this more modern Borussia Dortmund kit, and we can't help but feel that if Batman were to ever wear a football kit… it would be this one. And if that's not a ringing endorsement, then we really don't know what it is.
If you're looking to get your hands on one of these striking Borussia Dortmund kits, then compare prices and find yourself the best deal right here with FOOTY.COM! We compare prices on all kinds of football kits, so you're bound to make a saving with us!