Adidas Unleash Belgium World Cup 2018 Kit
Get your Christmas lists at the ready because Adidas have released another great World Cup 2018 kit- and this time it's for The Red Devils of Belgium.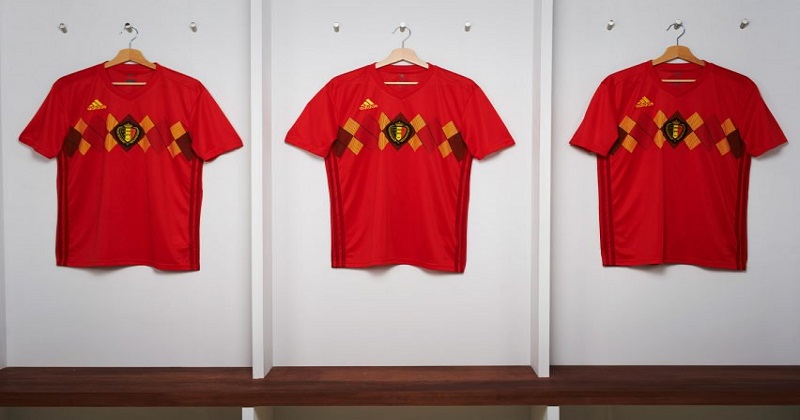 Image: adidas.com
Belgium are set to be England's toughest opponents of Group G; with players like Kevin de Bruyne, Romelu Lukaku, Thibaut Courtois and Eden Hazard in their starting line-up, fans of the Three Lions aren't feeling too hopeful. Belgium have a quality squad on paper and will be hoping to finally fulfil their potential at next summer's World Cup. Adidas have created a bold kit for them to step out in in Russia, with a design derived from the iconic 1984 home kit; with an intricate diamond pattern across the chest reminiscent of the classic Pringle socks.
Belgium 2018 World Cup adidas Home Kit - https://t.co/I3woppF4Sw#WorldCup #adidas #HereToCreate #Belgium #BelgianFootball pic.twitter.com/6wueotuhiQ

— Football Fashion (@footballfashion) November 11, 2017
Most adidas designs for the World Cup are making use of a bold single colour for the majority of the kit. Belgium have been given a predominantly red kit with a yellow adidas logo for contrast, and a dark red for the infamous 3-stripes running down the sides. The adidas designers have been having a seriously nostalgic year, with most of their designs embracing a retro look and feel from classic kits of the past. The new Belgium home kit is reminiscent of the 1984 top – one of the national teams most iconic kits of all time. Gone is the white band across the chest from the last design, and in its place, a red and yellow argyle pattern emboldens the national team crest which now takes centre stage, adorning the centre of the chest.
Belgium's 2018 World Cup kit has been leaked and its beautiful! 😍 https://t.co/XvV4uAebNV pic.twitter.com/idwHWRljim

— SPORTbible (@sportbible) October 30, 2017
The kit is completed with red shorts and red socks, both adorned with tonal adidas stripes and yellow logo. The socks feature the famous 3-stripes around the top with 'Belgium' written in adidas' one-for-all typeface across the centre front. The goalkeeper kit is a complete black number with an understated look based on the new AdiPro 18 template. The Adidas 3-stripes are in yellow, as is the logo, really standing out on the black 2-tone striped body. The goalkeeper jersey comes without the argyle and the badge is on the left side of the chest rather than centralised. Get your Belgium football kits at FOOTY.COM. Why? Because we compare the best prices from all the major retailers, so you will get the best deal out there with us!