Best Football Black Friday 2017 Deals
It's time to keep an eye out for fantastic deals on football boots, shirts and other merch, because the infamous Black Friday sales are almost upon us once again. Fortunately, FOOTY.COM will be doing all of the hard work and finding you the best deals…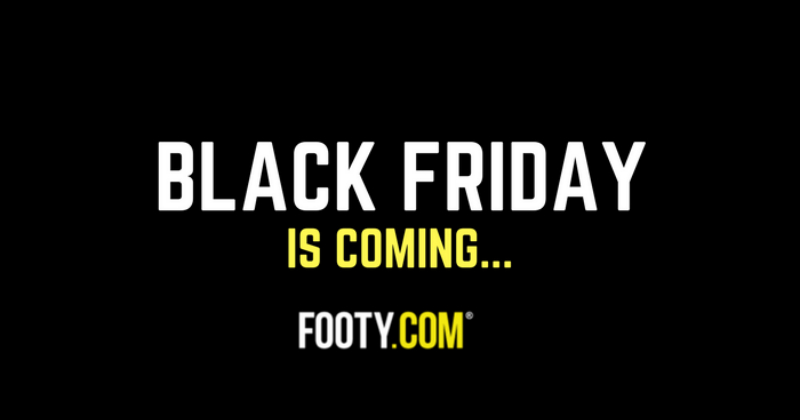 Head over to our shiny new Black Friday football deals page to find the biggest 2019 savings. We'll be comparing prices on boots, shirts, trainers and much, much more!
That's right lads, you need to get your wallet at the ready and be prepared for a quick scrap by the checkouts- Black Friday 2017 is almost upon us.
Alternatively, if you don't really fancy fighting over a football shirt this weekend, then you could just use FOOTY.COM to find the best deals around. We'll be scouring the internet and comparing prices on November 24th to make it easier than ever for you to find the best Black Friday deals.
More importantly, we make sure you don't waste loads of time browsing the internet and agonising over grabbing the lowest prices. Ultimately, this means you stand a much better chance of bagging the best deals before they sell out, and you can be busy looking forward to the delivery of your new boots while everyone else is manically searching the internet.
The news is always filled by stories of fights in high street stores on Black Friday, as people across the country seem to work themselves up into a frenzy and become desperate to bag the best deals. Just like being stuck in the supermarket on a busy Saturday afternoon, it's not exactly an enjoyable shopping experience.
Well, we thought we'd help you avoid any Black Friday trauma by giving you a quick 3-step guide to becoming a 'discount guru' with FOOTY.COM.
STEP ONE: FIND
This may be even more obvious than the fact David Moyes is going to fail at West Ham, but the first step to mastering Black Friday is through finding the best products on offer.
Usually, this could entail hours of browsing different retailers to find out exactly which products are being reduced for Black Friday. You might be hoping for the new Nike 'Fire and Ice' collection to be discounted, or to make some savings on a retro pair of adidas Predator boots- whatever you're looking for, FOOTY.COM will make it easier than ever to find the best deals.
We'll be scouring the internet to find the cheapest Black Friday deals on all kinds of football boots and kits, letting you search for the biggest savings across multiple retailers in one convenient place.
It's coming...https://t.co/0od3wUSK5x pic.twitter.com/Oh7cCEEeGQ

— Pro:Direct Soccer (@ProD_Soccer) November 13, 2017
With massive football retailers such as JD Sports, Pro Direct Soccer and many, many more looking set to launch a series of Black Friday promotions, FOOTY.COM makes it easier than ever to find out exactly which products are being discounted.
STEP TWO: COMPARE
Okay, so you know what is being reduced for Black Friday, now it's all about finding the lowest prices.
The chances are football retailers will be offering very similar products to each other on Black Friday, so it can turn into a real nightmare trying to make sure you're getting the best deal out there. The last thing you want is to buy something from JD, for example, only to find an even bigger discount on Amazon or Sports Direct.
‼️30% OFF SELECTED Nike Football FIRE/ICE BOOTS‼️

Play Fire 🔥 Play Ice ❄️ Save money 💷

The perfect Christmas gift is now available at a fraction of the usual price 👉👉 https://t.co/SbuaKrPG9n

HURRY! OFFER ENDS NOVEMBER 21st! #PlayFire #PlayIce #XmasShopping pic.twitter.com/cDcF4ilhS4

— FOOTY.COM (@footy_com) November 19, 2017
FOOTY.COM allows you to find the product you've got your eye on, load it up, and then see a list of the lowest Black Friday prices. Instead of having to flick between multiple websites, noting down the price and running the risk of the best deals selling out in the meantime, with FOOTY.COM you'll be saving a shed-load of time.
Through the single click of a button, you can find the products you're interested in, and then see the cheapest prices listed conveniently right before your eyes. Not half bad, eh?
STEP THREE: SAVE
Now that you've found the products you want and can see the lowest prices, it's time for you to do what you came here for: to save money!
All you have to do is click the "Get Deal" button on the lowest price, and you'll then be redirected to the product on the retailer's website. Whether it's Amazon, Pro Direct, Kitbag or anyone else- all of the big online football retailers will have their Black Friday deals listed on FOOTY.COM, and you can go straight through to add the product to your website with one easy click.
The best football Black Friday 2017 deals can be found right here- and you'd be crazy not to use FOOTY.COM to compare prices and bag the lowest prices!
Sound too good to be true? Well, you can have a look through FOOTY.COM today for all kinds of deals on football boots and kits, so that you can get yourself prepared for what to expect on Black Friday 2017!