Parisian Paradise: Nike's Stunning 2017/18 PSG Kits
Last year's Ligue 1 runners-up look set to enjoy one of the most exciting seasons in their history, so it's only fitting that Nike have given them a range of kits that live up to all the hype.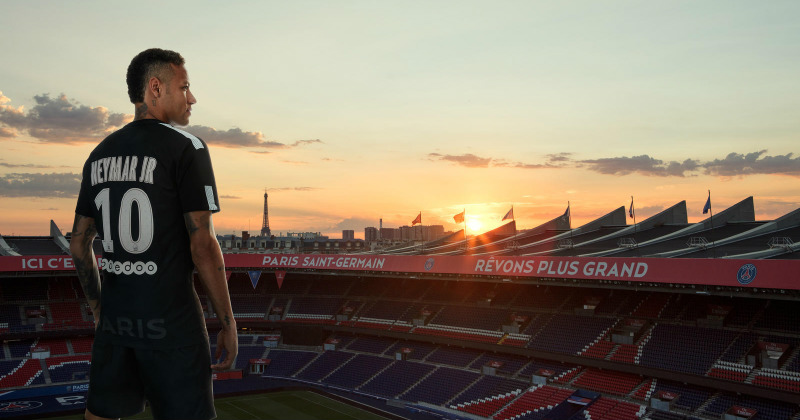 Image: news.nike.com
Neymar. Mbappe. Cavani. Not a bad front three, eh?
When talisman Zlatan Ibrahimović left the Parc des Princes back in 2016, it's fair to say that many of us half-expected Paris Saint Germain to fall off the European map for a while. He was their star man, their main goal scorer- and it's no secret The Parisians were disappointed to see him join Manchester United on a free transfer.
What followed was a disappointing campaign in in which they finished runners up in Ligue 1 to AS Monaco, and famously managed to scupper their 4-goal advantage over Barcelona in the last 16 of the Champions League.
But now PSG are back, and they look far more dangerous than they ever have done before. Even with the likes of Cavani, Draxler and Di Maria on their books, the French giants have never seriously been considered contenders for Europe's top prize- but everything is different this year.
After breaking the world transfer window to bring in a certain Brazilian superstar, PSG have also invested heavily in youngster Kylian Mbappe. Now, they look like a completely different animal in the Champions League, and their 3-0 drubbing of Bayern Munich was a result that certainly grabbed our attention.
This year, PSG will be aiming to reclaim their Ligue 1 crown (unless Claudio Ranieri carries on his 'Leicester-work' over at Nantes) and to reach their first ever Champions League Final. But whether the big-money squad sinks or swims this season, they'll be doing it in style with Nike's stunning 2017/18 kits.
PSG 2017/18 HOME KIT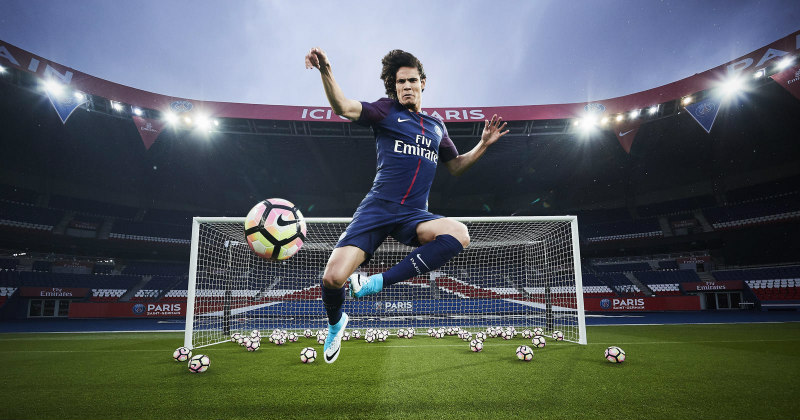 Incorporating Nike's innovative Aeroswift technology, the new PSG home kit is a thing of sheer beauty, and there's little wonder as to why it's proven so popular with fans already this season.
The new design uses the famous red, white and dark blue colourway, with a slightly darker torso to last year's strip. If you look closely at the collar, you'll see subtle detailing which pays homage to the club's history- which has been a feature of all the big Nike kits this season.
Featuring a fresh red stripe right down the middle of the shirt, the new design offers a fresh look and feel to one of the most iconic football kits on the European stage. Engineered knit zones offer an enhanced fit and an innovative blue stripe that increases ventilation- in short, Neymar is going to take some stopping in this bad boy.
PSG 2017/18 AWAY KIT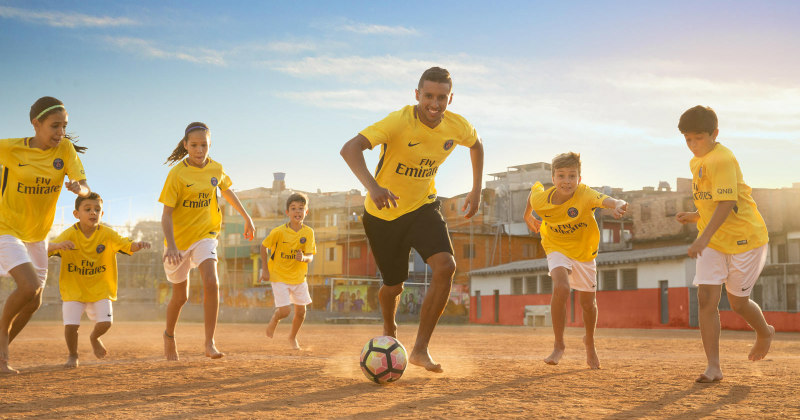 The Brazilian influence on PSG hasn't been difficult to see down the years. The flamboyance and creativity of Brazilian players has always been a famous aspect of PSG's game, and we all remember how our jaws dropped when we first saw what Ronaldinho was doing in the French capital.
Now with Neymar, Marquinhos and Thiago Silva a key part of their squad, Nike have paid homage to the Brazilian influence with this stunning yellow away kit.
Featuring the same innovative technology as the other PSG kits, this away strip is a beautiful coming together of the city of light and the country of football. The vibrant yellow and blue colourway is a clear salute to the club's ties with the South American nation- a tie that has only strengthened following the record signing of Neymar.
PSG 2017/18 THIRD KIT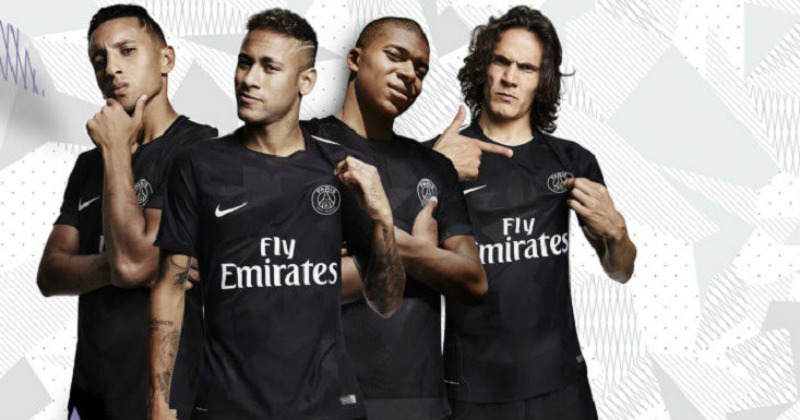 Speaking of Neymar, he was very much the poster boy for the 2017/18 PSG third kit when it was released earlier this year- and it's fair to say that the Parisians absolutely loved it.
Released as part of the stunning Nike camo collection, the PSG third kit looks set to rock the Champions League this season, as The Parisians march on in their search for the Coupe des Clubs. Featuring a smart black colourway and geometric camo pattern, the new strip salutes the pride of French capital with the words "Ici C'est Paris" stitched to the inside.
The grey stripes on the arms and shoulders incorporate lattice detailing to pay homage to the iconic Eiffel Tower, while the word "Paris" stands out boldly on the back of the shirt.
This is much more than a shirt made to show off Neymar, it's a beautiful love letter to the city of Paris- and, well, a damn good football kit.
If you're looking to get your hands on one of these gorgeous PSG football kits, then compare prices on FOOTY.COM today and find the best deal on the internet! With a good shot at the Champions League this season, this shirt could well go down in the club's history as the greatest ever…