Introducing The adidas X David Beckham Capsule Collection
Bread and butter. Fish and chips. Beckham and adidas. Sometimes the best partnerships are worth celebrating, and this stunning new adidas collection has been 20 years in the making…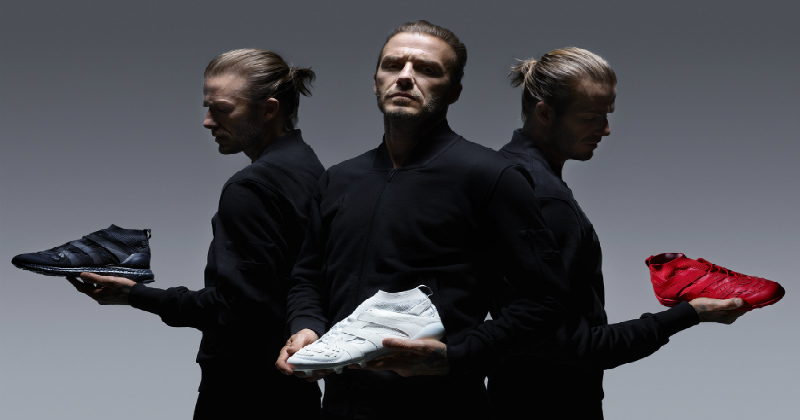 Image: adidas.co.uk
First of all, let's address the elephant in the room- we all wish we were David Beckham.
From the celebrity lifestyle, to the beautiful wife and that magical wand of a right foot, Becks has always been an idol for young lads (not to mention other professional players) ever since he burst onto the scene at Manchester United.
Growing in prominence as part of the infamous Class of '92, we all know just how much success Beckham enjoyed whilst playing at Old Trafford, and it really came as no surprise when he was handed the England armband after Alan Shearer's somewhat premature international retirement.
With pinpoint crosses, stunning goals and majestic free-kicks, the phrase 'bend it like Beckham' became something that every single football fan on the planet was familiar with. He was the original 'celebrity footballer', and his spells at Real Madrid, LA Galaxy, AC Milan and PSG have made him an idolised figure all over the world.
So, yeah. It would be awesome to be Becks for even just a day.
The boot of a generation.
Remastered by David Beckham.
Unveiled tomorrow. #LimitedCollection pic.twitter.com/5SnM39dC97

— adidas Football (@adidasfootball) October 29, 2017
But while Beckham might have ended up playing in a range of different countries and wearing a plethora of iconic shirts, there's been one constant throughout most of his career: the adidas Predator.
If you look back over the defining moments of David Beckham's career, you're bound to see a pair of Predators smiling back at you from the turf. The last minute free-kick against Greece. The penalty against Argentina. The two corners in the '99 Champions League Final. The adidas Predator has been through it all with him.
In his own words: "When I look back on the best moments of my career, the one defining theme of them all is the adidas Predator. It has always been there, helping me play my best when it mattered most. That's why when adidas offered me the chance to design an updated version of the boot for on-pitch, in the cage and on the street, I absolutely jumped at the chance."
Inspired by his greatest moments.
Introducing the adidas Football x David Beckham capsule collection.
Available tomorrow.#LimitedCollection pic.twitter.com/jWNObhPO9x

— adidas Football (@adidasfootball) October 30, 2017
The 'chance' he is referring to is the brand-new adidas x David Beckham Capsule Collection, which is specifically designed to celebrate the prosperous 20-year relationship between the brand and the player. Beckham has always been something of a poster-boy for the Three Stripes, so it should really come as no surprise that they're so keen to pay homage to this special relationship.
The new adidas collection features three new pieces of footwear: with one for the pitch, one for the street and another for the cage. Becks played a huge role in the design and creation of these boots, and his influence is clear for all to see.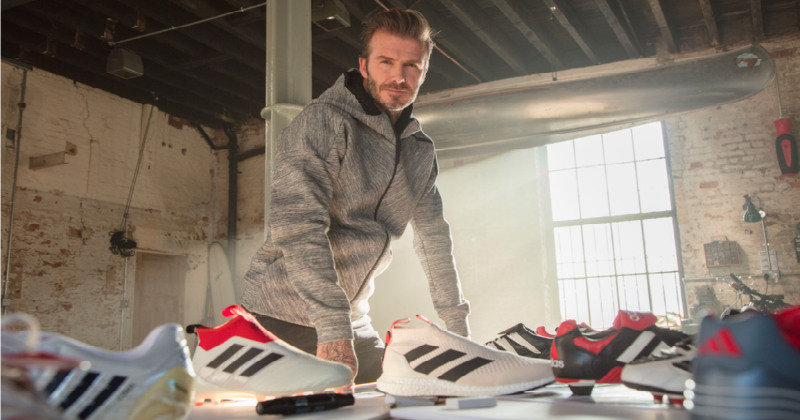 Beckham wore more than his fair share of Predator boots throughout his illustrious career, but he was quick to pinpoint the Predator Accelerator as his favourite boot. So, after being originally released in '98, the Accelerator is making a grand return- and it looks damn good.
The new Accelerator for the pitch has been given a gorgeous white make-over, with a responsive design that has been optimised for the modern game. The cage shoe comes in a 'Triple Red' colourway, paying homage to the '99 treble-winning season when Becks first wore the Accelerator. As for the street version, this black design features a Primeknit and suede upper for an incredibly smart piece of footwear.
It doesn't take a genius to see that white, red and black were the most prominent colours of Beckham's career.
But it doesn't end there. Each shoe incorporates stitching that salutes the highlights of Beckham's career, including his iconic shirt numbers, which you can find on the heel. If that wasn't enough, then the original Predator typography has been blended with Beckham's name to signify the importance of their relationship, and to give a unique twist on a classic football boot.
We're big fans of the new adidas x David Beckham Capsule Collection, but let us know what you think of them in the comments below!
If you're looking to get your feet into a pair of these iconic football boots, then compare prices on FOOTY.COM today and find yourself the best deal!