Celebrating 160 Years of Sheffield FC
If football is your religion, there is one team you can thank. Meet the world's first football team and help them celebrate 160 years of football.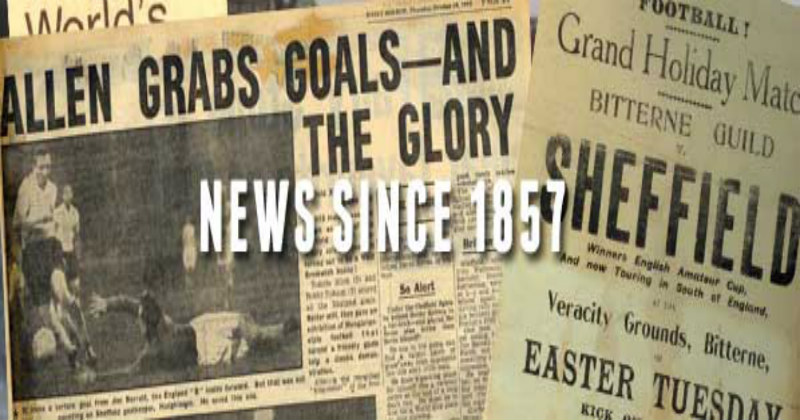 Sheffield FC have been playing football for 160 years. Some tired legs out there. Image: sheffieldfc.com
It's hard to think that there was a time when football didn't exist in England. In the modern world, barely a week goes by without at least two days of footballing action for us to feast our eyes on. But our past contains dark days; when the only football available was a mob storming the streets, beating the living daylights out of each other.
But on one glorious day in Sheffield in the year 1855, Sheffield Cricket Club (that's right, there was cricket but no football: dark days indeed) organised an informal football match for members. The teams divided into 'Married Vs Singles', and played under their own set of rules.
And things caught on: members Nathaniel Creswick and William Priest, cricketers who 'saw the light', went on to found Sheffield FC in 1857, and would write the 'Sheffield Rules'-the first laws and rules for the new game.
1 DAY 1️⃣️⚽ Until The World's First Football Club turns 160 years old and we can't wait to kick it off! #HappyBirthdayFootball pic.twitter.com/uJcPVhk3AN

— The World's First (@Sheffieldfc) 23 October 2017
Whilst that little rascal Tom Brown and Co were playing their own versions of the football/rugby amalgamation across the country's public schools; Creswick and Priest were putting pen to paper for the foundations of the modern game.
Sheffield FC inspired the birth of many other clubs; their neighbour and oldest rival Hallam formed in 1860, and this local derby is still contested today. By 1862 Sheffield was home to 15 different football clubs.
On Tuesday we celebrate our 160th with a special game#HappyBirthdayFootball #Sheffield160 pic.twitter.com/8CxUvO4Ngc

— The World's First (@Sheffieldfc) 22 October 2017
One FA Amateur Cup success, a runners-up medal in the 1977 FA Vase, and 160 years later, Sheffield FC have endured.
Now playing in the Norther Premier League Division 1 South, Sheffield FC are celebrating being the first football club with a special game, celebrating 160 years against a 'Classic Football Shirts' team on the 24th October.
160 years of the beautiful game ❤️⚽

Available now 👉 https://t.co/jKd79M0Egc#HappyBirthdayFootball #TheWorldsFirst pic.twitter.com/i5388HdbUt

— The World's First (@Sheffieldfc) 22 October 2017
To this day, Sheffield FC remain only one of two clubs, alongside Real Madrid, to be awarded the FIFA Order of Merit in 2004. In 2007 they commemorated their 150th anniversary by being inducted into the English football hall of fame: a place we think is absolutely deserved.
Get your own Sheffield FC classic football kit at the best price, here, at FOOTY.COM. And help celebrate possibly the greatest trend setters in history, the world's first football club – Sheffield FC.