Boots For the Best: Nike Mercurial CR7 "Melhor"
After Cristiano Ronaldo was once again named Best Male Player at the FIFA Football Awards, Nike have unleashed a limited-edition Mercurial to celebrate the Portuguese star's achievements. "Siiiiii!"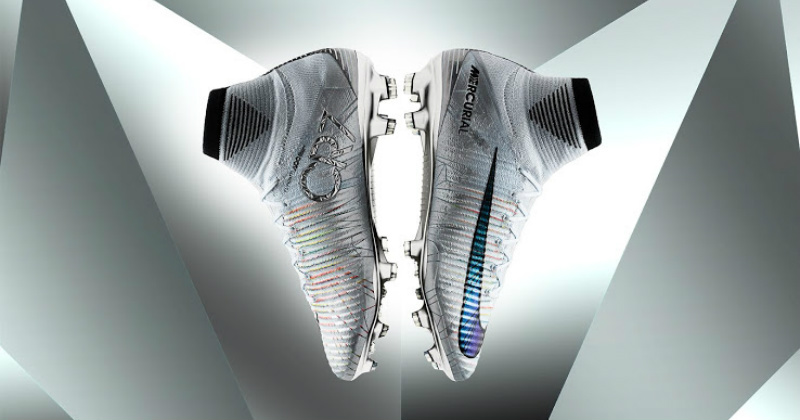 Image: nike.com
Every football fan in the world knows the name Cristiano Ronaldo.
Whether you go to American suburbs, Italian vineyards or Brazilian favela's- you're bound to see at least one young fan sporting one of those iconic Real Madrid football shirts. With so many having the name "Ronaldo" emblazoned proudly on the back (above the signature number 7) it's not hard to notice that the Portuguese star has become something of a worldwide phenomenon.
After a season that saw him become the first player to surpass 100 Champions League goals and lead his team to yet more glory on the European stage, it's fair to say that the last 12 months haven't been too shabby for the greatest player on the planet.
He's silenced the Nou Camp, broken Juventus hearts and brought yet more domestic success to the Bernabeu- and that was just in the summer. It seems that everything he touches turns to 24-carat gold, so it's no wonder Los Blancos were so concerned by his apparent desire to leave in the transfer window last July.
🏆🏆Back to back.

Get the limited-edition #CR7 #Mercurial Melhor: https://t.co/qOr9YrAtGx pic.twitter.com/dp860CBiCe

— Nike.com (@NikeStoreEurope) October 24, 2017
Well, last night Ronaldo enjoyed yet even more success at the FIFA Football Awards in London, where he took home the Best Male Player Award for the second successive year. After the season he's had, we have to say that none of us really expected Lionel Messi or Neymar to come close to stealing his crown.
It was a spectacular night that saw the likes of Zinedine Zidane and Gianluigi Buffon come away with their own respective prizes, but it's Ronaldo who has once again stolen the spotlight and the headlines. His name is the word on everyone's lips this morning (as it is most mornings) and he'll be busy soaking up the plaudits from critics, fans and players alike.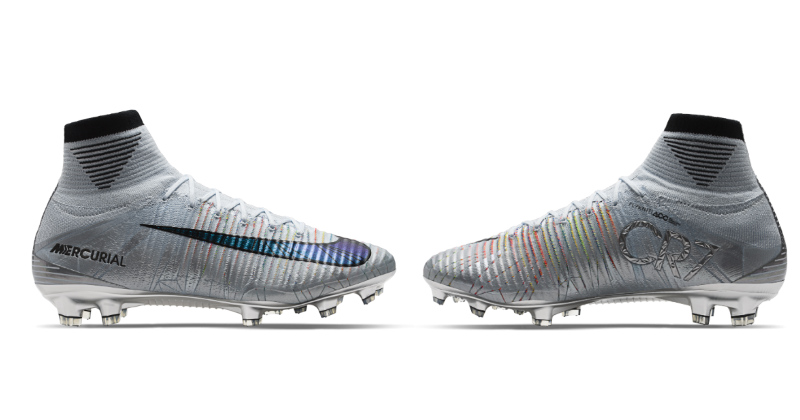 But that's not the end of it, because Nike have gone ahead and released a limited-edition Mercurial silhouette to celebrate this most recent triumph. Being labelled as the Nike Mercurial CR7 'Melhor' boots, these stunning football boots have been designed to solely honour the achievements of the Portugal captain, so you now have the chance to buy yourself a little piece of history.
For those that need to brush up a little on their Portuguese, 'Melhor' translates as 'the best'- so no prizes for guessing why they've been named as such. If any Messi fans are feeling a little riled about all this, by the way, then may we direct you to Ronaldo's trophy cabinet?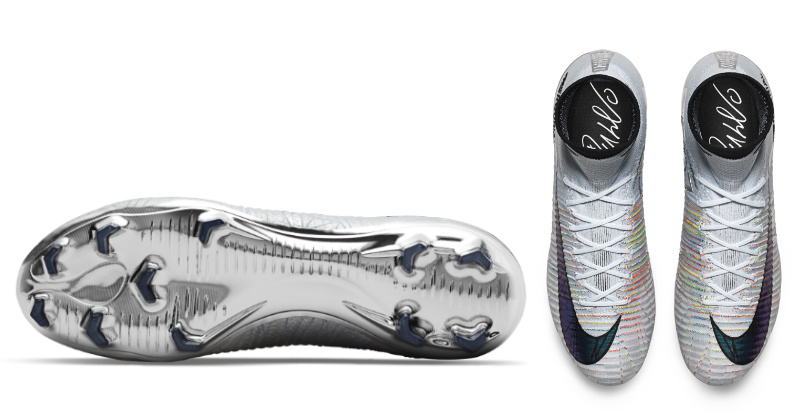 The new Mercurial design features an absolutely glorious silver colourway, which incorporates a stunning platinum finishing on the CR7 lettering. Flip the boots over, and you'll see a glinting chrome soleplate and sparkling studs, making you shine on the pitch just as Ronaldo does on such a regular basis.
But it's not all about the sparkling colourways and attractive finishes, because the boots incorporate the same innovative technology that has become synonymous with the Mercurial collection. With a Flyknit upper enhancing ball control, a Dynamic Fit collar providing a comfortable fit and precision-plated studs, the Nike Mercurial CR 'Melhor' is the ultimate pair of football boots.
Following on from the recently-released CR7 Chapter 5 'Cut To Brilliance' designs, the new 'Melhor' edition adds the next chapter to one of the most remarkable stories in football history.
Real Madrid will be hoping to defend their respective La Liga and Champions League titles this season, and only time will tell if Ronaldo will fire them to glory yet again. If he does, he could well be back on this awards stage again in 12 months' time.
If you're hoping to get your feet into a pair of the Nike Mercurial CR7 'Melhor' football boots, then you can go ahead and compare prices right here with FOOTY.COM. Find the best deal today, and start playing like Ronaldo with a bit of extra cash left in your wallet!