La Liga Kits 2017/18 The Big 3
One of the biggest leagues in European football is finally underway, and we're taking a closer look at this season's top kits.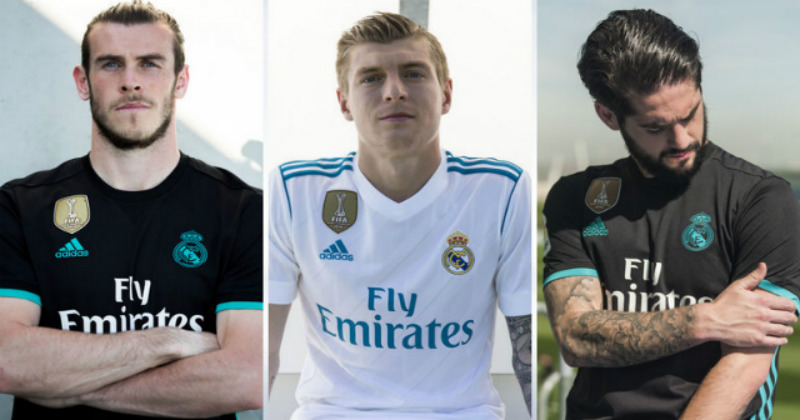 Messi. Ronaldo. Bale. Suarez. Griezmann.
These are just a sample of the top names we can expect to see in La Liga this season- unless something incredibly dramatic happens between now and transfer deadline day. It's not hard to see that these are some of the biggest names in world football, while you could even argue that some are amongst the best to ever play the beautiful game.
Even with the controversial departure of Neymar this summer, La Liga still plays host to the best players in football, with Barcelona and Real Madrid acting as the pinnacle to any footballer's career.
So, it's fair to say that we're incredibly excited to see the best players in the world show off their club's respective kits. With Messi donning the blues of Barca, Ronaldo the white of Los Blancos and Griezmann showing his loyalty to Atletico, this is set to be another year of the world's most famous players donning the world's most famous kits.
But what's new this season? We're so glad you asked…
REAL MADRID C.F.
Champions create.

Introducing our new 2017/18 home and away kits by @adidasfootball. Get yours now: https://t.co/1SlXyHhtcW#HereToCreate pic.twitter.com/jDvPqCGheF

— Real Madrid C.F.🇬🇧 (@realmadriden) June 14, 2017
This looks set to be another successful year for Real Madrid. With the turmoil over at Barcelona and the fact that Cristiano Ronaldo now seems to be going nowhere, Los Blancos are now in an even stronger position than last season, despite the lack of any major signings.
Well, it looks as though they'll be vying for another La Liga triumph in an absolutely gorgeous adidas kit once again, because the designers have well and truly outdone themselves with the latest release. In fact, we like it so much, we're even considering heading over to the Bernabéu to see this bad boy in action.
This year it seems as though teal is the new black, as this brand new turquoise-blue colourway is implemented across all three of Madrid's kits this season.
The home shirt is, of course, primarily a white design which is once again sponsored by Fly Emirates, and we have to admit that the implementation of the teal colour makes for a stunning combination. All of this season's shirts will also include a nod to the 2016 triumph in the FIFA Club World Cup, and Zidane's men will certainly be looking to defend their crown in a few months' time.
👕🖌👌
Our new 2017/18 3rd kit! Created in the @adidasfootball Creator Studio.

Get yours: https://t.co/h0zDuDzL83 #HalaMadrid #HereToCreate pic.twitter.com/LZd9zB0j0U

— Real Madrid C.F.🇬🇧 (@realmadriden) July 21, 2017
FC BARCELONA
👏👏👏 The new FC Barcelona kit is finally here. Get the inside scoop about its colors, imagery, and technology 📲 https://t.co/CKm8TvGqcB pic.twitter.com/JfNcSvLQBx

— FC Barcelona (@FCBarcelona) May 29, 2017
Despite the fact they have Lionel Messi and Luis Suarez leading the line for them, it's all been a little bleak over at Barcelona this season. Neymar's dramatic £200million departure to PSG seems to have certainly rattled a few cages, and the Catalan club now face a race against the clock to replace such a huge loss.
But, on a more positive note, their brand new kit is an absolute banger, and we bet any Barca fans out there can't wait to get their hands on one.
👕1⃣0⃣👌 pic.twitter.com/IoNbbqCqrW

— FC Barcelona (@FCBarcelona) June 1, 2017
Once again designed by Nike, the Barca home kit has undergone something of a make-over this season, with a few big design changes creating a shirt unlike anything the Catalan's have ever seen before.
The most obvious change is the brand new sponsor, as Qatar Airways have made way for e-commerce giants Rakuten. This new sponsorship deal is bound to give Barca a significant boost to their transfer funds, so it's safe to say that they should have no trouble at all in finding the money to replace Neymar!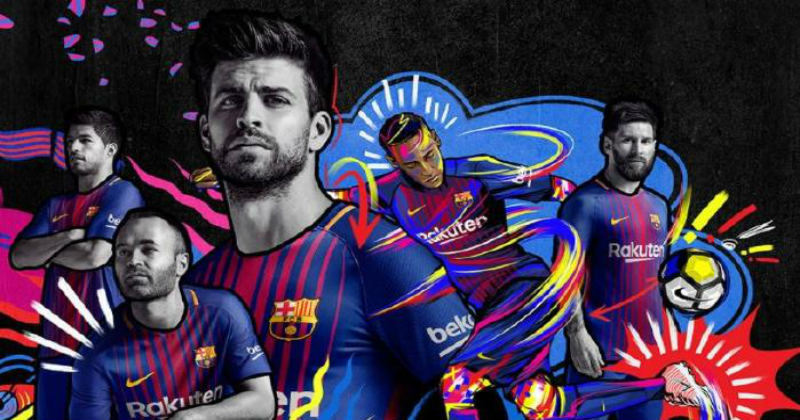 But it's not all about the new sponsor, because the brand new look of Barca's iconic Blaugrana stripes is sure to raise eyebrows. Instead of the traditional thick blocks of colour, Nike have opted for a sleeker, more subtle design- and we absolutely love it.
Most of the new stripes are thinner and more streamlined, meaning that the design isn't quite so in your face about it, whilst there's a single red stripe right down the middle that's thicker than the others. This all blends together to create a more subtle Barca shirt, and if it's followed by a successful season, there's no reason why it shouldn't go down as an absolute classic.
ATLETICO MADRID
WE FIGHT TOGETHER. We introduce the new designs by @nikefootball of our home and away kit. pic.twitter.com/dgTz4RNASb

— Atlético de Madrid (@atletienglish) July 21, 2017
While it's been a disastrous transfer window for their Catalan rivals, you have to say the summer has to be viewed as a success for Atletico- even though they've been unable to actually complete any transfers. The retention of Antoine Griezmann should be recognised as an absolutely massive piece of business, since he looked dead-set to be on his way to Manchester United, and Atletico will once again dream of grasping the La Liga trophy.
But the Griezmann deal didn't go through and Atletico fans can now enjoy the sight of the Frenchman sporting their famous shirt- at least for another season.
📸 ¡A teaser of this season's photo session! 😃👉This is how our 2017/18 new kits look like: https://t.co/ivDG8MIJch pic.twitter.com/B1AYLMQthO

— Atlético de Madrid (@atletienglish) July 21, 2017
It's fair to say that the Atletico Madrid home kit has divided opinion somewhat this summer, as the new "slashed" design hasn't been taken well by a large portion of supporters. However, this seems to be the Marmite of football shirts because other fans absolutely love the new design, and don't see it as a break away from the traditions of the club at all.
Another kit designed by Nike, the unique shirts also include the new club crest- so we think any Atletico fans had better get used to the idea of change, especially since they're getting a new stadium and even a new-look mascot!
So which of the Spanish giants has got the best shirt this year? Let us know what you think in the comments!
If you're looking for the best deals on La Liga football kits, then compare prices on FOOTY.COM today!