Premier League Clubs Add Sleeve Sponsors to Their Kits
Some Premier League kits are getting a brand new feature this season, and we're taking a closer look at it.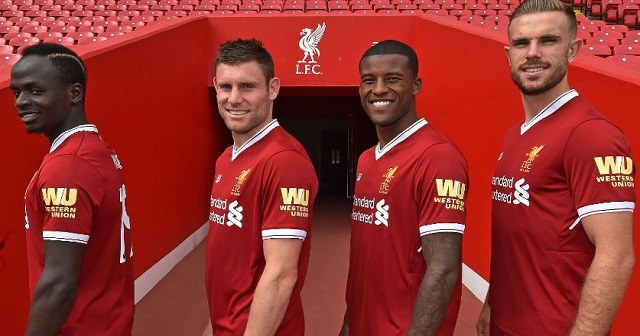 liverpoolfc.com
Some Premier League kits are getting a brand new feature this season, and we're taking a closer look at it.
Have you ever felt as though your club could really do with another shirt sponsor?
Nope, us neither. However, it seems as though Premier League clubs are going to provide exactly that, after being granted permission to implement sleeve sponsors on their kits this season. Earlier in the summer, each top-flight club became free to negotiate brand new sponsorship deals- and it seems that most them have wasted absolutely no time at all in drawing up some contracts.
But two unnamed clubs are unable to take advantage of this new sponsorship opportunity, due to the terms of their existing sponsorship deals. This means that these teams will miss out on a new agreement that could bring in an extra few million quid- but in this transfer market, the extra cash wouldn't even get you half of Jonny Evans.
The true value of the sleeve spot is estimated to be around 20% of the main shirt sponsor, so clubs like Manchester United will be no-doubt wringing their hands together at the prospect of receiving some serious extra cash.
#SCFC are delighted to announce @topeleven are to be the Club's Official Sleeve Partner from next season onwards pic.twitter.com/s1WBQqWbmb

— Stoke City FC (@stokecity) 16 May 2017
The new sponsorship logo will be emblazoned on the right sleeve of the club's shirt, replacing one of the two Premier League patches that were there previously. This means fans don't have to worry too much about it ruining the look of the new kit- since it's not going to be absolutely packed with different logos or turn your player into a walking, talking advertisement.
In fact, due to the extra injection of cash your club could stand to receive from an extra sponsorship deal, we have to say that this is a great opportunity. Although the transfer market is insane at the moment, that extra bit of cash could just see your team get another crucial player in before the window shuts on 31st August.
. @LCFC has announced that @scb_thailand has become the club's first official shirt sleeve partner #sportbiz https://t.co/NhnJCa97A2 pic.twitter.com/74rxOjYz3D

— MarketingTech Sports (@SportsMarkeTech) 24 July 2017
Leicester City swiftly found out that some fans weren't going to take too kindly to the addition of another sponsorship, though. After agreeing a deal for Siam Commercial Bank to occupy the free sleeve slot, many fans were upset at their logo suddenly appearing on replica shirts, despite its absence from any of the promotional stuff throughout pre-season. Fortunately, they're a nice bunch at Leicester, and they've now made shirts with and without the branding available for fans to choose from.
Manchester City is the first club in the PL to announce an Official Sleeve Partner after signing an agreement with Nexen Tire. [@ManCity] pic.twitter.com/dXC7jfljBP

— City Chief ️ (@City_Chief) 17 March 2017
Several other clubs have also made deals to fill the new sleeve slot. Manchester City have partnered up with Nexen Tire, while Chelsea have followed a similar suit in signing a deal with Alliance Tyres. Western Union have agreed a deal to be the new sleeve sponsor at Anfield, and Watford have partnered with 138 Bet.
#SaintsFC is delighted to announce that @virginmedia will also sponsor the team's shirt sleeves from this season: https://t.co/G5xLFEbuGr

— Southampton FC (@SouthamptonFC) 16 July 2017
Already the main shirt sponsor, Virgin Media have snapped up Southampton's sleeve space, and Swansea have agreed a deal with Barracuda Networks. Stoke City have brought Top Eleven on board, and Dongqiudi have become sleeve sponsor over at Crystal Palace.
#CPFC 🦅 are pleased to announce that Dongqiudi have become the club's first ever shirt sleeve partner!https://t.co/COVpD8NEws

— Crystal Palace F.C. (@CPFC) 18 July 2017
But we don't expect to see every club bearing a brand new sleeve sponsor this year, and many of them could be locked in negotiations for months to come. Going back to Manchester United, they're rumoured to be in talks with none other than Tinder, and we could be in for a bit of a wait before we find out whether they'll swipe right or left on that particular deal.
So what does everyone think? Are the new sleeve sponsors a fantastic business opportunity for your club, or just an eye-sore that we could all do without? Let us know in the comments!
FOOTY.COM compare online prices to find you the best deal on football kits, so you won't have to spend a fortune on showing off your club's new sleeve sponsor!