MLS 2017: Your Season Guide - Teams, Playoffs & More
New teams, familiar faces and growing popularity - the 22nd MLS season is almost upon us. Here is the FOOTY.COM guide with everything you need to know.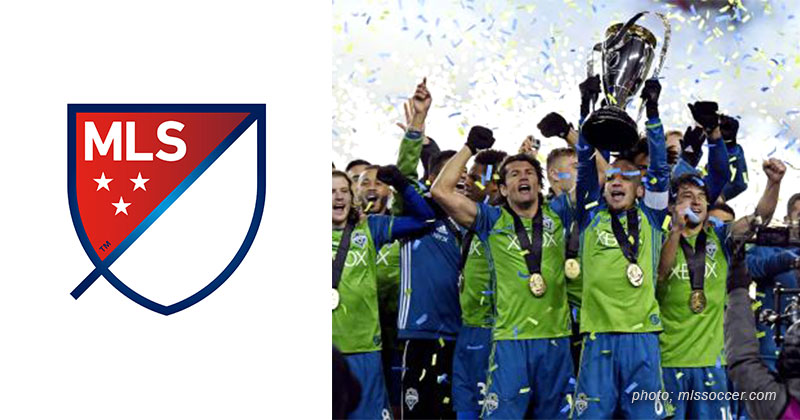 Now at the more mature age of 22, MLS has most definitely come into its own. The cringey memories of run up penalties, which resurfaced online, are an embarrassing blip in the league's effort to find its feet. With every season, it shakes off the reputation of a retirement home for ageing pros across the pond and is beginning to develop its homegrown talent at a rapid rate.
Although soccer faces stiff competition from basketball, baseball and American football, its popularity continues to grow, with total attendances increasing every year since 2004. It's not just the league itself that's growing, but the fan bases are booming too, with tifos, chanting and flags from worldwide football culture cementing its place in MLS.
After being the butt of jokes and not given the respect it graved, MLS is finally fulfilling its potential, establishing itself in the global game and becoming a better spectacle than a Diana Ross penalty.
How does the MLS work?
The MLS is made up of the Eastern and the Western Conference, with a current combined total of 22 clubs, 11 in each, from the USA and Canada. The six best teams of each conference then qualify for the Playoffs. Although the favoured US style of league, featuring a Conference and Playoff system, may seem alien to fans of the European game, the format is very easy to follow. Due to huge away trips, each team only plays the teams in their own Conference in the regular season, before they meet in the Playoffs.
The Supporters' Shield is then given to the team who finishes the regular season with the most points, who also gain a home-field advantage in the Playoffs. Whoever finishes 1st and 2nd in each Conference achieve automatic places in the semi-finals. The winners are then crowned in the MLS Cup Final. Simple as that.
Here's how the league is split and which teams will be playing in each Conference in 2017.
| | |
| --- | --- |
| Western Conference | Eastern Conference |
| Colorado Rapids | Atlanta United FC |
| FC Dallas | Chicago Fire |
| Houston Dynamo | Columbus Crew SC |
| LA Galaxy | D.C United |
| Minnesota United FC | Montreal Impact |
| Portland Timbers | New England Revolution |
| Real Salt Lake | New York City FC |
| San Jose Earthquakes | New York Red Bulls |
| Seattle Sounders FC | Orlando City SC |
| Sporting Kansas City | Philadelphia Union |
| Vancouver Whitecaps FC | Toronto FC |
When does the MLS Season Start/End?
The MLS kicks off on the first weekend of March, with the regular season concluding in October. The Playoffs then run from November to December.
How Do The MLS Playoffs Work?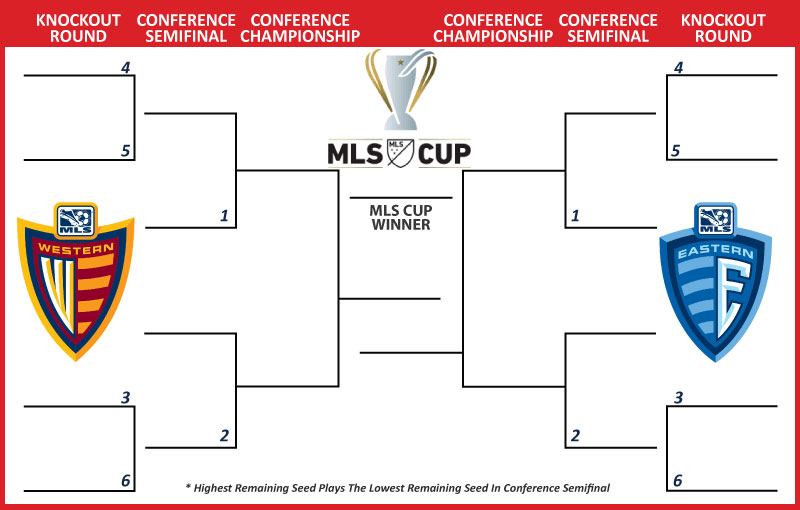 The six sides with the most points in each Conference battle it out in the Playoffs to lift the MLS Cup. Each Conference has a knockout round, semi-finals and then a final within the Playoffs, with the winner of the Western Conference final playing the winner of the Eastern Conference final.
This may sound like it undermines the importance of finishing top of your Conference, but on the flip side it adds drama and excitement until the last kick of the season, compared to leagues where leaders have the title wrapped up months before the final game. This has led to 11 different MLS Cup champions in the first 21 seasons of the league, meaning there's no runaway favourite.
For example, although the Seattle Sounders finished 4th in the Western Conference last year - ending just four points above 7th placed Timbers who didn't make the Playoffs cut - they reached the final to lift their first MLS Cup, beating fellow Canadians Toronto FC on penalties.
What is the MLS All Star Game?
The MLS All-Star Game takes part in August and consists of the MLS All-Stars, a team made up of 22 of the league's best players, and an international club. It regularly includes European opponents, and this year there are strong rumours it'll be Real Madrid or Barcelona.
What it is the Designated Player rule?
Believe it or not, it's been a decade since David Beckham touched down stateside to boost the profile of the MLS. Becks was the league's first Designated Player (DP), meaning he could be paid above the salary cap which is enforced throughout the MLS to prevent overspending and financial instability.
If you're new to the MLS, the DP and salary cap rule, the guys at uMAXIT Football have put together a short video explaining it all clearly.
Which MLS Team Should I Support?
When MLS fans want to follow a Premier League team or European side they're spoilt for choice in terms of club history to read up on. When MLS newbies are faced with the same task, not so much. With the league relatively new and clubs not offering the same amount of history, your choice could come down to geography, star players or even their name and kit.
Once you've decided who you're rooting for, it's time to get kitted out. Check out our MLS football kits collection to discover their cheapest prices online.
Whatever side you pick, as long as you stick with them we won't judge! If you're stuck for ideas on which MLS side you should back, Kick, FourFourTwo and Sky Sports have put together guides on how to find your best suited club.
Now you've picked your chosen MLS side, you need to make sure you're clued up on everything that's going on at the franchise/club - nobody likes a plastic fan after all. Head over to MLSSoccer.com where you can find a full MLS club social media directory to ensure nothing gets past you.
Who to watch out for in the MLS?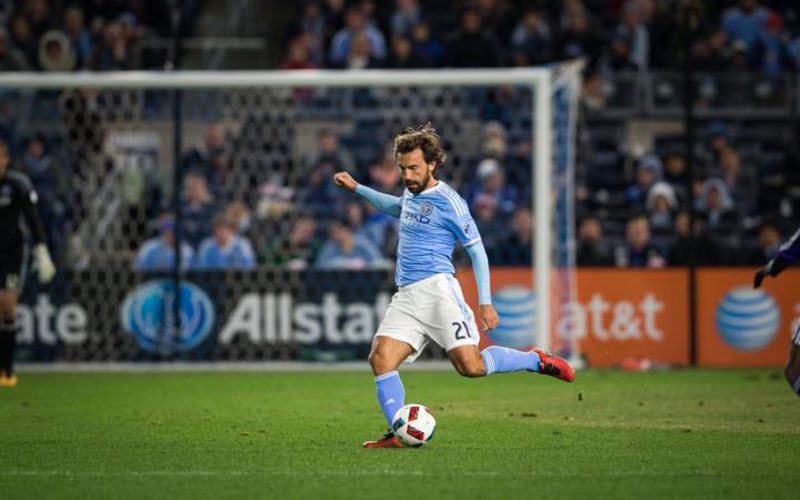 League new boys Atlanta United have brought in the services of former Barcelona and Argentina coach Gerardo Martino to help them get off to the best possible start in the MLS. They'll need to rely on the experience of former Sunderland front-man Kenwyne Jones and the crowd in the second biggest capacity stadium in the MLS, with 35 thousand fans packed in the Mercedes Benz Stadium.
Their fellow MLS debutant, Minnesota United are lead by Englishman Adrian Heath, who coached Orlando City in their inaugural season before being dismissed last July. They've got rookie forward Abu Danladi on their books, who was the first pick from the 2017 MLS SuperDraft, along with midfielder Kevin Molino who caught their eye after bagging 11 goals at Orlando City last year.
Although Frank Lampard and Steven Gerrard have called an end to their playing careers and time in the States, the league still features an abundance of experience and talent from Champions League winners Andrea Pirlo, David Villa and Kaka. While Arsenal legend Patrick Vieira calls the shots as NYCFC coach in his second season at the club. That's not to mention the likes of Liam Ridgewell, Jozy Altidore and Bradley Wright-Phillips, who are all enjoying something of a renaissance after upping sticks from the Premier League.
However, it's not just the players and coaches to keep an eye on, as former Premier League and World Cup final referee Howard Webb joins MLS as Manager of the Video Assistant Referee Operations.
The Best Young MLS Players: Who's Who?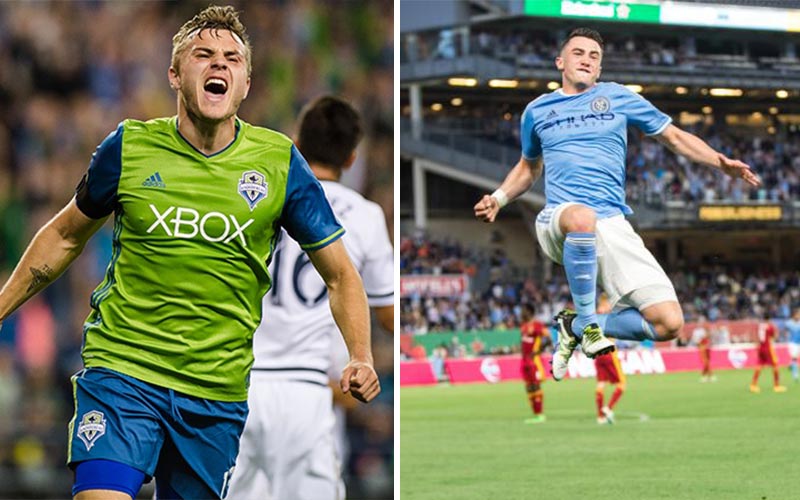 There's a whole host of young players making their way in MLS, with more seeing it as a great environment to get first team games and experience under their belt.
Seattle Sounders forward and local boy Jordan Morris is one of the most hyped US players in years and turned down an offer from Werder Bremen to bag 14 goals in his first MLS season. Morris finished 2016 as the club's top scorer, a MLS Cup Champion, the highest-paid Homegrown player in MLS history, MLS Rookie of the Year and with over a dozen caps for the USA men's national team - not a bad CV for a 22-year-old.
A full USMNT international by the time he graduated Stanford University and scoring more game winning goals in 2016 than any other rookie in MLS history, it's clear to see why Morris has been dubbed the brightest young talent in the league.
In the Eastern Conference, all eyes will be on how Vieira can develop Jack Harrison and Yangel Herrera and improve on the City's disappointing Playoff exit last year.
Harrison was the No. 1 pick in the 2016 MLS SuperDraft and made an impressive start to his career at New York City. The former Manchester United academy product was mentored by Lampard during his time in the big apple, and was second behind Morris for Rookie of the Year. All the signs are looking good for the Englishman as he shows academy football isn't the be all and end all.
Herrera, on the other hand, will be looking to impress alongside Harrison at New York City, after his loan move from Manchester City shortly after they snapped him up from Venezuela on transfer deadline day. Vieira's side provides a great platform for City's Venezualian 19-year-old youngster and we should see what they saw in the defensive midfielder should he get game time in the States.
Where Can I Watch MLS Games in the UK?
22 MLS matches will be streamed live on Facebook during the 2017 season. Including interactive graphics, fan Q&As and polling features, the stream will let viewers engage with the Facebook-specific commentators throughout the game.
The league will also produce 40 "Matchday Live" shows specifically for the social network. These shows will include analysis, highlights and previews of that day's games.
You can also watch MLS matches on Sky Sports, if you have a subscription. Each of their televised games can be found on their MLS fixtures page.
Best MLS Accounts to Follow
If you're going to fully immerse yourself into the MLS, you're going to need connections. By following the right accounts on Twitter, you can find out all the goings on in the States no matter where you're based. First step, make sure you're following MLS to keep your finger on the pulse with everything happening in the league.
Next, listen to the guys in the know. Both Calen Carr and Kristan Heneage have great accounts to follow. Calen presents the This Week in MLS show and knows his onions, whereas anything Kristan doesn't know about MLS simply isn't worth knowing.
📝 ARTICLE! 📝

David Beckham's Miami plans are in limbo, so would Las Vegas be a better fit? I try to find out.https://t.co/98krHLEe4D

— Kristan Heneage (@KHeneage) February 19, 2017
If you're still hungry for more MLS knowledge, head over to FourFourTwo USA where you'll find an endless resource of news articles and features.
So, you've picked your team, you know which players to watch out for and you're all set for the 2017 MLS season. All that's left is to pick up your chosen kit and show your colours!