The Best 5 Nike Football Adverts of All Time
You can't beat a Nike Football advertising campaign. That's why we've put together the very best of their ads. Sit back, hit play and let the nostalgia roll.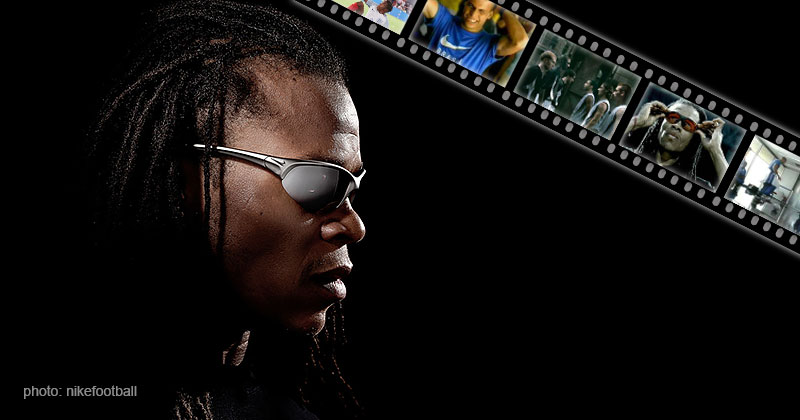 Nike are famed for their advertising campaigns. Over the years, they've hit us with a number of great ads, with some of the world's very best players on show. It's hard to really say which is the best, but we're going to give it a good try. From one of their most recent ads, way back to videos which were viral before the phrase was born, Nike have produced arguably some of the best adverts in football.
Without further ado, here are our favourite Nike Football adverts of all time.
Ronaldinho Crossbar - 2005
Possibly the first viral internet football video, the clip was the first video on YouTube to reach one million views - a huge achievement back in 2005! The crossbar classic featured Barcelona legend Ronaldinho unboxing his beautiful white and gold Nike Tiempo Legend's, testing them in his own unique way. The debate at the time was whether it was real or fake - we'll let you be the judge!
The Airport - 1998
We take you back to 1998, the Brazil national team are bored at the airport and can't help but have a kick about. Featuring some terrible acting - but brilliant football action - the ad features the likes Ronaldo, Romario, Denilson and Roberto Carlos (with a cameo from Eric Cantona). The advert is remembered very fondly (by those old enough to remember it), and it would've been a crime if we left it out of this list!
Good vs Evil - 1996
This has the Devil in it, let's just appreciate that fact from the start. It also starred a hoard of Maori looking players - with the tackling ability of Vinny Jones - against the best in the world. The likes of Luis Figo, Patrick Kluivert, Paolo Maldini, Ronaldo and Eric Cantona all feature, with the Frenchman sending the demon back to whence it came in trademark collar flicking fashion.
The Cage - 2002
Famed for the "Scorpion" and brilliant soundtrack of "Elvis vs JXL - Little Less Conversation", the ad gave off an extremely infectious vibe, inspiring you to bring out all the flicks at Goals. Eric Cantona was the referee and MC (who else would you want), with eight teams battling it out in a secret tournament played on a cargo ship. The final saw "Triple Espresso" (Thierry Henry, Francesco Totti and Nakata) vs "Os Tornados" (Luis Figo, Roberto Carlos and Ronaldo). To build more hype around the ad, there were actually posters and CDs handed out at special football tournaments in cities across the world.
The Switch - 2016
One of Nike's latest and perhaps most complex videos they've brought us yet, "The Switch" launched ahead of Euro 2016. In the ad, we see Nike's poster boy Cristiano Ronaldo switch lives with a young ball boy after a collision during a match for Portugal. After the initial realisation of what's happened, we see both the boy and Ronaldo strive for excellence in their game with a pair of Nike Mercurial Superflys at their feet. Although it's tongue in cheek at times, it's a great motivational video for young players out there. With a host of more recent stars, Nike showed they can still deliver a star studded and entertaining ad. Here's to many more!
Make sure you follow us on Facebook, Twitter, Instagram and YouTube!
Stay tuned to Hand of Blog for the latest news, concepts, blogs, quizzes and reviews.