adidas Originals Retro Manchester United Shirt
adidas drop a retro beauty! You don't need to be a Red Devil to appreciate this latest release...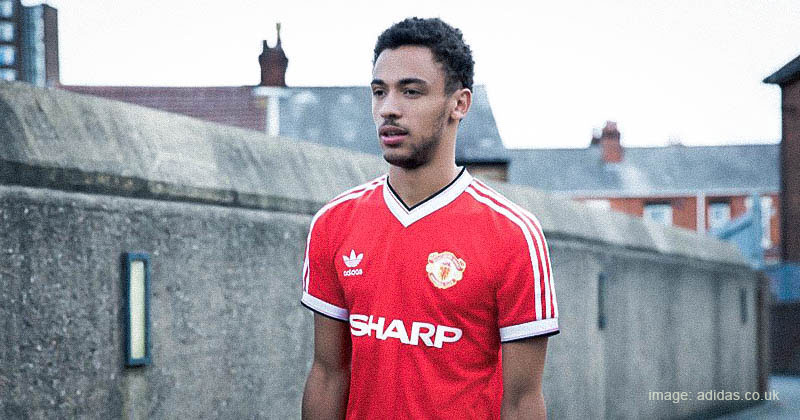 Who doesn't love a retro shirt!? Not least, a shirt with all the original bells and whistles on (not literally of course). After being recently unveiled by adidas, a reincarnated classic is now back on sale. Inspired by their brilliant 1984 season, adidas Originals offer up this authentic recreation of Manchester United's '84 home shirt. The only thing that's missing is that Sunday dinner gravy stain from the mid 80's that you could never shift.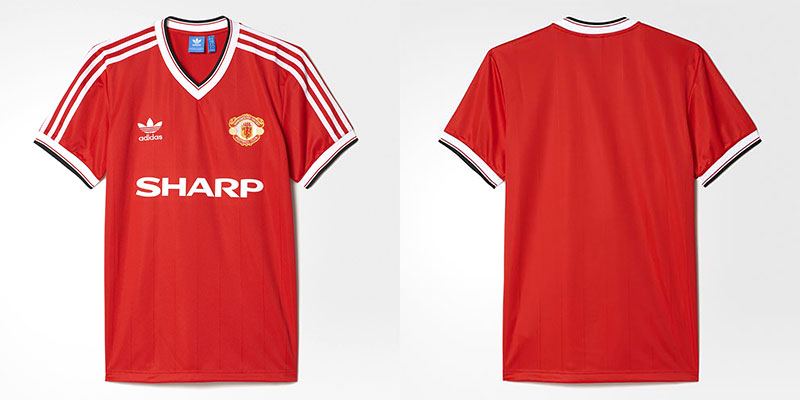 Regardless of who you support, it takes a hardened rival not to see the beauty in this classic V-neck design. The shirt comes with a host of original features that will have Manchester United fans reminiscing with acute nostalgia. The tonal pinstripe fabric comes adorned with the embroidered adidas Originals trefoil logo and Manchester United emblem of the time. No dodgy stick-on assets here. The printed 'SHARP' sponsor logo is positioned centrally across the middle - a logo that many Red Devil's fans will have fond memories of; associated with many great players and successful moments in the clubs history.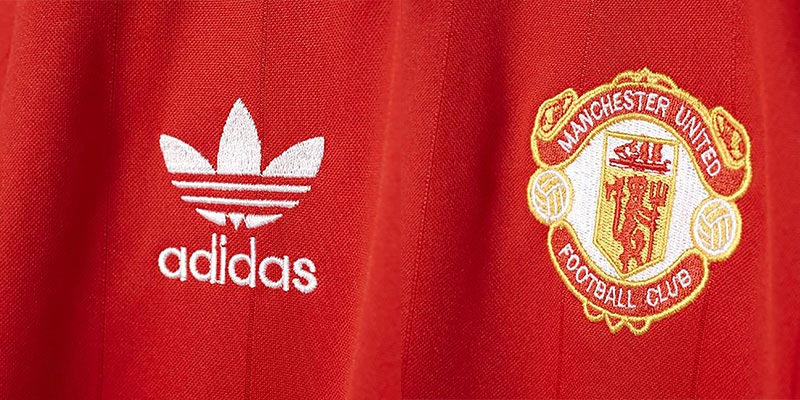 While the shirt will only be seen on the streets and in the stands, fans may dream about 'what if'. What if is was the actual shirt this season? Well, not so long ago we donned some current players in shirts of yesteryear, and this (below) was one of our MUFC efforts. Either adidas have been watching us, or it's a case of great minds think alike. A bit of both perhaps? Who cares, but it doesn't half look decent on Mr. Martial right!?

This shirt is likely to sell like Europe's hottest prospect on transfer deadline day, so quit deliberating. Whether it's for yourself or for someone else, it's time to make an excuse to part with your cash. Christmas, Father's Day, your birthday that's still several months away, or the match you're travelling to see in December. All that matters is you've got this beauty in your wardrobe. Your game day clobber has been looking a bit tired if we're honest. It could do with a freshen up. Why not complete the look with some extra adidas Originals casual footwear?
Which shirt's would you like to see remade? Let us know in the comments below.
Make sure you follow us on Facebook, Twitter, Instagram and YouTube!
Stay tuned to Hand of Blog for the latest news, concepts, blogs, quizzes and reviews.