10 Social Media Accounts to Follow During Euro 2016
With the Euros well under way, at FOOTY.COM we decided to compile you a list of the 10 best social media accounts to follow throughout the competition. From fans to freestylers, pundits and players, it's time to go on a following spree!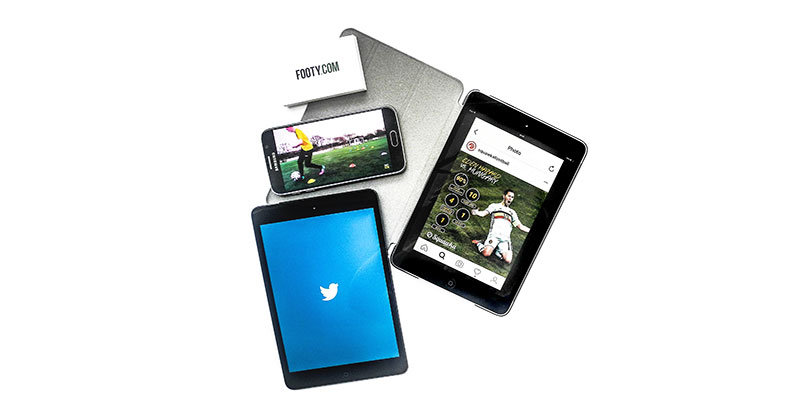 Euro 2016 is in full flow, and with some days seeing a mouth watering three games back to back, it's been hard to keep up with the news at times. Everybody has their preferred method of keeping their finger on the pulse of everything going on in France this summer. Whether it's picking up a paper in the morning, watching the highlights before you head to bed or catching up on what you missed with the guys at work, yet you'll be hard pushed to find a story not covered on social media.
However, you don't have to sit on your phone all day to stay a step ahead, you just need to follow the right accounts. With broadcasters, journalists and pundits all at the heart of the action throughout the tournament, you really are spoilt for choice for football news and views.
As companies and accounts create content to catch your eye, FOOTY.COM are here to offer you a list of ten of the best social media profiles you should be following over the course of Euro 2016.
Twitter
UEFA EURO
Griezmann is the first France player to score three goals in a single EURO tournament since Zidane. 👊 #FRA #EURO2016 pic.twitter.com/EJTZdKB2Vm

— UEFA EURO 2016 (@UEFAEURO) June 27, 2016
There are several unofficial pages posing as the real deal, but to receive the latest updates, official news and exclusive content, you have to follow @UEFAEURO on Twitter. Follow them on Facebook too, as they regularly post live streams of training sessions and other behind the scenes content you can sneakily put on in the background at work!
Zonal Marking
Iceland's biggest moment in European football since their volcano forced Barca to travel by bus to Milan in 2010

— Michael Cox (@Zonal_Marking) June 14, 2016
If you're not already following Michael Cox (@Zonal_Marking) you really are missing out. Cox has built a very credible reputation as one of the most insightful voices in football when it comes to tactical analysis. His match reports and formation graphics have made zonalmarking.net the go to site for fans looking to decipher the beautiful game and makes his twitter page a must follow. Throughout the Euros, Michael Cox is talking and typing for a number of websites and podcasts. Adding yourself to his already strong 166k twitter followers is the first step in passing off his insight as your own down the pub.
Periscope
Stan Collymore
LIVE on #Periscope: Fighting https://t.co/HRCIsbZ0ht

— Stan Collymore (@StanCollymore) June 11, 2016
A Twitter block from Stan Collymore is a social media badge of honour. If you haven't been on the end of one you're probably not far off one. We'll hold our hands up on this one, we'd struggle to find a Collymore fan in FOOTY.COM towers, but we have admired his video streaming coverage of the fan trouble around the England fixtures. Many media outlets failed to offer comprehensive coverage of the violence, but the ex-player has used Periscope to give those at home a glimpse into the trouble on the French streets. Worth a follow, until you block him once the Euros come to an end!
Instagram
Squawka Football
When it comes to online football statistics, there are many pretenders to the throne and often Chinese whispers can kick to blur the facts further. That's why following Squawka Football on Instagram is essential for fans in search of insightful and entertaining facts and stats. Due to the site's plethora of knowledgeable content, Squawka has fast become a reliable and informative hub of footy statistics and ideal for following on social media once the full time whistle has blown.
Snapchat
F2FreeStylers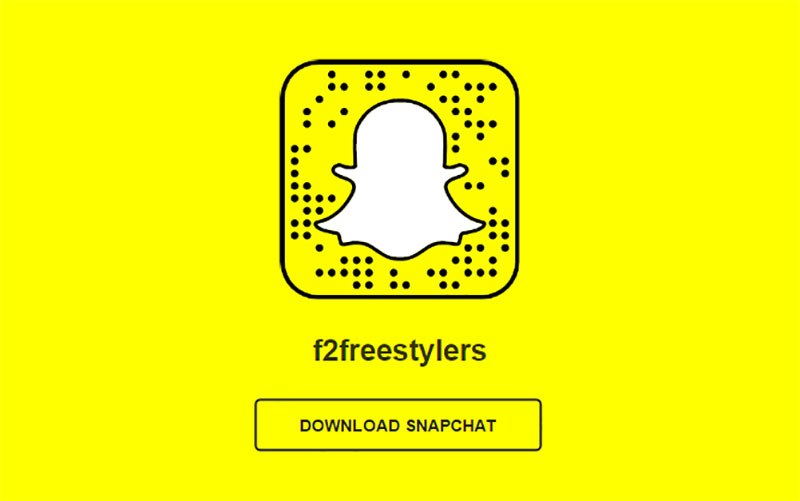 The F2 FreeStylers are prolific across a number of social media platforms and have millions of fans on each. During the Euros the duo post regular clips on their Snapchat story of their travels through France. Made up of professional freestylers Billy Wingrove and Jeremy Lynch, the F2 were flown out to the European Championships by adidas and have filled their Snapchat with videos of pre-match build up, views from the stands and from exclusive events around the tournament. Get following them for behind the scenes clips of their hugely popular YouTube videos, mesmerising skills and "epic bants", (their words, not ours).
Facebook
BBC 5 Live Sport
BBC 5 Live is the go to radio station for many football fans up and down the country and with their Euro 2016 coverage on Facebook they bring you even more insightful, informative news and views from heart of the action. Containing stats, links to podcasts, opinion pieces and interactive content from BBC Sport, they offer an excellent range of stories. Exclusive pundit pieces, commentator analysis and fan reactions also provide the perfect balance to holiday photos and soppy statuses on your feed over the summer!
Copa90
With nearly two million likes, you know that Copa90 are onto something right. Designed to give a voice to supporters and deliver unique fan driven content, they have a strong bond between their fans. By liking their page you join the Copa90 family and gain a 1st person perspective of what it's like to be a fan at the Euros, along with enjoying their wonderfully illustrated goal animations. It's a like worthy of lasting Euro 2016 and beyond.
Youtube
The Football Republic
You'll struggle to find a more productive YouTube channel focused on football than The Football Republic. The guys at TFR have been prolific during the first two weeks of the Euros and have left no stone unturned. From live streams to second screen while the game is on, to transfer rumours throughout the competition. Incorporating video chat from a number of insightful football writers and entertaining vloggers, TFR offer a fantastic alternative online voice.
FA TV
Subscribing to FATV should've been top of your to-do list before Euro 2016 kicked off, but we'll let you off until you do so. In the last few years YouTube channels have become as vital as matchday programmes for clubs when it comes to fan interaction, and with the national team it is no different! Subscribers can enjoy exclusive training videos, interviews and the popular Roommates playlist. Although you may want to avoid everything about the national side after the Iceland slip up, subscribing is a must to find out the latest concerning where the Three Lions go from here.
And of course….
FOOTY.COM
Whether you spend more of your time on Facebook, Twitter, Instagram or YouTube! make sure you follow us to see the very latest and best content when it comes news, reviews, concepts and opinion pieces throughout Euro 2016. Join over 23k football fans by following FOOTY.COM across social media.
Stay tuned to Hand of Blog for the latest news, concepts, blogs, quizzes and reviews.