The Best Custom Football Boots on Instagram
Each week brings a new boot colourway, but it's the personalised boots that catch our eye at FOOTY.COM. Here are our favourite custom designs from Instagram.


The vast array of football boots in today's market means there's something for everyone, but if there's still something not quite right about your boots - do it yourself! We take a look at some of the best boot customisations from our Instagram followers...

Pretty in Paris
A Paris inspired custom boot from @walifootball. Reminiscent of Pogba's custom Nike Magista's, the French Tricolor forms the base of the design with the fitting addition of the Eiffel Tower as the centrepiece. If you've read our cityscapes blog, you'll understand why we're particularly fond of this one, as the Eiffel Tower features in our own PSG cityscape design. Great minds think alike eh!? Check out their account for more boot customisations and football photos.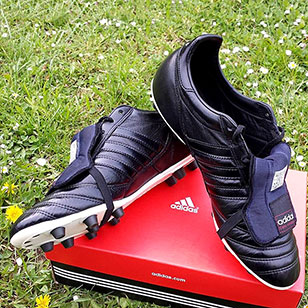 classics with added class
This guy loves a customisation. Hardly susrpising as he's got more than enough boots to play with! In this instance, @galaboots86 has taken the classic adidas Copa Mundial, and made a couple of tweaks that take it to the next level. Having blacked out the stripes, he also added a Predator-esque strap to the tongue. Subtle changes to a classic boot. Bravo! Make sure you have a look at their account, for a wide variety of old, new, and rare boots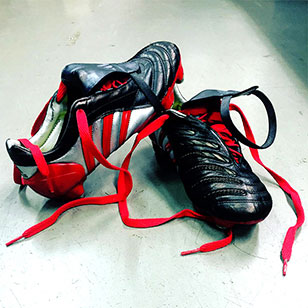 predator perfection
Messing with a Predator is always risky business. But fear not, @nfrancisco90 keeps to the basic principles - red, black and white, or in this instance - silver. Giving the Silver Predator Pulse a proper paint job, these boots have turned out looking as though they were always the real deal. Since the Predator's extinction, custom jobs such as this are always refreshing to see. For more custom boots, footballing concepts and art give her page a follow.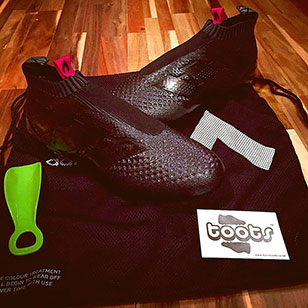 black it out
The second Purecontrol colourway was recently released with a Black foundation and Lime Green stripes. However, @vaporash wasn't having any of it! And who can blame him!? Adidas, enough of the lime green, please! Using @tootsbootsuk blackout kit, he carefully got rid of those green stripes, to create that sumptious blackout look we all crave. Adidas goes against @vaporash's strong Nike tendencies. His page contains a vast array of Nike boots you really need to check.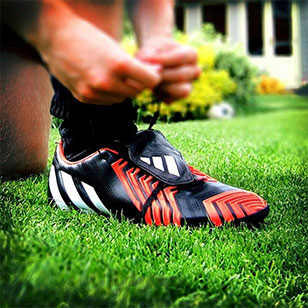 One small addition...
Ok, so there may be a little bias here...these are mine (@designboz). The Predator Instinct was the last Predator before adidas decided to cull the much loved series. After photo-shopping a tongue onto them, it was clear this simple addition would be a strong look. Traditionally, the tongue should be red. However, as the instinct has a much more orange glow it meant a red tongue from previous models would have looked odd. This meant blacking out the tongue with a steady hand! Will the Predator ever return? We hope so...
Have you got your own lovingly designed custom boots? Share them with us on our social media channels...We'd love to see them!