Fantasy Dream Team
As the Premier League nears the halfway mark, we decided to stick together a FOOTY.COM Fantasy Team and see which boots are having the biggest impact!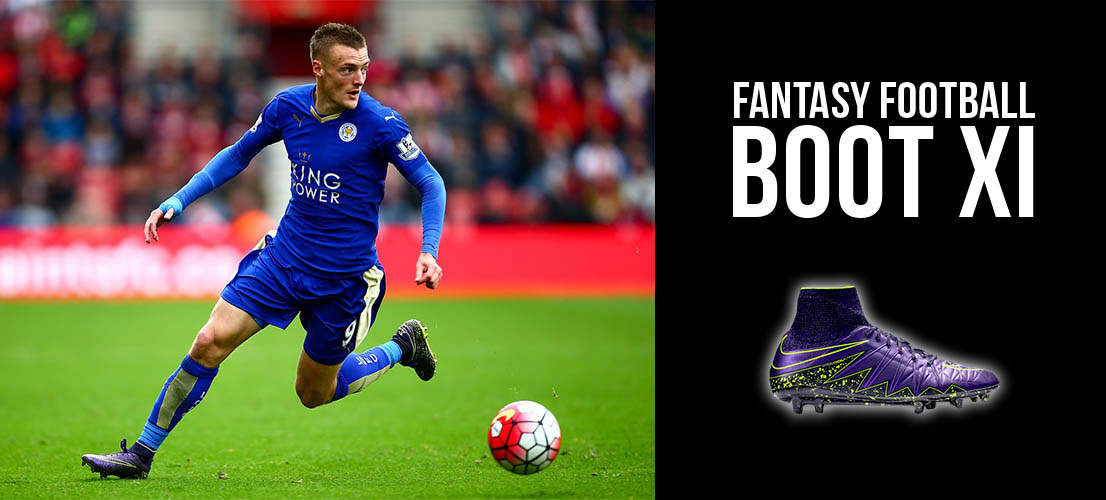 The Premier League season so far has been unpredictable, from Chelsea's misery to Leicester's elation, you couldn't wish for a more exciting season (Well depending on who you support).
We have compiled the Fantasy Football team of the season with the best performers and point grabbers so far but also what boots they have been wearing! Who will win the boot battle?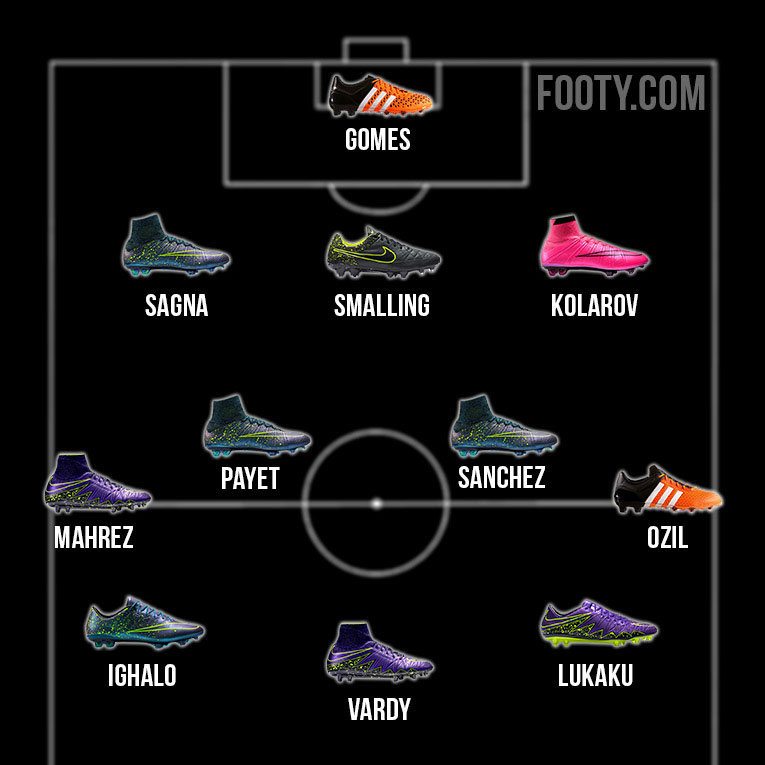 Goalkeeper:
Heurelho Gomes
The former Tottenham goalkeeper may come as a surprise to most, but the Brazilian has been a tower of experience, in a Watford team that has kept an impressive 5 Premier League clean sheets already this season. Earlier in his career, Gomes was often susceptible to dropping clangers with worrying regularity. However, in recent years he appears to have improved both his concentration and handling. The Adidas Ace is his boot of choice. Offering outstanding grip and control, Gomes obviously feels confident these boots will keep his footing assured and without slip! In partnership, his gloves are also from the Adidas Ace range, for unrivaled handling and control in increasingly wet conditions.


Defence:
SAGNA
Being part of an impressive 7 clean sheets so far this season, Bacary Sagna has been the cornerstone for Manchester City's solid defensive displays. Whereas last season Sagna struggled to get himself into the starting line up, injuries for Pablo Zabaleta have seen the Frenchman cement his place at right back. Sagna's combative style of play means he's keen to join in on attacks, regularly overlapping and delivering the ball into the box. Just like his team-mate Kolarov, Sagna has opted for the Nike Mercurial Superfly. Combining speed and comfort it seems like a natural choice to deliver on the pitch. The right back goes with the recently released flare pack edition. The splatter effect creates a subtle and restrained colourway.
Smalling
Despite spending millions on forward players, Manchester United's strength this season has been at the back. At the heart of that, has been Chris Smalling. With greater experience and maturity, Smalling has provided the foundation for solid defensive displays and clean sheets. The confirmation of David De Gea's future has provided assurance over his shoulder, and the acquisition of players such as Schneiderlin and Schweinsteiger, means Smalling has had greater protection than in previous seasons. The England international's footwear of choice befits his solid and uncompromising start to the season. The Nike Tiempo Flare edition. A largely all black boot with electro flare accents, the leather upper provides comfort and control whilst looking understated and classy.
Kolarov
Aleksander Kolarov has made the left back slot his own so far this season. The Serbian international was a key player in Manchester City's red hot start to the season, which featured an impressive 5 clean sheets on the bounce. The left sider also chipped in with a goal at Everton - a passage of play that highlighted his attacking overlapping tendencies. Kolarov's wand of a left foot makes him dangerous from set pieces, meaning he's very likely to pick up a few assists and goals if he continues to play with the same regularity. Sporting the Nike Mercurial Superfly from the Lightning Pack - a boot that provides comfort and speed, Kolarov's choice of Pink means he difficult to miss on the pitch. Manager Manuel Pellegrini will be hoping his left back has a few more stand out performances in the coming months.


Midfield:
Mahrez
Riyad Mahrez has undoubtedly been this seasons surprise package. Not only is he the top scoring midfielder so far, he is also the highest scoring Fantasy Football player overall. Chipping in with 7 goals and 5 assists the Algerian international, together with Jamie Vardy, has helped propel Leicester up the table. Most recently he scored twice in a 3-2 away win at West Brom. Like his team-mate, Vardy, Mahrez relies on the Nike Hypervenom Flare pack edition to help deliver on the pitch. The lightweight and flexible upper gives the Mahrez the dexterity and light-of-foot to deceive the best Premier League defences, and we expect more match winning performances are around the corner.
Payet
Arriving at West Ham on an eight figure sum, Payet has lit up the Premier League with some dazzling displays of skills passing and goals. Key performances against Newcastle, Sunderland and Leicester has seen a good run of form turn into fantasy points. Unfortunately for himself and West Ham he has been ruled out after a tackle in the game against Everton. Payet has delivered some wonderful football to West Ham and contributed goals and assists. Helped by his Mercurial Superfly, his speed and dazzling skills have given defences up and down the country trouble, West Ham are flying high in the league under Slaven Bilic and will hope Payet can keep performing.
Sanchez
The man. The machine. Alexis Sanchez. As sure as eggs is eggs. The Chilean attacker is at the heart of everything good for Arsenal. 6 goals and 1 assist so far, yet you feel that there's still plenty more to come. His most notable performance perhaps came in the home game against Manchester United, where 2 first half goals simply blew away the opposition. Both stunning goals, but for different reasons, they underlined his technical ability and knack for improvisation. Sanchez's boot of choice in recent seasons has been the Nike Mercurial Superfly. This season is no different. If it ain't broke, don't fix it. The Flare edition colourway is his preferred design and who can blame him. Not too loud but distinctive enough to make a statement.
Ozil
It's not particularly surprising that Ozil is one of the top fantasy scorers this season. For while he may have only scored once in the league, the German international has already provided a very impressive 10 assists. The midfielder's eye for a pass and ability to execute them with pinpoint accuracy means he's been creating chances by the bucket load. It seems fitting that he wears the recently released Adidas Ace 15.1 Primeknit. A boot already made for control, the Primeknit release adds comfort and flexibility. As one of Adidas' poster boys, Ozil is a marketers dream.


Attack
Ighalo
As with a lot of players coming up from the Championship, Odion Ighalo arrived in the Premier League as a relatively unknown quantity. However, in the short space of a few months, the recently capped Nigerian has made a fantastic impression - scoring 7 goals and grabbing a couple of assists. Ighalo's most recent goals came in a 2-0 win at home to West Ham. Remarkably, in scoring this brace, he became the highest scorer in the club's Premier League history after just 11 matches. The boots that can claim some of the credit are the Nike Mercurial Vapor Flare Edition. Preferring to go without the collar, Ighalo's form has been a fine advert for the Nike boot's accuracy and lightweight qualities.
Vardy
Proof that hard work and effort pays off, Jamie Vardy is in the form of his life! Scoring in 9 consecutive games in the Premier League this season and a total of 12 sees him leading the scoring charts. Wearing the Nike Hypervenom, he is deceptive by nature, most people don't see him as a modern day footballer, quite thin but freakishly strong and fast. He is causing all sort of trouble for Premier League defences!
Lukaku
The man mountain himself, big games against Southampton, West Brom and most recently, Sunderland has seen Lukaku storm into the attacking line up, his pace and power not only scoring 7 goals this season but grabbing 4 assists as well! Big Romelu is an advocate of the Nike Hypervenom, he perhaps embodies just what the boot is about, pace, strength and power. The Flywire cables of the Hypervenoms help secure the foot giving you support and a glove-like fit.
A few shocks, a few surprises but some great fantasy Premier League bargains to add to your team! Who do you think will be in this team at Christmas? Let us know in the comments!