The 2015 / 2016 Portugal Away Kit Has Arrived
Love your national football kits? Portugal have just dropped their latest away kit and it's something pretty special. Check out our review at FOOTY.COM.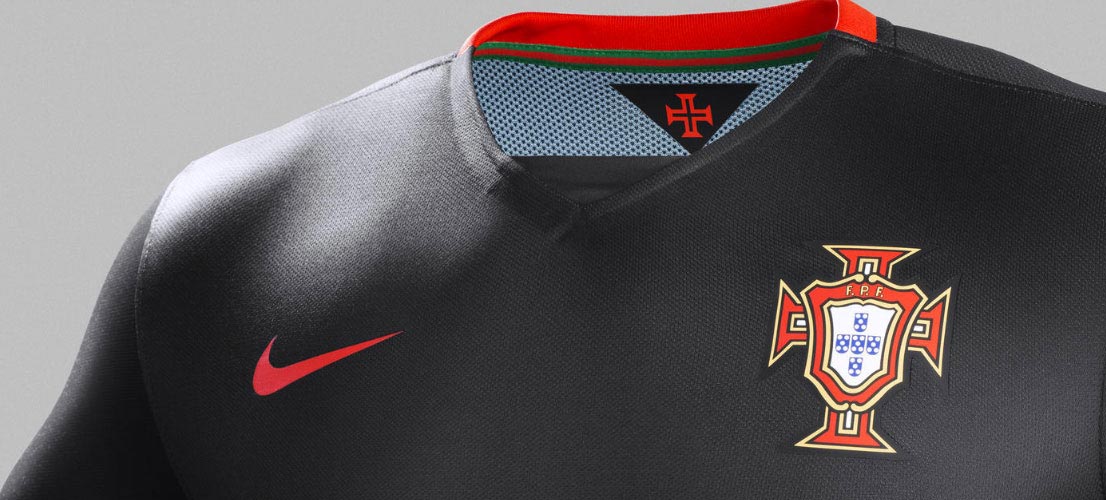 There are some national football teams that split audiences right down the middle. Some people appreciate their over-confidence and attitude, whilst other people are scornful of it. To them, a team that appears to be so brash and open about its ability deserves anything but applauding.
And Portugal are undoubtedly one of those teams.
But, being the team that they are, rather than try to change perceptions of them amongst those who perhaps don't favour them as much as others do, they've decided with their new away kit, they'll go all out and embrace it.
Creativity, skill, pace
When you think of Portugal's football style, numerous words spring to mind. They're creative with their style of play. They bring together unbelievable feats of skill with enough pace to seemingly rival Mr Bolt in the 100m.
Combining all of these descriptions and observations into the one design, they're the inspiration behind the shirt's most striking feature, the red and green band across the chest.
Clearly suggesting speed and control, the colours are taken directly from the Portugese national flag, resulting in a particularly contemporary shirt design with deep-rooted traditional foundations.
On the topic of tradition, there are many more subtle nods, including an armillary sphere on a neck tab, used on the national flag and representing Portugal's seafaring history, and although the fonts used on the shirt are unique, they take deep inspiration from the traditional ones seen previously.
Innovative technology
The use of the word technology has become increasingly common with football shirts in recent years, and the 2015 / 2016 Portugal away kit features some of Nike's most innovative shirt technology.
Called 'Dri-Fit', it consists of, amongst other aspects, laser-cut ventilation holes that help to draw moisture away from the body and better circulate air. To assist with this, the shirts are created using a combination of pure cotton and polyester that's been recycled. As such, a player's performance increases due to a lower core body temperature, allowing for increased stamina levels.
As a note here, the recycled polyester aspect is actually really interesting, as Nike have used melted down plastic bottles to produce a really, really fine yarn. A process they've used for five years, they've reportedly prevented over two million plastic bottles from entering landfills.
In summary
Without doubt a standout-kit, whether you love it or hate it, you can't deny that Nike have done a fantastic job blending classic and contemporary, bringing a number of key traditional components into a modern, fresh looking design.
Available to buy now, you can find the best price in our Portugal 2015 / 2016 kit department.