The 2015 / 2016 AC Milan Kit Has Arrived
AC Milan's latest home kit follows in the footsteps of previous strips and keeping that iconic style. At FOOTY.COM we've taken a look.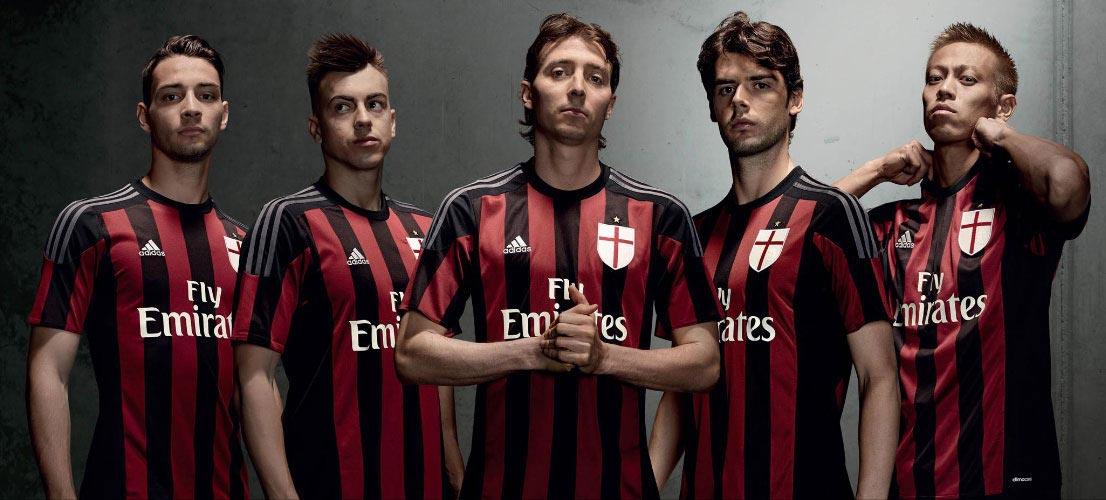 There are some clubs who just seem to churn out iconic kit after iconic kit. Barcelona. Real Madrid. Manchester United. And of course, AC Milan.

It's therefore no surprise that their 2015/2016 home kit looks phenomenal, blending all of the classic aspects you'd expect from Milan with a contemporary look and feel that associates itself perfectly with the Italian institution.

Scheduled to be debuted at the San Siro against Roma this August, fans will be pleased to see the traditional black and red stripes being the most prominent feature of the kit, which although included in recent seasons, haven't had the same impact some would have expect; almost lacklustre in their effect.

This season, the red in the stripes is deeper than has previously been seen. Although making the kit darker in general, it also increases the elegance, almost elevating it to the next level of football shirts.

On the topic, Jaap Kalma, Commercial Director at the club, said "This jersey embodies in a unique and elegant statement some vital concepts such as the connection between current events and history that makes our club so special."

He then explained the kit also showcased "the symbiosis between style and innovation, between elegance and functionality. These are the values characterizing both AC Milan and adidas" - and it's this that, when you look at the detail, can clearly be seen.

Take the shirt's tricolore tag that references the colours of the Universal Exhibition, Expo2015, which is expected to attract millions to Milan over the coming months. It's genuinely fantastic to see the club give a subtle nod to what could easily be one of the city's biggest cultural events.

Similarly, the shirts are made with a fabric that the club hasn't used previously, but which is renowned for its capabilities. Ultralight which instantly makes them more breathable, this in turn has a clear impact on player fitness and stamina levels throughout the game.

What also makes an interesting talking point is the cross of St George is once again a prominent feature of the kit, having been taken forward from its inclusion last season. Undoubtedly cementing the brand's focus on tradition (with St George an important figure within Milan history), if nothing else, it makes for an interesting talking point (especially for those who believe the St George cross is purely an English icon!).

With the shirt matched with white shorts featuring three grey stripes, it's a fantastic looking kit by anyone's standards.

Get your hands on your own version by visiting the AC Milan 2015/16 section of FOOTY.COM.