Best Football Games For Kids: Top 5 Drills Kids Will Love
Looking for fun football games for children? We've put together a guide on the best football drills and games perfect for getting kids active at any age.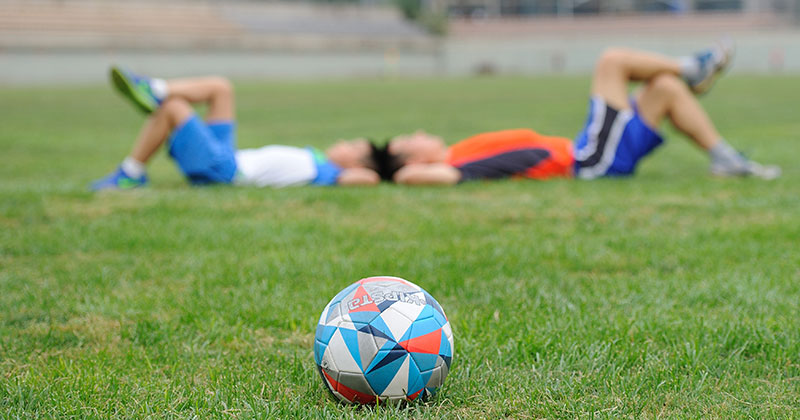 This article was originally published on 5th April 2017 but has been updated to refresh the links and update any incorrect information.
Are you a parent looking to introduce your kids to football or a coach looking for inspiration of some new football games to try? At FOOTY.COM we've provided you with some of the best and cheapest ways to get your kids out of the house and into football. Here is our rundown of the four best football games for your little ones.
1. Traffic Lights - Improve Kids Dribbling Skills
Great for: Dribbling, ball control
Number of players: 1 or more
This is a quick and easy warm-up game to get kids moving and working on their close control skills.
How does it work?
Place cones in a circle to create an 'island'.
Players must stay on the island and out of the 'sea'.
Coach shouts a traffic light colour: Red = Stop, Orange = Walk, Green = Run.
Players must dribble the ball without bumping into other players, stepping into the sea or losing their ball in the sea.
Game variations:
One foot only: inside/outside (big toe, little toe)
Both feet: inside/inside (big toe, big toe)
Turns: (drag backs, inside/outside cuts, 360s etc)
2. Ouch! - A Passing Game
Great for: Teaching kids to look up and then strike
Number of players: 1 or more
It's important to make football fun and what better fun is there than shooting a ball at your coach?! This is a quick and fun soccer game that allows younger kids to practice their striking skills and build the confidence they need to score goals.
How does it work?
Place cones to mark out an area.
Coach stands in the middle of the coned-off area.
Players must dribble around the coach within the cones.
When they have a clear shot, players can try and hit the coach with their ball while the coach tries to dodge out of the way.
If the coach is hit by the ball, they shout 'Ouch!' and can even occasionally fall to the ground for comic effect.
3. 'S.P.O.T' - An easy game to play
Great for: Close control, accuracy
Number of players: 2 or more
This is a street and playground classic and promotes balance, touch and accuracy. All you need is a large space to hit a ball off - the side of a garage, house, or large buildings are perfect examples. Just make sure there are no windows close by!
You can play this game as competitively as you want, and there can be many variations on the rules. The most basic form is to take it in turns to kick it at the wall. If somebody misses the wall or suggested target they are given the first letter from the word 'S-P-O-T' - therefore the first person to end up on 'T' is the loser. Essentially, it's four strikes and you're out!
For more advanced players, the game can be changed into a similar idea as squash. After the ball is kicked off the wall, it can only be allowed one bounce before the next player takes their turn - two bounces are then classed as a strike. A fun game for both young and old kids!
If you're looking for something more flexible and adaptable than simply a 'wall', then look no further than a rebounder. The perfect football gift for any child's birthday or Christmas present. The price is worth every penny and your windows can stay intact!
Collapsible and durable, the rebounder can be taken anywhere, anytime. The spring-like surface creates an element of fun and surprise. It can be used with several people in mind, or a child can simply use it by themselves to help improve passing, touch and volleying ability. Many hours can be spent honing their skills. To see the rebounder in action check out our video above (excuse our skills).
4. One v One — Parent and child bonding
Great for: Control, problem-solving
Number of players: 2
It's the simplest of games and possibly the most effective. Great for primary school ages and even younger. You will see this game played across the world; in the park, in the street, on the beach and in the garden. The premise is straightforward — it's the child vs the parent. As with a normal game of football, there should be two goals at opposite ends.
However, these should be smaller than usual - four feet wide is a good size. This is to encourage the child to enhance their dribbling skills, by getting as close to the goal as possible before shooting. Don't worry about having fancy goals - 'jumpers for goalposts' is the perfect solution.
The onus on this game is to build the child's confidence, so it's important the adult doesn't take it too seriously! Encourage the child to perform skills and allow them to kick it through your legs every now and again. It's not unusual for this game to transcend into play fighting — a fun way for the adult and child to bond and another way for children to develop their core strength.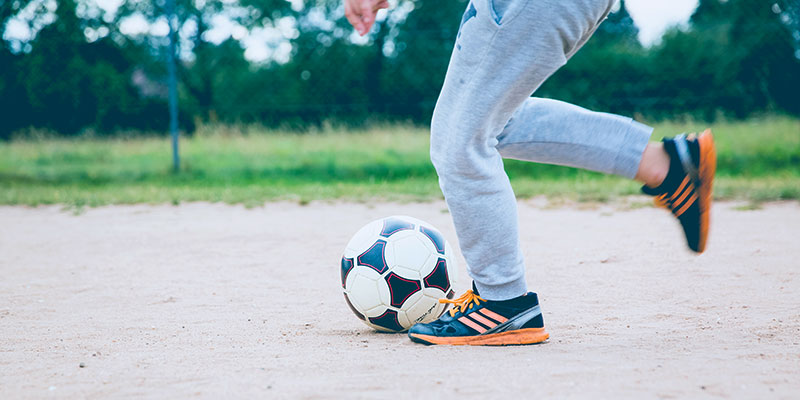 5. Four Corners — Perfect for parties
Great for: Speed, dribbling, close control
Number of players: 1 or more
If you've been given the tiring task of hosting not one, but several children for a party, then, first of all, we don't envy you! Secondly, you're going to need to entertain them. One fun and simple game is called 'four corners'. This game promotes dribbling ability, spatial awareness and memory. Place four coloured cones (or small unique objects) in a large square formation.
Each child will have a ball to dribble within the square. The adult must name each corner object accordingly. The names could be a particular theme - football-related or not. For example, four different countries.
After being allowed some time to dribble (skills optional!) within the square, the adult must shout one of the names pertaining to a corner. After dribbling around, and potentially becoming somewhat disorientated, the children must remember which corner the name belongs to and dribble their way there!
For added competition, the last one to reach the destination can be eliminated each round. Think of it as the football equivalent of musical chairs! To make the game more educational, the four corners can be adapted to any topic - giving the chance for the children to learn without even realising it. We'll leave the rest to you. You'll find us at the bar...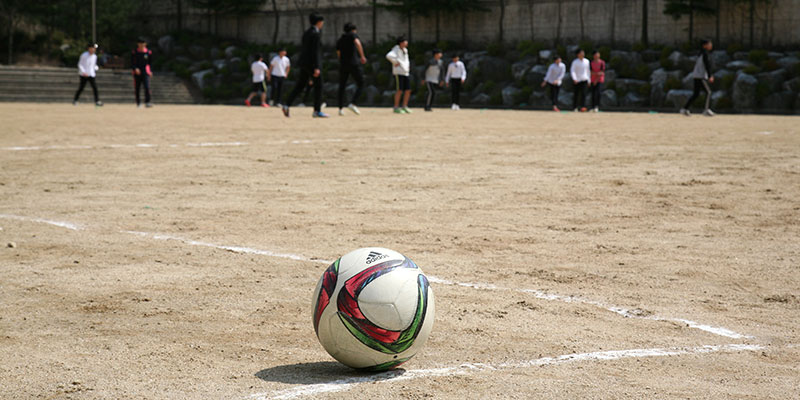 6. Kids Football Training Courses — How to grow their skills
Great for:
Number of players: 1 or more
Forget Tots TV, it's all about Tots FC. Football courses for small children are all the rage these days. There are plenty of courses to enrol your children onto, up and down the UK. Even if your child has only just made their first steady steps, it won't be long before there's a ball at their feet.
Football courses for even the youngest of children are a great way of developing both physical and social skills. With fears around childhood obesity growing, early years courses are vital for developing an enthusiasm for physical activity and team-based exercises.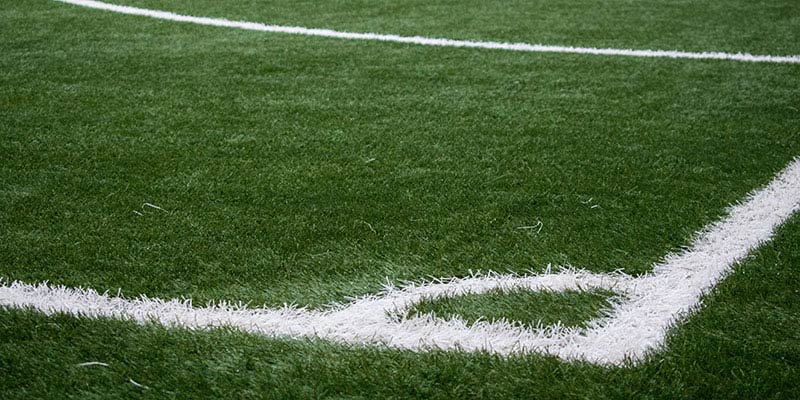 There are a variety of courses available nationwide that encourage basic football skills, wider learning, and develop self-confidence; all without the added pressure of playing to win. Many of these courses allow development as the child gets older, meaning they can learn and grow in a familiar environment.
As you'd expect many courses are catered around school terms, meaning parents have the opportunity to fill in those half-term holidays with a productive and fun activity. To find out what kid's football courses are on offer in your area, head over to the All 4 Kids website.
Think your kids are ready for the next step? Well, it's easy to find a local club near you. Head over to the FA's website and enter your location to find out just what clubs are around you!
There you have it! Plenty for your kids to get stuck into. Let us know how you get on!
If you're on a tight budget and need to kit your kids out, then you're already in the perfect place! At FOOTY.COM we compare prices on thousands of kids' football kits.
Make sure you follow FOOTY.COM on Facebook, Twitter, Instagram and YouTube for more of the latest boot news and deals. Stay tuned to the FOOTY.COM Blog for the latest news, concepts, blogs, quizzes and reviews.