Failed Trainer Cushioning Tech
We've seen plenty of bold ideas in the world of cushioned trainers. Here's 3 of the boldest.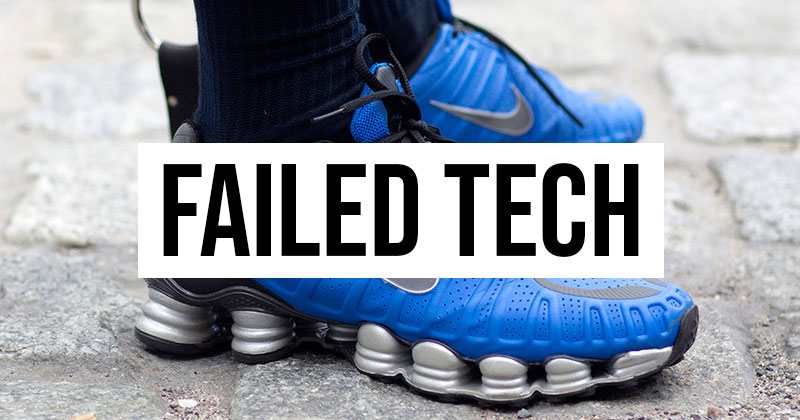 Three times innovation didn't stick
Over the years we have seen some revolutionary new trainer tech released, some of which has become a mainstay in most trainers today. Some of the tech, however, either failed miserably or was too expensive and complicated to be carried out on a commercial scale.
We're taking a trip down memory lane to take a look at the best of the worst cushioned trainers the world has ever seen. No one is free from scrutiny today as we'll take a look at tech produced by big brands such as Nike and Reebok, as well as some of the smaller trainer manufacturers; which just goes to show, even the big dogs get it wrong sometimes.
---
1. Avia Cantilever
Once upon a time Avia were a big name in the sneaker game and successfully sued Nike for infringement upon their cantilever technology in the 70s. The cantilever tech itself was made up of a concave sole with the intention of giving a trampoline-like resistance, which would soften impact, improve stability and return some of that energy back into the wearers stride.
Regardless of whether the tech actually worked or not, the fact that Avia can now only be found in the darkest recesses of the market suggests people didn't really take to their tech as much as they had hoped.
2. Reebok ZigTech
In 2011, Reebok released their ZigTech trainers with the wavy sole which, let's face it, could have gone down better in a different time. The zig-zag sole design was a little elaborate for most people's taste and even sports stars signed up with reebok at the time preferred other versions of the shoe over the ZigTech models.
The ZigTech can still be found and it looks as though Reebok are utilising it in a number of new designs, albeit in a much more subtle way. We can see the ZigTech design actually going down well in the current market alongside the popularity of trainers with a bulkier build.
3. Nike Shox
The Shox technology did actually seem to perform the job is was made for; aiding wearers through their modular "boings" that could absorb impact and spring back to give runners that added boost.
The columns in the sole can still be found in a number of Nike's new trainers but the smoother looking foam sole are much more preferred by customers with the Shox running trainers being much more of a niche market.
---
To compare prices on cushioned trainers of all descriptions, check out our trainer page.