Best FIFA 21 kits: the top 15 shirts for Ultimate Team
Even if your tactics are rubbish, our guide on the best FIFA 21 kits will make sure your club always looks good on the pitch.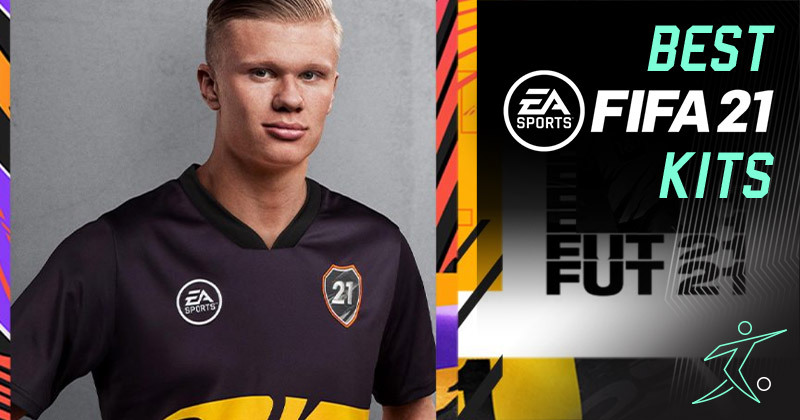 FIFA Ultimate Team has never been about building the best squad. Finding the best kits for your club has always been far more important. 
Okay, so maybe the players matter just a bit, but this year EA are serving up an all-you-can-eat buffet of awesome designs. This has been a particularly strong season for football shirts and (much like a good buffet) choosing what to go for has never seemed harder. Personally, I want a little bit of everything. 
Before you suffer a serious selection headache, I've put together a quick guide on the best FIFA 21 kits for your new Ultimate Team. After all, even if you suck at the game, you'll at least want your side to look good out on the pitch, and it's also the perfect excuse to bag these awesome shirts in real life...
---
Check out our other posts all about FIFA 21:
Best Stadiums | Best Badges | Career Mode Teams | Cheap La Liga Players | Cheap PL Players
---
15. Hertha Berlin - Away
League: German Bundesliga
Let's face it, sponsorless kits are absolute gold for FIFA Ultimate Team. You'll want to create a unique identity for your club, so the last thing you need is an ugly brand logo ruining the entire design. Well, this beautiful little number from Hertha Berlin ensures your players don't turn into walking, talking advertising boards. Shudder. 
The bold all-over pattern looks absolutely fantastic in the game, even if the shirt is essentially just a "splash", a Swoosh and a flag straight outta Microsoft Paint. It's probably not the most exciting kit you'll wear this year, but there's no doubt this is a clean and simple choice to get you started. 
14. Manchester City - Away
League: English Premier League
I know this shirt was inspired by parts of Manchester, but there's a definite Aztec feel to this. We recently named this the best Premier League kit of the season, so it's fantastic to see the gorgeous pattern, black colourway and copper detailing still look incredible in FIFA 21. 
You could probably use any of City's kits, to be honest. Puma have gone all Radiohead on us and become extremely experimental, serving up the kind of weird patterns we just love to see on FUT. Of course, this sensational away strip is the only one which looks any good in real life, but that's another matter entirely. 
13. Fluminense - Home
League: Brazilian Serie A
When picking out your next Ultimate Team kit, there's always one man who's completely forgotten about: the goalkeeper. You'll obviously want to find something awesome for your outfield players, but that usually means the man between the sticks is stuck with something pretty damn dull - since you can't choose a separate keeper kit. 
If you want a cracking outfield AND keeper kit, then you need to have a look at Fluminense. The home shirt is a smooth, sponsorless beauty with one of the strangest collars you'll see, while the keeper shows off a bizarre Umbro pattern straight from the 1990s. 
It's probably the best combo you'll find in the game, though Bristol City's away is another strong option. Wear your shades for that one. 
12. Ajax - Away
League: Dutch Eredivisie
Now we're talking. The new Ajax away kit basically broke the internet a few months back, and it should be just as popular in FIFA 21. The retro pattern is obviously outstanding, but it's the way it works with that grey colourway which really sets it apart, especially with that red crest trying to pop out of the shirt. Beautiful. 
11. Motherwell - Away
League: Scottish Premiership
You might as well turn your own club into the new "Scottish Sampdoria". Motherwell's new away shirt looks clean enough to eat your dinner off, with a glorious chest band drenched in the club's iconic colours. This is an old-school, no-nonsense kit for any real traditionalists out there, with a smart button-up collar suitable for most formal dress codes.
I've not seen many others recommending this one (at the time of writing), so this could be an excellent choice if you want to choose something a little different. Or, you know, you could just go for the actual Sampdoria kit. 
Thank you for joining the FOOTY.COM club!
10. Inter Milan - Home
League: Italian Serie A
There are some at San Siro still screaming in horror, while others squeal with delight. Whatever you think of Inter's new zig-zag stripes, there's absolutely no doubt they look incredible on FIFA 21. This is one of the boldest, most surprising home shirts Inter have ever had, with a striking pattern inspired by the famous Biscione - a symbolic serpent. 
This is fun, fresh and just a tiny bit nuts - three ingredients every great Ultimate Team should have in abundance. However, if you happen to get R9 into your team, then you've got to go for Inter's outstanding third kit instead. It's the law. 
9. Moreirense - Away
League: Portuguese Primeira Liga
Personally, I love to use kits which are a little more obscure. I want to wear something which other players won't instantly recognise, since this makes the design feel kinda unique to my club. Of course, I'm also quite fond of playing in pink, so this sponsorless beauty from Moreirense ticks all the right boxes. 
Paired up with black shorts, this distinctive look is the best pink kit I've found in the game so far, especially with that terrific grid-style pattern. Featuring basically no brand logos whatsoever, this is a clean, pink slate to get your club up and running. 
8. RB Salzburg - Away
League: Austrian Bundesliga
I mean, there must be at least some people who want to advertise energy drinks, right? If you harbour strange dreams of being owned by Red Bull, then RB Salzburg's colourful away kit might be right up your street. To be fair, it's an eye-popping look even if you're more of a Monster fan. 
Sometimes you just can't beat a good half-and-half, especially when shades of yellow and navy offer such unique toppings. The slices clearly haven't been cut evenly, but that wonky, OCD-triggering line is exactly what makes this kit so bonkers. 
7. Slavia Prague - Home & Away
League: Czech First League
This is probably the strongest home and away combo in FIFA 21. Featuring gorgeous patterns inspired by Prague's Astronomical Clock, these are two more stunning half-and-half designs which look good enough to eat. It's a pretty deadly one-two punch. 
The patterns are clearly much more pronounced on the red and white home kit, so I'd probably go for that if you already have a change kit in mind. However, with that huge red star popping out of the chest, it just feels like such a shame not to wear these together, to be honest. They're just such a strong double-act.  

6. Forest Green Rovers - Home
League: English League Two
Just look at this. Take a moment to breathe in all of the beautiful insanity. Without question, this is one of the most unique kits you're likely to find in FIFA 21. 
The fact it's made from 50% bamboo will have absolutely no bearing on the game whatsoever, but the eye-catching zebra pattern is nothing short of iconic. I usually avoid playing in green kits because my players blend into the pitch, but Forest Green are forcing me to make an exception - although you could go for their terrific black and white away kit instead.
5. Borussia Dortmund - Home
League: German Bundesliga
You don't often get the chance to run around covered in lightning bolts. Borussia Dortmund's home kit certainly divides opinion in real life, but it's definitely one of the most distinctive looks in this year's FIFA. Bright yellows always look fantastic on the pitch, but it's those insane stormy graphics which really have this jumping out of the screen. 
Since most Ultimate Teams are packed with lightning-quick players (curse those pace merchants!), this is a strong look I expect to be very popular this year. I'm also keeping my fingers crossed for some thunderbolt-themed goodies for my new FUT Stadium. 
4. Malaga - Away
League: Spanish Segunda
Colourful kits always look great on Ultimate Team, especially when they're displayed in a trippy pattern just like this. Malaga's away strip comes completely free of sponsors, letting those bizarre shades of purple and green really run riot over the shirt. It's the kind of crazy pattern I just can't say no to. 
Yeah, it's pretty garish, but that's not always a bad thing when it comes to FIFA. In fact, it's usually a case of the uglier, the better, since this usually means you're wearing something completely different to everyone else. 
3. Kaizer Chiefs - Home
League: South African Premier Division
Stevenage might be offering free burgers, but it's actually Kaizer Chiefs who are becoming a firm Ultimate Team favourite. Last year, I absolutely loved playing in their mind-bending home shirt, and now they're following this up with yet another distinctive pattern ideal for FUT. 
This year, however, the Chiefs have gone for a bold, zig-zag pattern which is apparently inspired by a lion's mane. The traditional black and gold look just as outstanding as ever, while the Vodacom sponsor is also one of my favourite logos in the game - even if it does disrupt the pattern a little. 
Let's face it, wearing a kit based on a lion is never a bad way to go. 
2. Inter Miami - Away
League: MLS
You don't even need to be a David Beckham fan to enjoy this. Inter Miami's away kit is about as sleek and stylish as the man himself, with the dark colours brought to life by some flamingo-themed goodness. With no sponsor getting in the way, this is one of the smartest kits in FIFA 21, but it also happens to be one of the most fun. 
The little pops of pink on the shoulder and logos look absolutely terrific on the pitch, while even the nameset on the back is unlike anything else you'll see. The headline act, however, is the amazing, subtle flamingo pattern running down the front of the shirt. It's like something you might wear on your summer holiday. 
1. Norway - Away
League: International
This is one for the ice-cold finishers out there. It's actually quite rare for me to wear something from an international team, but this outstanding Norway kit is simply too good to ignore. The frosty, all-over pattern looks downright sensational, presumably giving opponents the chills and letting you boast the coolest look in the game. 
There's no sponsor (obviously) and the pattern mercifully continues onto the back of the shirt. To be fair, you could also match this up with SM Caen's terrific badge, and your club will have a pretty good Viking theme on the go. And who doesn't like Vikings? 
---