Top 7 Kids Laceless Football Boots
Many kids struggle with their laces, these laceless boots could be the answer.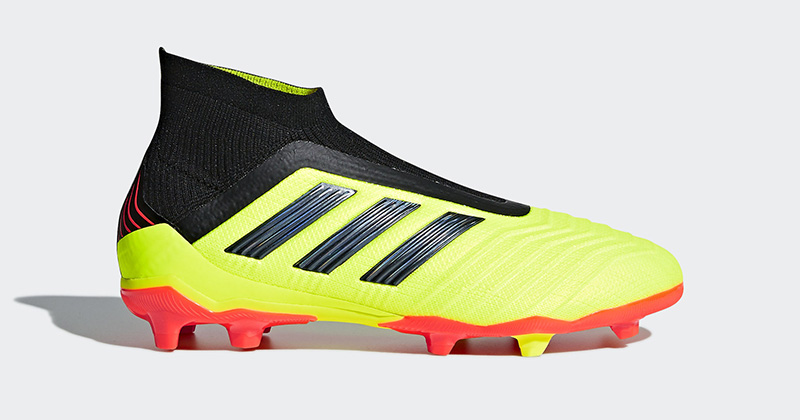 Laceless football boots are the most popular of all the styles available at FOOTY.COM for kids.  Many children find them much easier and quicker to use than traditional laced styles and when the kids are happy, the parents usually are too. We've put together this handy guide of the very best kids laceless football boots available on the market right now.
If you're anything like me you might be tempted to size up by half a size when buying football boots for kids so that your money goes a bit further. Unfortunately, with all laceless boots for kids, it's important to buy the correct size since you can't lace them any tighter to compensate and the old trick of wearing two pairs of socks risks your child not being able to squeeze their foot into the boot.
Here at FOOTY.COM we compare prices on kids laceless boots across over 60 retailers so you can be sure that we'll find the best kids laceless boots prices out there.
Here are our favourite kids laceless football boots that are currently available:
1. Nike Jr. Mercurial Vapor XII
The Nike Jr. Mercurial Vapor XII Club MG Toddler/Younger Kids' Multi-Ground Football Boot is cushioned for comfort and feature a laceless design to make it easy for small kids to slip on and off. The multi-ground version features two different studs making it perfect for use on grass or artifical turf.
The Nike Jr. Mercurial Vapor XII design is available in UK junior sizes 9.5-13 so is designed as a first football boot for little players.
This Mercurial Vapor is also available in an indoor design if your child plays in a sports hall rather than outdoor.
2. ADIDAS NEMEZIZ 18+ FIRM GROUND BOOTS
The adidas Nemeziz 18+ is designed for kids who play in attacking or creative midfield positions. It is worn on the field by the likes of Lionel Messi (although there are Messi designed Nemeziz boots as shown below) Bernardo Silva and Roberto Firminio.
The Nemeziz 18+ have a higher collar than the adidas X 18+ which does make them slightly trickier to get on and so may need a little more patience when you're rushing out of the house.
Surprisingly though, the boots are forgiving for children with wider feet once they're on and our tests found they were comfortable for all foot widths. This is as a result of the '360 Agility Bandage' which wraps around the entire foot to support it without feeling tight.
3. ADIDAS RAPIDATURF TODDLER BOOTS
The adidas Rapidaturf is designed for the littlest footballers, starting in a tiny junior UK size 3-9.5. With Predator and a Nemeziz versions, toddlers can join in with football as soon as they are walking!
Comfortable and easy to put on, there are no tricky laces and no studs on these toddler football boots.
4. adidas Predator 18+ Firm Ground Boots
The Predator is adidas' most popular boot by far. The 18+ is the latest Predator model and the first without laces. It is worn on the pitch by the likes of Paul Pogba, Mesut Ozil, Ivan Rakitic and Dele Alli.
The Predator 18+ is designed for controlling the ball and has design features to aid your child's first touch and passing and receiving but it is when striking the ball that the Predator 18+ will really improve their game. It uses 'Controlskin' technology to give their shot an extra boost and they will really notice the difference in their strike rate from the first wear.
Your child might find the Predator 18+ tight on the first couple of wears, but don't size up. They do stretch and within a few games you'll find the boot moulds to their foot.
5. adidas X 18+ Firm Ground Boots
The adidas X 18+ is a 'speed boot' so it's designed for kids who are fast on their feet. It is worn on the pitch by the likes of Mo Salah, Luis Suarez and Gabriel Jesus.
The X 18+ uses a new 'Claw Collar' construction which is designed to hold the foot tight in the boot without restricting movement, so your child's foot should be secure without feeling uncomfortable.
The surface of the boot is stronger than older styles of laceless football boots so there should be no chance of these ripping if a stud catches the top but the disadvantage to this is that they don't mould as closely to the foot as boots made from a softer material.
6. adidas Nemeziz 17+ 360 Agility Firm Ground Boots
The Nemeziz 17+ Agility boots are adidas' slightly older model of laceless boots and so you should be able to pick them up for a bargain price (discounts of over 50% off were available at the time of writing).
The boots are popular amongst both kids and parents with kids loving the bright colourways and cool styling and parents praising their comfort, ease of cleaning and durability.
7. adidas Nemeziz Messi 17+ 360 Agility Firm Ground Boots
If you're a kid, you just can't go wrong with a pair of Messi boots on the pitch. Again, these Nemeziz 17+ Messi boots are from a past adidas release so you will certainly be able to bag yourself a bargain.
Gold kids football boots are one of the most popular colour choices, so this black and gold design is guaranteed to impress your child's team mates.