The Best White Football Boots
Looking for some squeaky clean white football boots? Here are some of the best.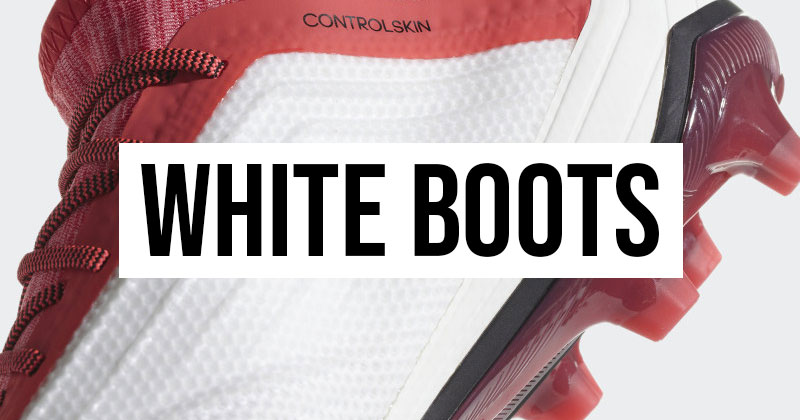 If there's one colour of boots your parents told you not to wear, it was white. But whilst they may be a little trickier to clean, a sleek pair of white cleats are a thing of beauty and there are some white boot colourways out there that we're sure you'd love to get your hands on.
Let's take a look at some of the best football boots you can get in white:
---
adidas X 17.3 White/Red
One of adidas' biggest silos of 2018 was the X, and one of their biggest colourways was the white and red design that saw plenty of game time on the feet of some of the world's best. The X was famed for its speed and agility thanks to the four-way-stretch upper and it's lightweight, but it also gained huge popularity for it's looks.
The white upper is broken up by the red inside which peeks through the dotted mesh material. The red adidas logo, laces and soleplate left fans with a clean and classy look which helps cement itself in our list.
Predator 18+ White/Real Coral
The Predator boot has always been a huge favourite for the midfield maestros and adidas love to drop new colourways as often as they can. We've seen a few renditions of the white base colourways, but our favourite has to be the white and real coral colourways of the 18+. When creativity is the name of the game for the boot's performance, the design has to match up to that name.
The 18+ featured laceless technology which gave the designers at adidas a clean slate to produce one of their most prominent minimalist looks with an all-white colourway, broken up with red upper and black three stripes. The boots paid homage to the classic predator colours made famous by Beckham back in the day.
Puma ONE 17.3 White/Puma Black/Fiery Coral
The German boot designers at Puma rarely opt for white colourways, instead going for more colourful and adventurous designs for most of their boot releases. One of their mainly white colourways is the 17.3 ONE silo in white, Puma black and fiery coral.
Seeing as they rarely go for white colorways, they managed to perfectly balance the colour depth with this boot. The upper is made up of a subtle white diamond design that makes the coral soleplate pop and the black sock liner and puma logo give it that element of darkness that balances the boot out nicely.
Under Armour Spotlight
Under Armour's addition to the list is our whitest of white colourways. Most white designs tend to use other colours to offset the white uppers and add a little razzmatazz to the design. Under Armour stayed confident and produced an all-white colourway with just a touch of grey to create a military style camo feature. The inner lining is neon green to settle those who crave at least a little colour.
If you're a fan of the white football boot colourways then check out FOOTY.COM, we compare prices on thousands of football boots in all sorts of colours, including these great white colourways.