Top 5 most expensive football boots in 2021
Every player needs a great pair of football boots. Unfortunately, the best ones often come at a price…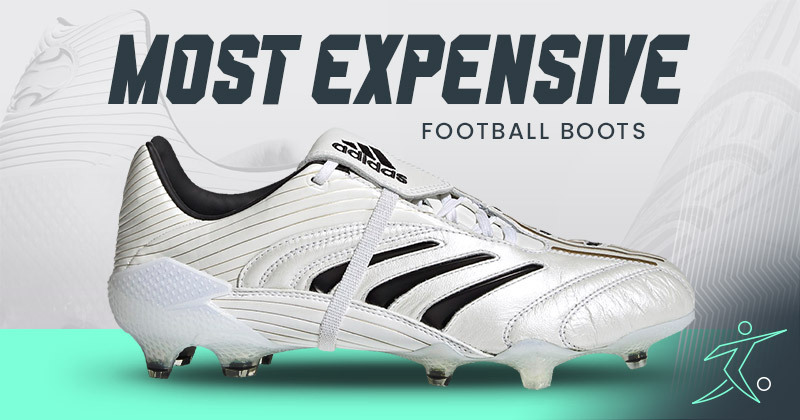 Just like the players who wear them, football boots can be expensive. Very expensive. 
Each new release boasts cutting-edge boot tech and stylish colourways, while also promising to improve your performance out on the pitch. Oh, and there's usually an endorsement from one of the game's most famous faces. 
But are these high-end boots actually worth it? 
Following a shower of fresh eye-popping boot drops, I'm running you through the priciest releases out there. I'll even recommend some cheaper boots along the way, because I'm nice like that. 
---
How much should football boots cost? 
This obviously depends on what kind of level you're playing at and how deep your pockets are. Cristiano Ronaldo's custom-made Mercurials probably cost a lot more than what your mate Jason wears at Powerleague, for example.
Football boots can be typically classified into four tiers: entry-level, semi-pro, professional and elite. Although you might be leaning towards a particular silo or colourway, your choice of football boot should largely depend on which of these tiers you fall into. After all, you don't want to break the bank for a pair of cutting-edge Predators if you're just playing a bit of casual five-a-side every week.
Although prices fluctuate between retailers and different playing surfaces, we've broken down how much you should realistically expect to pay in each bracket (adult sizes):
Entry-level boots: £20 - £50
Semi-pro boots: £50 - £80
Professional boots: £80 - £150
Elite boots: £150+
---
READ | Our guide on the differences between cheap and expensive football boots.
---
Top 5 most expensive football boots in 2021
For those who consider themselves a serious footballer, forking out for boots becomes an inevitable part of every new season. Since you'll likely fall under the "elite" category, these boots often come with eye-watering price tags, and your bank account will soon feel much like an away side at the Etihad. Battered, depleted and just a little bit violated. 
But what are the most expensive football boots currently available on the market? After comparing prices with the most popular online retailers, I've compiled a list of the priciest boots out there, along with some cheaper alternatives to help you save a few extra pennies. 
Let's dive in.
5. adidas Copa Sense+ - £230
What You're Paying For:
A touch from the footballing gods. The adidas Copa Sense is every bit as classy as it looks, which is high praise for boots you could probably wear on your wedding day. 
The black and gold launch colourway is obviously gorgeous, but it's the Sense's performance that will really blow you away. The deliciously "melted" upper isn't just for show, and features very fancy foam pods to provide a rich, velvety touch on the ball. 
adidas are calling these SENSEPODS and TOUCHPODS, while the new SOFTSTUDS complete the trilogy of jaw-dropping new tech. Yeah, these are a major upgrade on the last generation. Like I said, fancy. 
Cheaper Alternative: 
An iconic silo. A distinctive upper. A glorious blend of premium leather and modern knit materials. Yep, the Nike Tiempo Legend 8 is probably the next-best thing if you're working on a tighter budget here. 
4. adidas Predator Freak+ - £240
What You're Paying For:
Uh, essentially a paint job and some very small tweaks.  The adidas Predator Mutator was among the best football boots on the planet, so the Freak didn't really need to rip up the rulebook. Still, you might not fancy paying so much for such minor changes. 
The Predator's new face-lift looks like something straight outta X-Men, with adidas using fewer spikes and spreading them over a larger area. It's quite possibly the most aggressive football boot out there, with even crazier swerve, power and control than its predecessor. 
If anything, the Freak once again proves that Demonskin is anything but a gimmick. It still feels like an unfair advantage. 
Cheaper Alternative: 
Those on a tighter budget should really check out the Predator Mutator instead. This is the older generation, but it still offers a distinctive Demonskin upper and is already enjoying some pretty tasty discounts. Bargains to be had here. 
3. Nike Mercurial Superfly 8 Elite - £240
What You're Paying For:
The most technical football boot ever created. Probably. Oh, and a sock collar which inexplicably adds £20 to the price. Pfft. 
The Nike Mercurial Dragonfly features an upper made of some very snazzy mesh lining, giving you a good look at all the juicy tech underneath. It's a boot made up of exactly 7 different components, all displayed in different colours to serve up an insane Swoosh paint-by-numbers. 
You can check out my full review to see why I'm so impressed with it, but the Superfly 8 basically reverts from Flyknit back to synthetics. It's a glorious return to the Mercurials of old, and it's genuinely one of the best boot designs I've seen in ages. Dragonflies FTW, eh?
Cheaper Alternative: 
I mean, I'd always advise people to save themselves £20 and go for the Mercurial Vapor 14 instead. If you're looking for a bigger saving, though, then the Puma Ultra is your friend here - a fantastic, high-level speed boot for a fraction of the price. 
2. Nike Mercurial Mbappe Superfly 7 Chosen 2 - £250
What You're Paying For:
A football boot that's not just one hell of a mouthful, but also pretty hard to get hold of. I guess it's not hard to see why, since the (*takes breath*) Nike Mercurial Mbappe Superfly 7 Chosen 2 was only released in 4620 pairs. You'll have to be fast here. 
Of course, it helps if you can mirror such speed out on the pitch, since explosive acceleration sits at the heart of every Mercurial ever made. However, this features exactly the same tech as every other Superfly 7, so you're definitely paying for an exclusive colourway and some stylised graphics. 
I guess it depends on how much you like Kylian Mbappe, which is probably quite a lot. 
Cheaper Alternative: 
Um, basically any other Nike Mercurial Superfly 7. You'll be getting exactly the same technical goodies, but other colourways are much cheaper - especially following the release of the Superfly 8. A no-brainer, to be honest. 
1. adidas Predator Eternal Class - £300
What You're Paying For:
Nostalgia. Pure, untamed nostalgia. 
While other boots in this list are packed with innovative new technologies, adidas want us to fork out for a glorious blast from the past. The adidas Predator Absolute (pictured) and Predator Accelerator have both recently been re-released, and I'm literally standing here with my wallet wide open. 
Coming as part of the aptly-named "Eternal Class" pack, these Preds are all Kaka and Zinedine Zidane. The premium black and white leather just screams luxury; boots so smart they're absolutely guaranteed to impress your girlfriend's dad. Yeah, they're expensive, but they're also worth every single penny. 
Cheaper Alternative: 
These are remakes of the greatest football boots of all-time. Sadly, there is no alternative. 
---
READ | The complete history of the adidas Predator to get your nostalgia fix.
---
Conclusion
There you have it. Those are the most expensive football boots of 2021. Of course, you could probably hop straight on to ebay and find a pair going for £900, but these are the priciest boots currently commercially available. 
I'd say some are worth the huge price tags, while others are still riding the hype of their recent release dates. However, every single one of these boots features either insane technology or a design which sends jaws dropping to the floor. 
They're not just the most expensive, but these are also the most-wanted football boots on the planet right now. What's worth paying for is entirely up to you. 
In fact, FOOTY.COM lets you set up price alerts on your favourite boots, so that you can be notified as soon as they fall within your budget! Just head over to the relevant product page to set it all up!