The 5 most expensive football boots in the world
Every player needs a great pair of football boots. Unfortunately, the best ones are often the most expensive…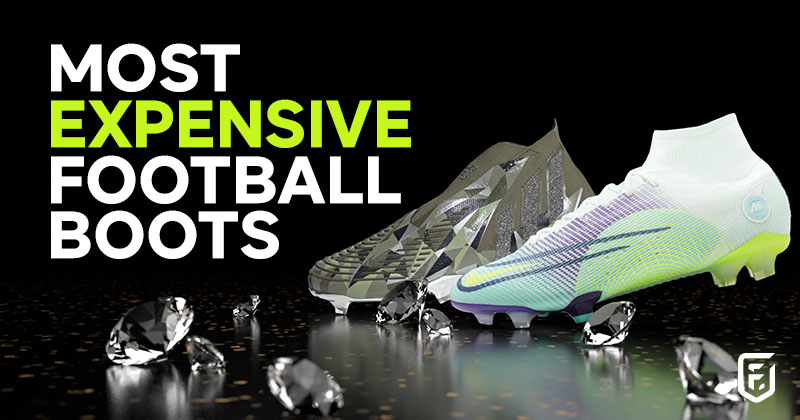 Just like the pro players who wear them, football boots can be expensive. Extremely expensive.
Each new release boasts cutting-edge boot tech and a stylish colourway, while also promising to improve your performance out on the pitch.
Oh, and to tempt you in, there's usually an endorsement from one of the game's most famous faces thrown in for good measure.
With a literal never ending cycle of eye-popping boot drops, today we're running you through the priciest releases out there.
Yeah, you could hop on eBay and find pairs going for £1000s, but these are the priciest boots commercially available today.
But don't worry, we're kindly recommending cheaper alternatives along the way too. Hey, it's what we do here at FOOTY.COM.
Thank you for joining the FOOTY.COM club!
How much should football boots cost?
Well, this likely depends on which level of football you're playing, mixed with how healthy your bank balance is looking.
Cristiano Ronaldo's custom-made Mercurials will cost a fair chunk more than what your pals down at Powerleague wear, for example.
Football boots can be typically classified into four tiers: entry-level, semi-pro, professional and elite. The names of these 'takedown tiers' will vary across manufacturers.
Although you may be leaning towards a particular silo or colourway, your choice of football boot should largely depend on which of these tiers you fall into.
After all, there's a possibility you won't want to break the bank for a pair of cutting-edge Predators if you're just playing a bit of casual five-a-side every week.
Prices fluctuate between retailers and different playing surfaces, but we've broken down how much you should realistically expect to pay in each bracket (for adult sizes):
Entry-level boots: £20 - £50
Semi-pro boots: £50 - £80
Professional boots: £80 - £150
Elite boots: £150+
Top 5 most expensive football boots 2022
For those who consider themselves a "serious footballer", forking out for boots becomes an inevitable part of every new season.
You'll likely fall under the "elite" category for boots often coming with eye-watering price tags, meaning your bank account will soon feel much like an away side at the Etihad. Battered, depleted and just a little bit violated.
But what are the most expensive football boots currently available on the market? After comparing prices with the most popular online retailers, we've compiled a list of the priciest boots out there, so whether it's cheap or expensive boots you're after, you'll save a few extra pennies here.
Let's dive in.
5. adidas X Speedflow+ (RRP £230)
What you get for your money:
Lightweight speed and the guaranteed touch of a finisher. The adidas X Speedflow is the tool used by some of the world's silkiest and calmest finishers. That's Mo Salah, Lionel Messi and Karim Benzema, by the way.
Top level tech is oozing out of this laceless '+' model with a Carbitex carbon fibre insert and Primeknit upper, plus their Agilitycage strapping you in all the way. Built for speed, built for foxes in those boxes.
Cheaper alternatives:
You'll often find the laced '.1' version slightly cheaper, but if you're chopping budget we'd direct you towards the takedown X Speedflow '.2' option, with a little less tech. Alternatively, you could slip into the super light New Balance Furon V6 Pro instead.
4. Nike Phantom GT2 DF Elite (RRP £244.95)
What you get for your money:
Power and precision. Trusted by some of the game's finest defenders and attacking threats too, this boot is the model all-rounder. From Rúben Dias to Harry Kane, they're all trusting the Nike Phantom GT2 to perform.
This Elite design is packed with technology, which obviously includes Nike's Flyknit upper and All Conditions Control coating. The Dynamic Fit collar adds a gentle hug to the ankle, helping you to sharply shift across the turf.
Cheaper alternatives:
The takedown 'Pro' model of the Phantom GT2 will save you the most coin, as you'd expect though, it comes with a slight dip in tech. On the other hand, we like the Nike Tiempo Legend 9 Elite as another amazing all-round option for less.
3. Nike Mercurial Superfly 8 Elite By You (RRP £269.95)
What you get for your money:
Customisable beauty with acceleration. We all had the childhood dream of designing our very own football boots. Well, Nike have delivered that dream with their 'By You' range. You're free to go as wild as you like when pimping out a pair of Nike Mercurial Superfly 8 Elite on their site.
Hop into Cristiano Ronaldo's boots but show your own personality to the max. This model is a top tier silo with Nike's Flyknit upper and an Aerotrak forefoot for explosive acceleration. It'll set you back, but you'll get it just how you want it.
Cheaper alternatives:
The Nike Mercurial Vapor 14 Elite is always a little less (due to lack of a sock collar), but if you're truly looking for a bargain then a 'Pro' option is available. If it's the speed you're after, we'd recommend taking a look at the Puma Ultra 1.4, it's only 160g!
2. Mizuno Rebula 3 Cup MIJ (RRP £270)
What you get for your money:
Lush leather and pure ball control. We're fairly sure you were expecting to see a 'Made In Japan' version of Mizuno in this list, and we're not disappointing you. The Mizuno Rebula 3 are known as some of the priciest around, but these works of Japanese art are pure premium.
The hand stitched kangaroo leather uppers are silky smooth, with an integrated Control Frame and Memory Foam in the uppers. Mizuno's own Dual Density outsole is flexible and strong, all leading to an unbelievable silo.
Cheaper alternatives:
The Rebula is worth the investment, but we'd recommend looking elsewhere for a cheaper option if you're sticking to leather. You can pick up a pair of adidas Copa Mundial, Nike Premier 3 or Nike Tiempo Legend 9 for much, much less.
adidas Predator Edge+ Crystal (RRP £300)
What you get for your money:
Bling with flashy performance to match. The simplest way to make a boot more expensive? Stick a load of crystals (fairly needlessly) to the side of them. And as a result, these Swarovski-encrusted adidas Predator Edge certainly catch the eye.
The latest Predator release is a popular one, with Jude Bellingham and Aymeric Laporte donning them at the top level. The Power Facet adds explosive shooting and the Zone Skin ridges add laser precision to your all-round game.
Cheaper alternatives:
You can grab older colourways of the Predator Edge for less than £200, but if you're really scrimping, get the takedown '.2' for a little over £100. As for other brands with a similar feel, we'd recommend trying out the laceless New Balance Tekela V3.
The most expensive football boots ever
Well, this one depends on how you look at it. And we're looking at a couple of things. The highest price ever made at auction, and also which pair is the highest value ever produced.
The highest value football boots of all time
Coming in at the highest value are a pair of John Terry's Umbro Speciali from October 2010. Created for Rio Ferdinand's charity launch and covered in over 2,300 jewels, the boots were valued at a staggering £135,000 at the time.
We probably shouldn't mention that they only sold for £22,000. Oops.
The football boots that made the most at auction
In 2021, Lionel Messi's signed adidas Nemeziz.1 'Precision To Blur' football boots sold at auction for a measly $173,000. A touch more than those which we've picked out on our list.
Not to be confused with any standard pair, these were the boots Messi was wearing when he scored his 644th goal for Barcelona, surpassing Pele's single club goal record. That's $268.63 per goal, not bad.
In fact, FOOTY.COM lets you set up price alerts on your favourite boots, so that you can be notified as soon as they fall within your budget! Just head over to the relevant product page to set it up in seconds.