Mens vs. womens football boots - are they unisex?
The number of options you see in men's vs. women's football boots are not as closely matched as they should be. Why? Are they unisex? Let's take a look.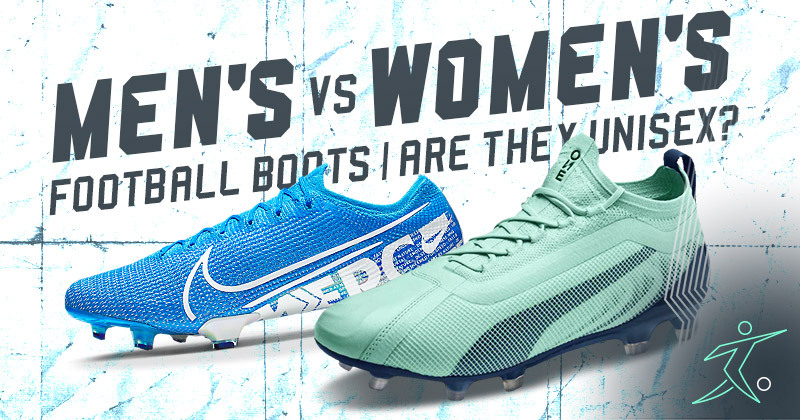 It was way back in 1975 when the female game was first recognised with its own specific pair of women's football boots. It's not surprising that sportswear giants adidas were behind the boot, which was named the Anja. Things have certainly come a long way since then. 
The women's game has been enjoying a meteoric rise in recent years, and rightly so. As a woman who plays the beautiful game, you should be demanding a wider selection of women's football boots to choose from. Unfortunately, manufacturers haven't quite kept up with the demand of the women's game as much as they should have. Shame on them.
Before we begin firmly ringing the bell of shame at sports brands, there is some good news. Along with a much improved range of women's releases in recent years, men's football boots are now being created with women in mind and can be worn by everyone. They are now truly unisex.
---
Is there any difference between men's and women's football boots?
Generally speaking, men are genetically bigger than women. That's just science. Which means the feet follow the same rule (it would look a bit weird if they didn't). Women's feet tend to be slimmer, with a slightly deeper arch. Men have longer, wider feet and shallower arches. This leads to a few things to keep an eye out for when you're looking to choose a fresh new pair of boots.
Sizing
Of course, as you'd expect, sizing is the main difference. If you're a woman who prefers the look of men's boots, a general rule of thumb is to go down either one size or a size and a half (depending on brand). Try to stick to models of football boots more suited to narrow feet, rather than some of the brands which suit wider men's feet.  
Colourways
Girls are pink and boys are blue? Nonsense. This old hat view has clearly (and thankfully) disappeared from the world of football boots. The range of colours you see players wearing in both the men's and the women's game are all the evidence you need.
Whether you're matching an array of colours to your team's latest kit, or you're a white or black boots kinda player, we've got all the options here.
Materials
Women's, men's and kids' football boots are usually made in the same factories. This means big brands and manufacturers will save by bulk buying the materials that go into producing thousands of pairs of boots in their latest design. That's just business economics 101.
The good news is, those materials don't generally differ between the size of boot. Everybody gets the same quality materials. It only differs in terms of which tier of boot you opt for, usually the less you spend, the lesser the quality.
Stud configuration
In more recent years, Nike, adidas and the likes have been creating what they call a 'women's soleplate'. This meant moving from the larger studs, to rounder firm ground plastic studs. For the most part though, stud configurations have remained the same across male and female football boots, and you can get hold of whichever suits your game.
The choice shifts through soft ground and firm ground studs, stretching to artificial turf and indoor shoes. If you're not sure which is best, you can read our handy blog on which configuration is best for you. 
---
Thank you for joining the FOOTY.COM club!
---
Can women wear kids' sizes of football boots?
Technically speaking, yes. You can follow the same rule that applies to men's sizing (size up by one) and use it oppositely, by instead subtracting one size from your usual fitting. This means petite women who are a size 4 can save some money by grabbing a kids' pair of football boots in a size 3.
Why are women's football boots so hard to find?
Manufacturers and brands these days are producing a vast range of silhouettes, tiers, sizes and stud configurations of football boots. It's more economical for them to produce the same boot components, in smaller sizing (to be labelled with women's sizing) as it is to produce and market "women's boots" separately. This is why most women will find unisex boots that they can wear listed in wider selections of sportswear websites.
---
Best football boots available for women
Puma One 20.1 FG Women
This is a boot which has been specifically designed with the women's game in mind. Puma are no slouches when it comes to producing classy products for its female customer base, these boots are no different. We're fans of this colourway, which is laid on quality materials that you expect from a top tier boot. 
Adidas Predator Mutator 20.1 FG Unisex
This is a beautiful boot, and the reason we've gone with the 20.1 is because of the lacing system, it gives extra opportunity for women to get the correct fit. It's a fairly narrow boot which is available in smaller sizes for women 'ballers too. The colourway is incredible, and a perfect example of today's unisex-friendly gamewear.
Nike Mercurial Vapor 13 Elite FG Unisex
Yes, it's clearly something special to look at, but this boot also has a higher arch and a narrow fit which can be ideal for women's feet. The sizing starts from 3.5, so you should be able to get hold of the perfect pair for you. The speed and agility of your game is about to be raised, a lot.
In our opinion, not all is right in the world in terms of equality with football boots. It's a real shame. We do believe though, companies are starting to work harder to provide more options for female athletes. After all, we all love this game as much as one another. Compare and find the best deal at FOOTY.COM.