How To Choose The Right Kids Football Boots
How do you find the best football boots for your kids when there are so many options available? We can help.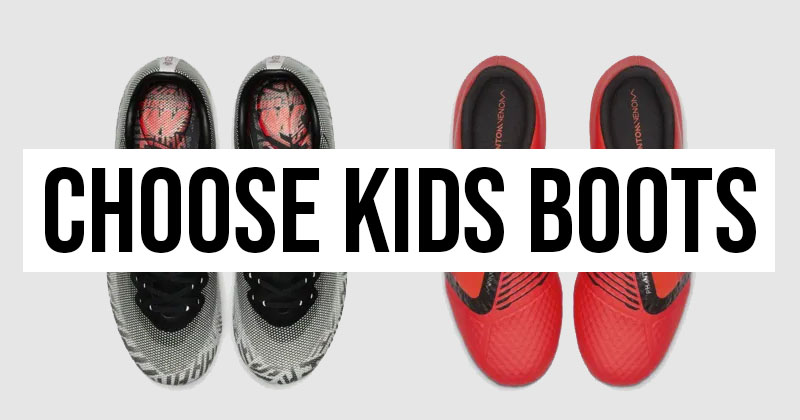 It's a proud moment for any parent when the little one's start getting involved in football themselves. They've gone from their adorable onesie football kit to watching the games on TV with you, maybe they've even been lucky to be taken along to a few games themselves and joined in with the singing and cheering at the ground?
But now they're stepping out onto the pitch themselves, whether it is to play in the local Sunday league team, the school 11 or maybe they just like to play 5-a-side with their friends. No matter how they like to play the beautiful game, parents have an important job in getting them on their way. And that is choosing the right pair of football boots for them.
Now, we know kids can be fussy, especially when it comes to footwear. Even the young'uns seem to have developed a steadfast fashion sense that parent's struggle to even get their head around. So, to make life a little easier, we've compiled a checklist for you to help select the best football boots for your kids as we come up to summer:
---
What Surface Are They Playing On?
Football boots are constructed for a number of different playing surfaces; not just to make sure they perform well, but to also help protect your kids from injuring themselves. Trying to use indoor or court football shoes on an outside pitch is just asking for trouble; indoor shoes don't have the required soleplate to be able to penetrate a grass surface and provide enough grip to change direction. Many of those that do attempt to use indoor trainers on grass pitches spend most of their time on the seat of their pants, or even worse, injured.
It is important to know which surface your kids are going to be playing on when buying their football boots because wearing the wrong studs for the surface you are playing on renders your boots useless – not what you want when you've paid good money for them.
On grass pitches you want to be wearing Firm Ground (FG) stud configurations or an FxG/MG (Flexible Ground or Multi Ground) configuration; these studs will grip the turf and allow for tight turns and the best acceleration.
If the grass pitch is exceptionally wet, soft ground (SG) studs are your best option. They have slightly longer studs that help add extra grip on muddy, slippery surfaces.
Firm Ground boots can be used on synthetic grass surfaces alongside artificial grass (AG) boots. This wasn't always the case, but with the quality of synthetic 3G and 4G grass pitches being so high these days, firm ground boots can also be used.
For indoor, court or Astroturf players, boot options include Turf Trainers, which have a bobbled and/or ridged soleplate that provides enough grip for the harder, sandier surface as well as indoor (IN) or court (IC) football trainers.
What Size Boot Should You Choose For Your Kids?
The hardest thing about buying shoes for kids is getting the right size. What may be a snug fit today may be tight and outgrown within a few months and with the speed your kids grow at a young age it is important that you have a pair of football boots that can adapt to these growth spurts.
It is usually advisable to buy a pair of boots a half size bigger than the size they currently are. This will give them a little extra space in the toe box and possibly along the sides of the feet depending on the foot width. With a half-size extra amount of room in the boot your kid's feet will fit snugly and yet have room to grow into them. Football boot material is more pliable than older leather boots were, so once they fit snuggly you get extra time as they should stretch out a little as they are worn in.
Some brands give you a half size extra than the one you order when you purchase kid's football boots, so always check with the size guide before making your decision.
Which Brands Do Kids Like?
Most of our favourite brands are purely for nostalgic reasons; essentially, if you wore adidas as a kid then you're going to wear it as an adult. Some will change allegiances as they get older if they find a brand that provides a better fit or a better price, or even just for the fact that a favourite player of theirs wears a certain brand.
We feel as though you should never be limited to one boot brand and should remain open to other options, especially if a bargain pops its head up. A lot of kids have a favourite brand purely based on their favourite player at the time, but favourite players tend to change, so a brand they crave one minute may be ditched the next.
Always test boots from a range of brands to make sure the boots you are getting for your kids fit well and are comfortable rather than purely for what they look like. A flash pair of boots count for little if they fit poorly.
What Colourways Are Best For Kids?
Contemporary football boot colourways are a lot more adventurous than they used to be. Vibrant and bright colourways are more common than the classic black and white looks, but that doesn't mean that plain coloured designs have been left behind, there are still some brilliant black and white designs to choose from.
Colourways really have little effect on a boot so this is an area you can let your kids decide fully for themselves. If they like an all-black colourway then let them have one; if they prefer a luminescent pink and yellow design, that's all good too. Football boot colourways are a great way for kids to express their individuality on the pitch, and there is plenty for them to choose from.
What Boot Materials Are Available For Kids?
Synthetic football boots have now become the most popular boot material on the market thanks to it's lightweight and durable frame. Not only that, but they can be formed into new boot constructs that fit kid's feet more naturally and give support to the important areas of a growing foot.
Leather boots still have their place, however, as kangaroo leather or k-leather – one of the most supple and soft, yet strong leathers available on the market – is a popular choice for a lot of big brands such as adidas, Puma and Nike.
Synthetic football boots tend to be faster and easier to keep clean, especially when playing on grass, whilst leather still remains the toughest option and will hold up to a lot of punishment.
---
You can find the best kids football boots right here with FOOTY.COM. No matter what type of boot is best for your kids, with us you can find it at the best possible price.