Best Kids Football Boots 2020 | Buying Guide
Finding the perfect pair of kids' football boots is never an easy task. This guide is here to give you a little helping hand.


So, your kids are football mad, are they? In this day and age, this shouldn't really come as a surprise. After all, there seems to be a match on the telly just about every night of the week, so it's only natural for the kids to take an interest sooner or later.
Of course, an interest in football certainly isn't a problem. We're all football mad ourselves at FOOTY.COM, and we've all turned out okay (for the most part). No, the problems only arise when it comes to buying the little nippers a new pair of kids football boots.
There are just so many options out there. Different brands; different materials; different surface types; different sizes; different colours - you get the picture. When you aren't really keen on football yourself, all of these things seem like a foreign language, and we wouldn't blame you for feeling a little overwhelmed and just buying the cheapest pair you can find.
However, if your kids are going to make an impact on the pitch, then you'll need to find them the perfect pair of football boots to play in. So, let's get started, shall we?
---
How To Find The Best Football Boots For Your Kids
If there was a quick and easy answer to finding the best pair of boots for your kids, then we'd give it to you. Sadly, no such answer exists - since every child is different and will have their own unique requirements.
Whether they have wide feet, play in a certain position or favour a particular colour, all of these aspects need to be considered when picking out the perfect boots. Of course, you'll know your child better than anyone, so you just need to think about what they'd like. Simple.
If they like to play as a striker, then there are boots that help their finishing; if they're incredibly quick, then there are boots that let them sprint in comfort; if they enjoy passing, then you can find boots that enhance ball control and accuracy. In short, there are kids' boots out there for every position and every style of footballer. Seems a far cry from the days of all black hand-me-downs, eh?
Many parents worry about finding the right sizes, too - which is understandable when the kids won't stop growing and boots become expensive to replace. If your kids are in between sizes, we always recommend getting the next size up, so that they can grow into them instead of needing a replacement only a couple of months down the line.
---
What are the Best Boots for Kids in 2020?
1. adidas Predator Mutator 20.1
The adidas Predator is worn by the likes of Paul Pogba, Lorenzo Insigne and Ivan Rakitić. The Predator Mutator 20.1 has all the same styling as the boots worn by the top players but this is the laced version, rather than the laceless sock version. This will help kids to get the best fit for their feet.
The newest adidas Predator Mutator is one of the few football boots which is available without laces for kids at this price range. Laceless boots not only look great but are easy to get on and off making them universally popular with kids who just want to get on with playing the game.
The adidas Predator Mutator 20.1 is available in firm ground, soft ground, indoor, artificial grass and turf versions, so whichever surface your child plays on there is a safe boot for them to choose from. Both the laced and laceless boots come with a sock-fit around the ankle to allow the boot to fit snugly and give extra support.
All in all, the adidas Predator Mutator 20.1 is a fantastic all-round boot. Your kid will love having the styling of their favourite player and they'll love you more for grabbing them a pair.
---
2. Nike Jr. Mercurial Vapor 13 Elite
The Nike Mercurial Vapor 13 boots are worn by players including Neymar, Kingsley Coman, Bruno Fernandes and Eden Hazard. Built to enhance speed, control and finishing, the Vapor will is perfect for young players with bags of pace and deadly finishing.
These stylish boots are available in a variety of colours and feature a low-profile for extra comfort and close fit. The Vapor Elite doesn't come cheap, but you're investing in your child to have the exact tech of boots worn by the highest level players in the world.
---
3. Puma Future 6.1 Netfit
The Puma Future football boots are worn by players such as James Maddison, Marco Reus and Luis Suárez.
The Future features a unique Netfit upper which is designed to mould to the foot giving real comfort and a great fit for any shape of feet. If your child has particularly wide or narrow feet, the Puma Future will be a great choice for them as it allows the laces to be done up in an endless variety of ways which will completely change the fit of the boot.
The Puma Future 6.1 is available in a wide variety of colours and makes a great change from the adidas and Nike boots that the majority of kids will own. If you are happy to choose a slightly older model of the Future, there are some great bargains to be had.
---
4. adidas X Ghosted+
The adidas X is worn by players such as Mo Salah, Timo Werner, Matthijs De Ligt and Karim Benzema. If your child is quick and loves to shoot, the X is a great choice.
The newest version of the X, the Ghosted+, is available in an option without laces making this a popular option for kids who can't (or choose not to!) do up their own laces. The adidas X Ghosted+ is a great looking boot that will please even the fussiest kids.
---
5. Nike Jr. Phantom GT Pro
Worn by some of the most famous players in the game such as Kevin De Bruyne, Robert Lewandowski and Dayot Upamecano. The Nike Phantom GT is perfectly designed for kids who are great all-rounders or can't make their mind up on a position yet!
The Phantom GT is designed to offer stability on the pitch, giving your kid the best chance of a solid performance at the back or in front of goal. Available in a wide range of colours, the Nike Phantom GT is a boot for the serious little player.
---
---
What Are The Different Surface Types?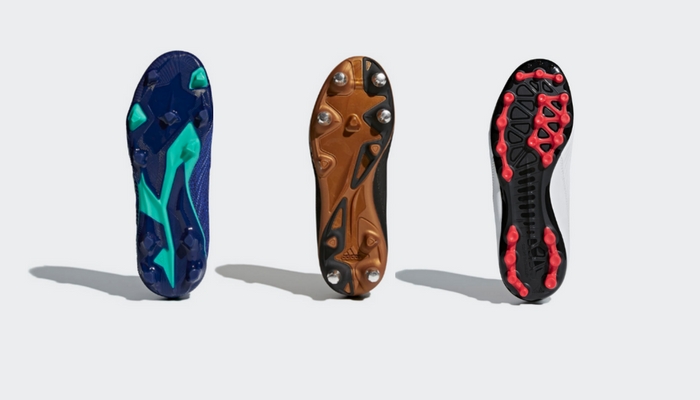 The different surface types can cause all kinds of confusion. With boots labelled with things like FG, AG and SG- you'd be forgiven for wondering what on earth it all means. Well, these little acronyms all relate to the different surface types, since the big brands now make their boots available for all kinds of playing surfaces.
FG = Firm Ground. These boots are perfect for harder grass surfaces in the summer months.
SG = Soft Ground. Ideal for grass pitches throughout the winter months. Great for wet and muddy conditions.
AG = Artificial Ground. The perfect choice for kids that play on artificial turf. Smaller plastic moulded studs.
Thank you for joining the FOOTY.COM club!
Which Football Boot Material Is Best For Kids?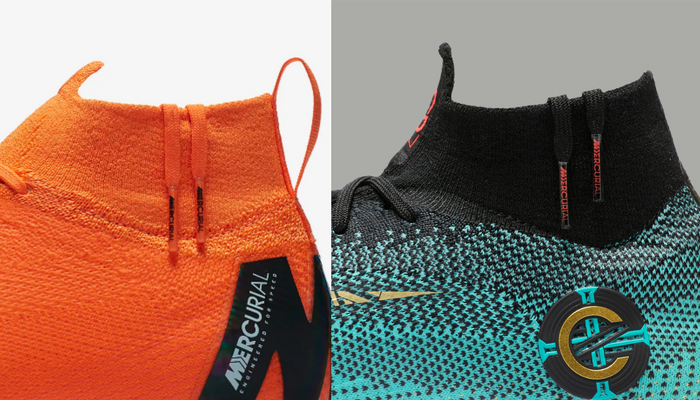 There was once a simpler time when all football boots were made out of leather. 'Leather Forever' and all that. But, whilst leather football boots are still popular today, advances in boot technology mean there's now a range of different upper materials for you to choose from. Of course, each option comes with its own benefits:
Kids' Leather Football Boots:
Kangaroo leather (or K-leather) football boots are the most popular form of leather in 2020. It offers a soft and flexible fit that just isn't possible with other kinds of leather and is perhaps the most durable surface type available. The adidas Copa and Nike Tiempo are the most popular boots that still utilise a leather upper.
Kids' Synthetic Football Boots:
Synthetic football boots are all about reducing weight. Leather may be incredibly comfortable, but it can also soak up a lot of water in wet conditions and become heavier. Of course, this will impact speed. Synthetic boots offer the comfort of leather within a lightweight construction - and are currently the most popular type of football boot on the market.
Kids' Knit Football Boots:
The latest evolution in synthetic boot tech, knit football boots offer enhanced control and are designed to feel as though you aren't even wearing any football boots. This barefoot feel is achieved through an upper made of yarn, as the big brands continue to build on these innovative designs. The adidas Primeknit, Puma Netfit and Nike Flyknit boots are incredibly popular with kids and professional players alike.
What Are The Most Popular Kids' Football Boots In 2020?
There have been some absolutely massive boot drops already this season, and it can be hard to keep on top of what's currently popular. The biggest boot brands are constantly releasing new models and colourways, so what are the hottest kids' boots right now?
adidas Kids' Boots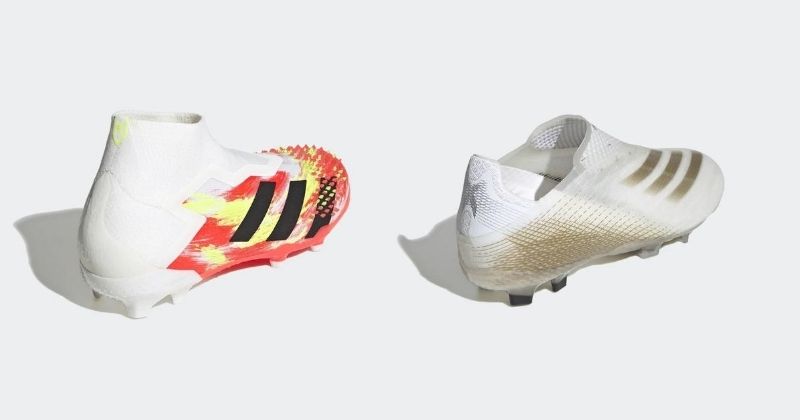 Ever since its re-release at the end of 2017, the adidas Predator has taken the world by storm. These stunning football boots offer a terrific blend of comfort and style; absolutely perfect for any kids that love to control the game and dictate the play. If your children ever ask for a pair of "Pogba boots", then they probably mean the Predator. Available in a range of gorgeous colourways, the Mutator and its 'Demonskin' (pictured) is what all the kids are talking about right now.
The adidas X (as worn by Mo Salah) are also very popular in this Ghosted colourway while the adidas Nemeziz is the perfect choice for any big Lionel Messi fans out there.
---
Nike Kids' Football Boots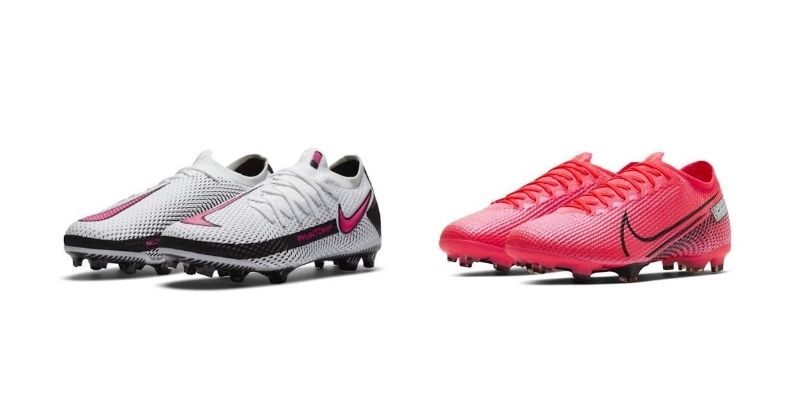 For any parents that are looking for a real all-rounder of a football boot, then the Nike Phantom GT might be right up your street. Still utilising its Generative Texture (GT) upper, the Phantom GT offers fantastic comfort and an enhanced first touch.
The Nike Mercurial Vapor is also absolutely massive right now and the perfect choice for kids that want to show off the most innovative boot tech around (since they utilise Nike's incredible Flyknit technology). Alternatively, any big Cristiano Ronaldo fans can pick up a special-edition CR7 version of the Mercurial.
---
Puma Kids' Football Boots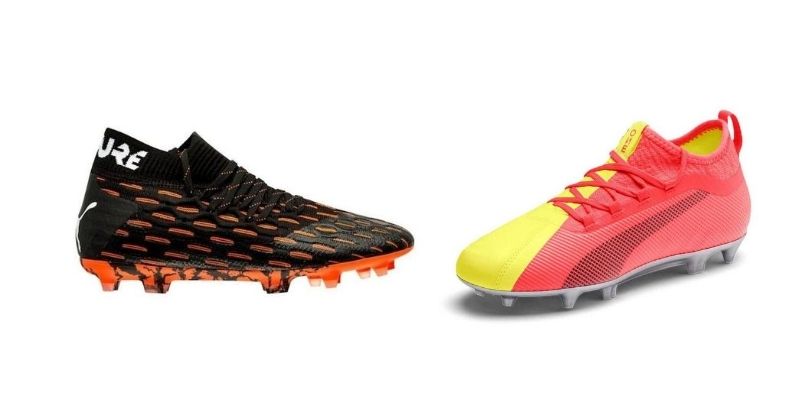 Laceless football boots have been all the range for the past couple of years, but Puma are doing their best to bring laces back with a bang. The innovative Puma Future makes use of the ground-breaking Netfit technology that has been such a huge hit for Puma's trainers in recent times. This gives players an endless number of ways to tie their laces, offering a level of comfort that's hard to find anywhere else.
These boots are worn by Antoine Griezmann and Marco Reus, with an evoKNIT sock offering an incredibly snug fit. Very comfortable indeed.
---
Which Colour Should I Go For?
In 2020, kids want their football boots in a range of different colours. Flashy, flamboyant designs have been the talk of the playground for the past few months, as kids dream of emulating their favourite players. Whatever your child's favourite colour, you're going to be able to find a boot to match.
Alternatively, all-black may be the way to go if your kids are involved in a training academy or a team that doesn't allow flashy boots. There are various Academy boot packs available from Nike and adidas, which are perfect for any kids that need a smarter pair of boots for their locker.
---
READ | Our complete guide on the best football boots for 2020.
---
Where Can I Find The Best Deals On Kids' Football Boots UK?
Fortunately, we make it easier than ever to find the best deals on kids' football boots in the UK. As the leading football price comparison site, you can browse our selection to find the lowest prices and the biggest bargains. Find the perfect football boots at the best price right here with FOOTY.COM.