5 great football boots for players with narrow feet
We've looked at wide feet, now it is time to check out the best boots for our narrow-footed friends.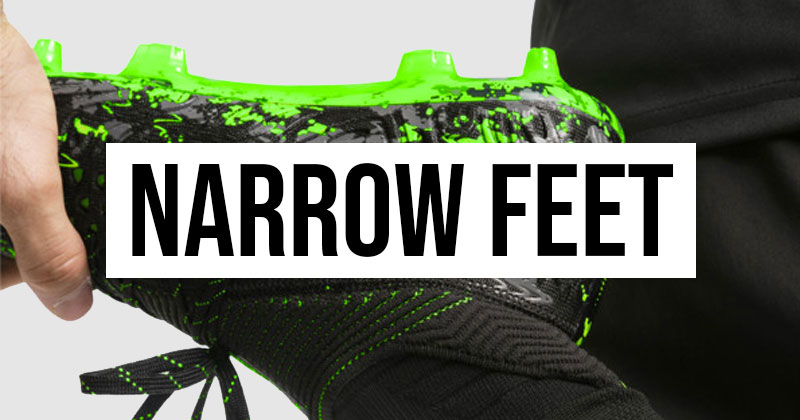 My best friend Tom told me once that people who have narrow feet only have three toes, because there isn't enough room for five. Now I am a officially a grown man I realise that the difference between wide feet, regular feet and narrow feet isn't actually that much, but to those whose trotters are a little on the skinny side, finding football boots that fit perfectly can be a bit of a headache.
Football boots are engineered to fit our feet snugly, making sure there is no movement of the foot within the boot, improving a player's touch, control and accuracy when passing and shooting.
If there is room between the foot and the boot for the foot to move around in, you lose all the attributes a good cleat can bring you. If you struggle finding boots that have that snug, second-skin feel to them because of your narrow feet, don't worry, there are still boots out there that are more suited to those with a little less width at the end of their pegs.
Thank you for joining the FOOTY.COM club!
1. Nike Premier II
The classic looking Nike Premier II boots are constructed with a slightly thinner soleplate than other Nike silos, and have a fairly straight and narrow configuration of conical studs with offset blades to maintain optimal balance on a narrower soleplate.
Whilst not great for those with wide feet, having a stud configuration in such a straight formation helps give those with narrow feet a tighter fitting option, especially when you throw in the soft k-leather upper which can form to the foot's shape and give a snug yet comfortable fit.
Inside the Nike Premier is a moulded PE sockliner which gives great support and helps the boot retain its shape around narrow feet.
2. Under Armour Magnetico Pro
Another boot that is seemingly made for narrow feet is one from Under Armour. The Magnetico Pro is kitted out with the best piece of boot tech narrow feet have ever seen in the form of the ClutchFit 2.0; this three-layer construction blends the softness of leather with the durability of a synthetic upper for a boot that remains close to the foot without being too tight.
The springy soleplate has a narrow bridge to help the upper wrap the foot more tightly and prevent any unwanted movement when digging into tight turns.
A split tongue also helps the boot form snugly around narrower feet when the laces are pulled tight.
3. Puma Future 19.1 Netfit
The Future silo from Puma is one of the most ergonomically fitting boots available on the market, where all sizes of feet can find a perfect fit. How? Because of the NETFIT 3.0 technology.
The evoKNIT upper and NETFIT technology combine to create a boot that can be adapted to feet both wide and narrow through customisable lacing options. The one-of-a-kind lacing system allows wearers to configure the laces however they want them to get the best fit. There are so many different ways you can lace up a pair of PUMA's Future silos that it is pretty much uncountable, but what we can count on is that these boots are pure comfort every time for those with narrow feet.
4. Adidas Predator 19+
The laceless construction of the modern Predator silos from adidas make them perfect fits for those with narrow feet. The sockfit forefront with the stretch collar means that they will conform to the exact shape of your feet no matter how thin they are. And when they fit so flush with the surface of your feet without moving around, you can achieve unparalleled touch and accuracy on the ball too.
Thanks to the anatomically designed heel and Controlskin upper the new Predator fits like a glove for most foot shapes and sizes and are some of the most comfortable boots on the market as well.
5. Nike Magista Obra II
The base of the Magista Obra isn't quite as skinny as that of the Superfly, but the extra padding from the Dynamic-Fit collar and premium synthetic upper certainly makes up for that.
The boot moulds to the shape of the wearers foot pretty much straight away giving one of the most personalised fits. An asymmetrical lacing system also adds extra lock down for narrow feet.
---
If you struggle to find boots that fit narrow feet, check out our guide on the best football boots for 2020 today.